Sponsored by Visit Phoenix
The region encompassing metropolitan Phoenix is the fastest-growing in America. It has been for several decades. In fact, there's really no way to describe this growth other than "eye-popping." Exactly how eye-popping? Well, metro Phoenix had about 3.2 million people in 2000. When the next census rolls around in two years, that number may approach 5 million.
This exploding population lives surrounded by 100,000 square miles of vast Sonoran Desert, at first glance seemingly devoid of plant and animal life, but in actuality filled with one of America's most diverse eco-systems. Crowning this unique landscape is a perennially blue sky pierced with stunning mountain peaks that change colors as the day waxes and wanes.
This region also boasts a unique tricultural mix of Anglo, Hispanic and Native-American influences—in food, music, the arts, traditions and festivals (aka fiestas!).
Phoenix and Scottsdale, are, in many ways, as different as different can be. Yet, both cities are part Old West, part 21st century. Each presents numerous ways to get your cowboy or cowgirl on, because "the West" is never really far beneath the surface. Yet, "tomorrow" is also bursting out everywhere you look, with superb cultural facilities, sophisticated resorts and restaurants and a palpable sense of energy.
This energy carries over into the meetings scene, as well, with first-class meeting hotels in stunning natural settings, and one-of-a-kind offsites and team-building options.
Let's take a closer look.
Phoenix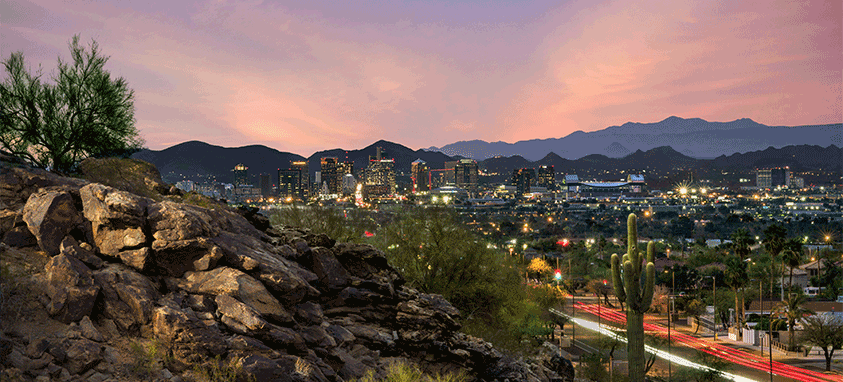 Just a few years ago, Phoenix had a relatively low-rise skyline that was seemingly dwarfed by the high mountains surrounding the Valley of the Sun. But no longer. This is now a modern, growing, "urban" city, with an increasingly vital downtown core and a rising skyline that says something big is happening there. Phoenix is a city on the move, and it's evident everywhere you go.
A city that had 100,000 residents in 1950 now has 1.5 million, and with that expansion have come professional baseball, football, basketball and hockey teams. In addition, the city will host the Super Bowl in 2023 and the NCAA Men's Basketball Championship in 2024.
At the same time, America's fifth-largest city averages more than 300 sunny days a year and offers attendees the opportunity to be in the middle of the Sonoran Desert only minutes from downtown. Just outside this city that symbolizes change, they can be surrounded by a natural setting where little has changed for thousands of years. In how many places can you challenge yourself to a desert hike, yet still be back in town in time for a five-star dinner?
The city perfectly captures the heart of the Sonoran Desert—with real cowboys, rugged mountains and the kind of cactus most people only see in cartoons. Working cattle ranches still exist not far from the urban center, which still boasts its Western-wear shops with their belts with huge buckles, cowboy boots, shirts and, of course, cowboy hats. Many of these items will be handcrafted, not machine-made.
And don't be surprised if you see someone in a business suit and cowboy boots!
Meeting planners who have had a bird's-eye view of the Phoenix metamorphosis will tell you that the city experience is new with each visit. The transformation is particularly dramatic around Phoenix Convention Center. Now, when attendees leave their meetings at the convention center, they don't have to go straight back to their hotels. They can happily linger in the Convention Center District, nursing a cocktail or trying some of the interesting restaurants that have sprung up Or, they can just walk around on a mini-journey of discovery. Phoenix is becoming what both planners and attendees are calling a very walkable city—a definite plus when planners do their site-selection checklists for a meeting or convention.
Inspired by the red-rock walls and turquoise waters of the Grand Canyon, Phoenix Convention Center, with 900,000 sq. ft. of usable space, is one of the most beautiful in the West. Its interconnected campus includes three ballrooms, 99 meeting/breakout rooms, a 2,312-seat performance hall and an executive conference center.
Why We Love It: Planners love that Phoenix is ever-changing, yet still maintains a homey, small-town vibe. There's a growing arts and entertainment scene, and just outside your hotel are hundreds of mountain trails. The landscape is beautiful no matter what time of year, and the ever-present cacti and mountain views give Phoenix a look and feel different from any other major city.
Outstanding Feature: The Roosevelt Row Arts District is a local gem celebrating the colors and unique culture of the area. In a city filled with murals by local artists, you'll find some of the most beautiful ones right there, on the walls and alleyways along Roosevelt Street. This district also boasts plenty of galleries, shops and interesting restaurants.
Unique Meetings Facility: Desert Botanical Garden offers the chance to hold your meeting or event in an unforgettable setting in open-air pavilions and terraces, historic banquet halls and scenic courtyards. There are four distinct event spaces—including an herb garden—and five functional meeting spaces. The facility can host up to 500 attendees.
Exciting Down-Time Option: If you'd like to transport attendees back to the Prohibition era, look for a solitary red light bulb on Friday and Saturday nights in the alley next to Renaissance Phoenix Downtown Hotel. From there you'll enter Melinda's Alley, filled with antique furniture, craft cocktails and the air of a well-kept secret. You can also step back in time at Bitter & Twisted Cocktail Parlour, an award-winning emporium in Arizona's former prohibition office at historic Luhrs Tower.
Surprise Your Group: Bring back some old-school fun at Cobra Arcade Bar in downtown Phoenix. With more than 40 classic arcade games (including Ms. Pac-Man, Frogger and Super Mario Bros.) and a full bar, this is a great place for attendees to socialize…and to enjoy the sights and sounds of their childhoods all over again.
"We liked the fact that Phoenix has a very walkable downtown for a big city," says Hallia Baker, CMP. "Dining, cultural facilities, attractions and hotels are all located pretty close to each other." Baker, director of meetings and events at New York-based Center to Advance Palliative Care, brought 916 attendees to Sheraton Grand Phoenix Downtown Hotel in 2017 for CAPC National Seminar.
"It's also a college town," Baker says, referring to Arizona State University. "There's always something going on—cultural events, sports, etc. The November weather was perfect…blue skies and warm sunshine. The meeting spaces at the Sheraton Grand met our needs perfectly. Particularly important from a planner's point of view, there was an easy flow of attendees from room to room. And our attendees were really wowed by the service ethic in Phoenix."
Elsewhere in the Metro Area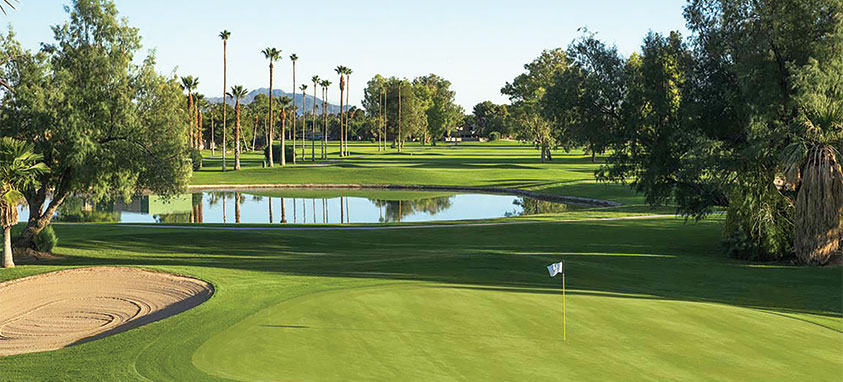 The city of Chandler, about 20 miles southeast of Phoenix, has notable meeting hotels, and Chandler Office of Tourism can connect you with all of them.
One of Chandler's most endearing landmarks is Crowne Plaza Phoenix-Chandler Golf Resort, San Marcos, With 249 guest rooms and 32,000 sq. ft. of meeting space, the hotel offers a wide range of amenities, including, of course, a championship golf course.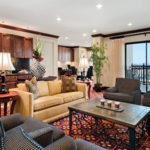 Hilton Phoenix Chandler also is an excellent meeting hotel, with 197 guest rooms and 17,000 sq. ft. of meeting space, two restaurants and a bar.
In Litchfield Park, Wigwam Arizona, with 331 guest rooms, 100,000 sq. ft. of meeting space, five restaurants and bars, three beautiful golf courses and a renowned spa, has long been a top-tier meetings resort.
The renowned Sanctuary Camelback Mountain Resort & Spa in Paradise Valley completed a $4 million renovation of the spa and some accommodations in April. The resort sits on 53 acres of dramatic panoramas.
Nearby, Mountain Shadows was a local icon that closed in 2004. But it's now been totally rebuilt, and it reopened last year with 183 guest rooms, 12,500 sq. ft., golf, two restaurants and an art gallery.
One of the top properties in Glendale, the upscale Renaissance Phoenix Glendale Hotel & Spa, features two restaurants as well as 320 guest rooms and 83,682 sq. ft. of meeting space.
Projected to open next March, the $2 billion The Ritz-Carlton, Paradise Valley will offer 205 guest rooms and 20,000 sq. ft. of meeting space, along with a spa and produce sourced from its gardens.
Scottsdale
"Cosmopolitan" may be the first word that comes to mind when you visit Scottsdale. Or, perhaps, "upscale." But probably not "Western."
Yet, for many years, Scottsdale called itself The West's Most Western Town, and longtime residents still wear that moniker with pride. You can still hoist a cold one where the cowboys did (and still do), at legendary Rusty Spur Saloon. Pardner, you can also dress for the part after shopping for authentic Western-wear found in numerous shops thereabouts. And you can still bring home a piece of Western art or history, or a Native-American handicraft, from the galleries in the Old Town section.
If you want to push the "Old West" theme a bit farther, attendees can spend a day at Arizona Cowboy College, where they'll teach you real ridin' and ropin'. Ditto for MacDonald's Ranch, where the land and the herds are still worked by real cowboys and cowgirls. Both places are available for group activities and team-building options your attendees won't soon forget.
In 1951, the population of Scottsdale was only 2,000. Today, it's 237,000 and growing. The city is now home to more than 70 hotels, four of them boasting AAA Five Diamond status. There are more than 800 restaurants. With 330 days of sunshine annually, there's an abundance of outdoor meeting- and team-building spaces.
Despite its Wild West heritage, Scottsdale first gained fame in 1937 because of Frank Lloyd Wright.
America's most famous architect chose to build his winter home and school there, in a complex he called Taliesin West. Wright felt a deep connection to the ruggedly beautiful landscape, and in the Arizona desert he was able to indulge his love of combining natural elements with modern architecture. His design legacy, however, is not only at Taliesin West: It's all over town.
Scottsdale's remarkable clarity of light, crisp air and Sonoran Desert make for inspiring meeting settings—and inspired attendees. The desert also provides unique opportunities for groups, from hiking and horseback riding to hot-air ballooning and exploring the 30,500 pristine acres of McDowell Sonoran Preserve.
Back downtown—only minutes away—attendees can sample the desert's bounty in restaurants serving regional, farm-to-table cuisine, along with sip-and-savor Arizona wines and beers in tasting rooms and breweries.
Also downtown is Scottsdale Arts District, which includes a world-class museum, Western Spirit: Scottsdale's Museum of the West. In the Arts District, you'll also find dozens of galleries, all of which are open during Thursday Night ArtWalks. The district boasts other prestigious museums, along with an interesting outdoor collection of public art. There are also fashionable boutiques and nearly two dozen restaurants.
When it comes to meetings, Talking Stick Resort has long been a Scottsdale landmark. With 496 guest rooms and 100,000 sq. ft. of meeting space, it's independently owned and operated by the Salt River Pima-Maricopa Indian Community. There, attendees can enjoy nationally known entertainers, a casino, six restaurants, two golf courses, a spa and Native-American art throughout the resort—and an entertainment district outside.
Why We Love Scottsdale: The city is well-known for sophisticated dining and entertainment options and a thriving cultural community. Yet, only minutes away is a primeval world that hasn't changed much in a million years.
Outstanding Feature: McDowell Sonoran Preserve comprises nearly one-third of the city's total acreage. Groups can split off into different adventures—horseback riding, mountain biking, hiking and more—on a network of trails covering more than 200 miles.
Unique Meetings Facility: When your attendees roam the galleries at Western Spirit: Scottsdale's Museum of the West, they'll see the works of immortals, such as Thomas Moran, Alfred Jacob Miller, Frederic Remington and Charles M. Russell; historic Native-American objects; and the pipe-tomahawk of Captain Meriwether Lewis of the Lewis and Clark Expedition. Meeting facilities include an auditorium holding 150, a Sculpture Courtyard for 117 and outdoor space for 500.
Exciting Down-Time Option: Cloth and Flame Hot Air Balloon and Dinner Adventure will give your attendees the ultimate dinner-with-a-view experience. Attendees soar in a hot-air balloon to the Sonoran Desert, where they'll be treated to a pop-up gourmet dinner prepared by excellent local chefs. Afterward, they'll witness the most spectacular sunset they've ever seen.
Surprise Your Group: There's actually plenty of water in the Sonoran Desert, and the Salt River runs just east of the city. Within 30 minutes of town, Arizona Outback Adventures (AOA) can have your attendees in kayaks, on stand-up paddleboards or participating in team-building options. AOA can also provide plenty of group activities at the major resorts, including mountain biking, kayaking and hiking.
Darlene Gregory is travel and events manager at Lansing, Michigan-based Health Management Associates, a consulting firm with 20 offices around the country. She brought 270 attendees to Omni Scottsdale Resort & Spa At Montelucia in May for the Annual Staff Meeting.
"We really liked the hotel," Gregory says. "The meeting space was excellent, and so was the staff. Everyone in Scottsdale, from the CVB down, made us feel very welcome. And talk about a dramatic setting—we held one of our meetings at the foot of Camelback Mountain!"
Meeting Facilities Update
Phoenix
The Phoenix meetings-hotel scene is ever-evolving. Renaissance Phoenix Downtown Hotel offers dining, a fitness center, 521 guest rooms and 51,085 sq. ft. of meeting space; it recently completed a $13 million renovation of the lobby, exterior and some public spaces.
Found:Re Phoenix opened in late 2016 with 104 guest rooms and 3,745 sq. ft. of meeting space that includes The Studio, a striking area filled with art. Due to open right about now is AC Hotel Phoenix Biltmore, with 148 guest rooms, the AC Kitchen restaurant, 5,010 sq. ft. and a fitness center.
Scottsdale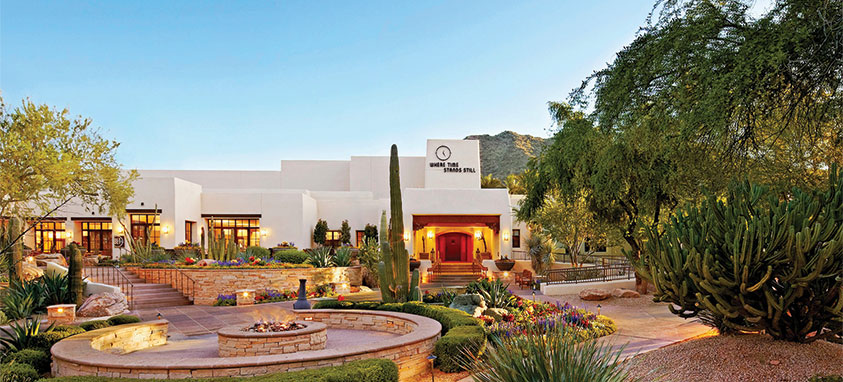 When it opened in April of last year, Andaz Scottsdale Resort & Spa was recognized by Conde Nast Traveler as one of the world's best new hotels. There, on 23 secluded acres, are 201 bungalows, 10,164 sq. ft. of meeting space, three pools and a spa.
When Civana Carefree opened in March, with 189 guest rooms and 23,000 sq. ft. of meeting space, it became Scottsdale's first wellness resort, adding an intriguing new option for planners.
The Phoenician, a AAA Five Diamond resort with 645 guest rooms and 98,600 sq. ft. of meeting space, recently upgraded all public spaces and pools, and built a new spa and athletic club; a new golf course is scheduled to open this fall.
JW Marriott Camelback Inn Resort & Spa just finished renovations on its Paradise Ballroom, bringing total meeting space to 127,500 sq. ft., to go with 453 guest rooms, a spa, golf and seven restaurants.
Also, Hotel Adeline reopened in January after a $12 million renovation of its 213 guest rooms and 10,080 sq. ft. of meeting space.
---
Steve Winston is an award-winning writer who has traveled extensively and writes for national and international magazines.