Arizona's history of healing shines on in post-Covid meetings
In the 1940s, at the tail end of Arizona's boom as a haven for recovery from TB on account of its dry climate and constant sun, a young John F. Kennedy was sent to one of the Phoenix area's most celebrated resorts, Castle Hot Springs, to recover from injuries he had sustained in his famed PT-109 fight.
Kennedy spent time bathing in the resorts' ancient sulfur-rich hot springs, known a century before by Apaches as a healing place for warriors after battle.
The pristine, turquoise-colored water is at a constantly caressing body temperature. Other minerals found in the springs are health-giving: magnesium, sodium, boron, calcium—and lithium, called "the happy element" for its beneficial effect on mental health.
The water gathers in a pristine natural rock formation that shelters the bather from the sun and wind. Around the rocks, hundred-year-old saguaro cactus with their human-like arms, considered the ancestors of some of the local tribes—remind the bather that resilience is beauty.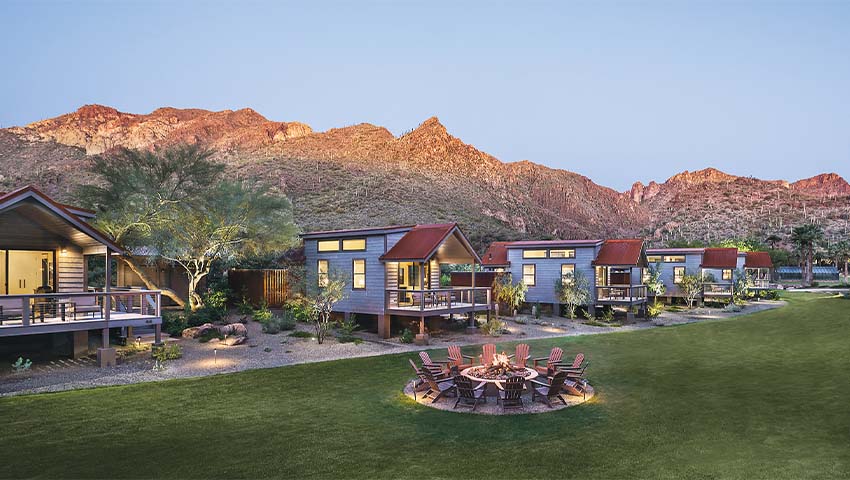 After JFK bathed at the springs and healed his wounds, hundreds more came for the same effect. The hotel had a "golden age" in the 50s and 60s, after which it had a 40-year period of lying dormant but re-opened and returned to its former glory in 2019 under new ownership.
Now, after a short hiatus during the early days of the pandemic, the exclusive resort about an hour outside of Phoenix is awaiting travelers again. Available to meeting planners and corporate retreats on a buy-out basis (and also ideal for individual incentive retreats), Castle Hot Springs is riding the wellness trend after Covid-19 by offering new health options like "sleep retreats" led by sleep expert, Dr. Rebecca Robbins, Zen wellness packages and onsite farm-to-table experiences.
The resort is not alone. Most resorts and hotels in Arizona are climbing on the wellness wagon, especially after the end of Covid-19 restrictions, which came early to Arizona.
Phoenix Spreads Her Wings
Like its born from its ashes, Phoenix Convention Center officially celebrated a return to meetings in June 2021. The Center, with nearly 1,000,000 sq. ft. of meeting space celebrated its first convention group since the start of Covid-19: the American Dental Hygienists' Association (ADHA) which hosted nearly 1,000 attendees at its June 2021 conference.
"It's great to see our Convention Center back in action and to welcome visitors back to downtown Phoenix, said Mayor Kate Gallego, announcing the milestone. "Staff at the Phoenix Convention Center has gone to great lengths to ensure our guests will be safe and can protect their health while they experience all Phoenix has to offer. "Travel and tourism are an important part of our economy. Plus, it's great to see our city come back to life!"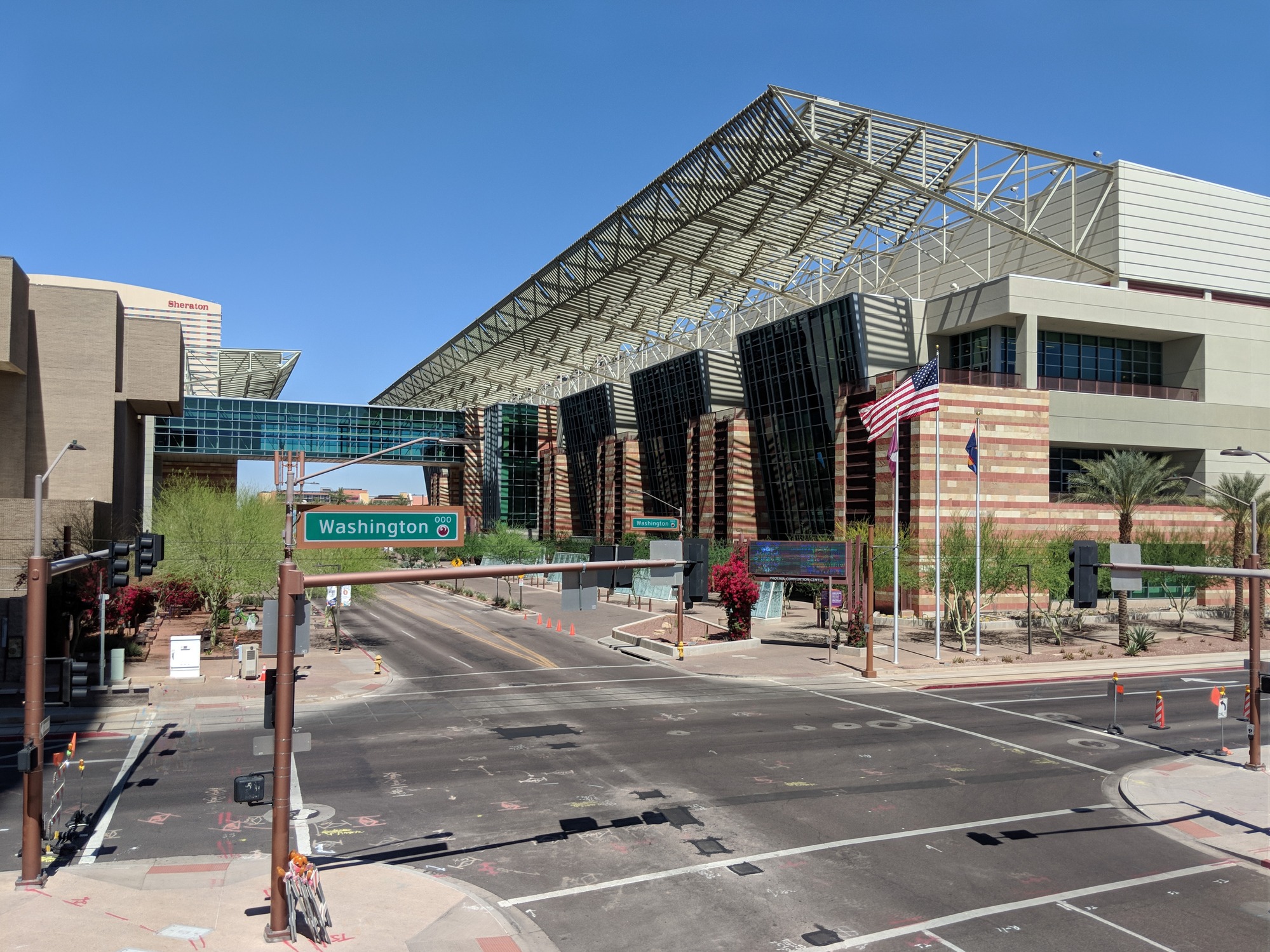 This return to life means that resorts near the convention center in downtown Phoenix are setting the stage for meeting planners to focus on wellness—an Arizona tradition—to begin the reawakening of everyone's meeting muscles.
"Phoenix has incredible attractions, robust meeting spaces, bright sunny weather and gorgeous sunrises and sunsets, making it the perfect place to gather for a wellness-inspired event," says Emma Sounart, media relations coordinator with Visit Phoenix.
CIVANA, for instance, is a 176-room luxury property which centers around four pillars: movement, spa, nourishment and discover at its 20-acre retreat, featuring 23,000 sq. ft. of indoor and outdoor meeting space, along with expansive meeting-perfect lawns.  Guests are invited to participate in a wide variety of complimentary activities, classes and spa treatments.
The spa emphasizes healing through water with a hydrotherapy thermal circuit of hot and cold pools, cool waterfall shower and a sanatorium offering humidity and heat from within. Food at CIVANA is sourced from local farmers and artisan growers with many of the herbs and greens grown in the on-site garden.
Read More: 5 Best Places to Meet and Have Brunch on the West Coast
Scottsdale Sun Worship
Nestled throughout the 12-million-year-old boulders in the scenic desert foothills on the north side of Scottsdale, Arizona, Boulders Resort & Spa is a meetings destination whose very name evokes resilience and wellness. Their largest ballroom is 5,600 sq. ft. with more than 50,000 sq. ft. of indoor and outdoor function space in total. Indoor meeting spaces are fit with floor to ceiling windows, which let in health-giving natural light.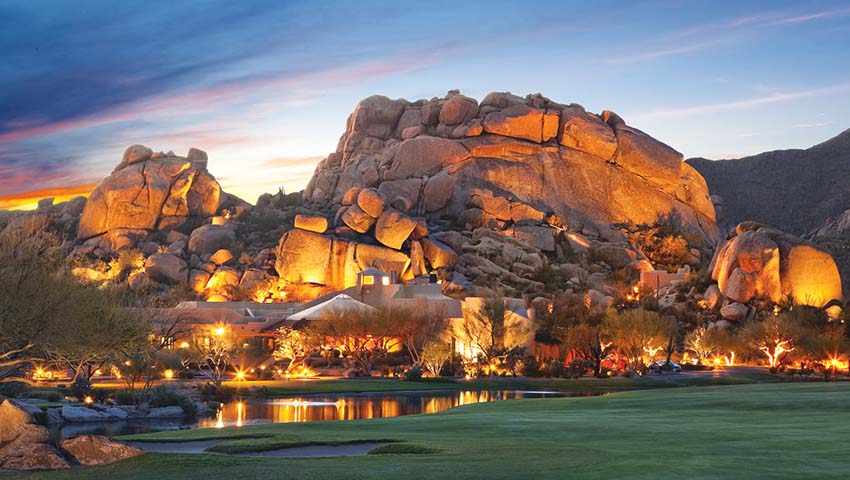 The spa features 24 treatment rooms, three spa suites with private jacuzzi, outdoor shower and fireplace, meditative labyrinth garden, and Native American tipi. For those looking for a heavy lift challenge to their own wellness, Boulders also gives guided boulder climbs of nearby Black Mountain.
Talking Stick Resort and Casino draws upon its Salt River Pima-Maricopa Indian Community ownership's heritage and culture for its reflections of wellness.
From its very name—which denotes the Native American process of choosing a leader to speak in a meeting (he or she who has the "talking stick")—to its design and guest offerings, the resort is centered in Pima-Maricopa values, says Director of Sales Michael Maggart.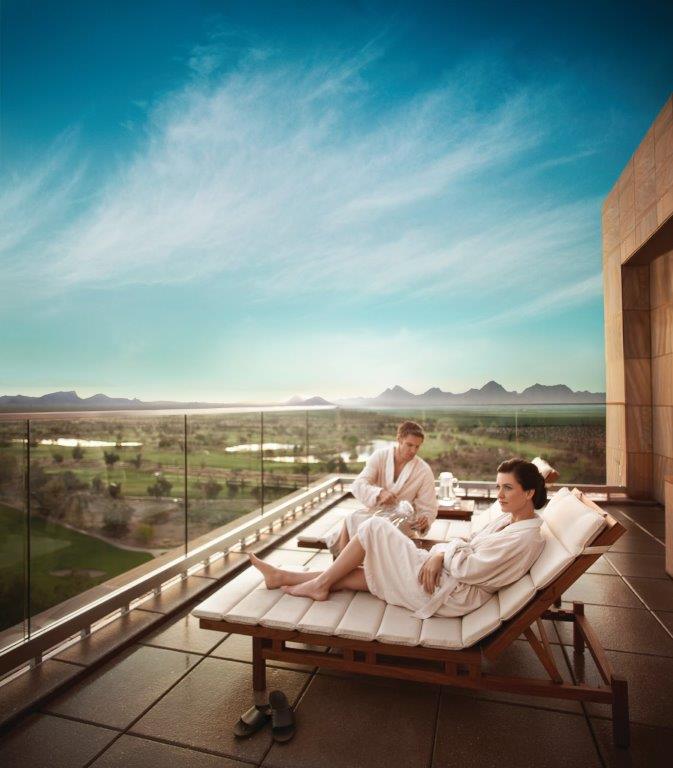 The resort opened in 2010 has 496 rooms and 113,000 sq. ft. of meeting space, including a 25,000 sq. ft. ballroom and a 650-seat theatre.
"We're in a really unique place," says Maggart. The resort is ringed by mountain ranges: Four Peaks, Red Mountain (sacred to the Pima-Maricopa) and Camelback Mountain in the distance.
Maggart says that the stunning outdoor vistas are key for meeting planners who "associate being outdoors with being well."
"As the meetings industry rebounds, wellness is a big component," he says. "Groups have always used spas but now it's becoming more of a focal point. We are seeing that for sure and are excited about what the future holds."
The resort's spa director, Stephanie Peterson says, "We have been doing a lot of group business recently and it's all about mother earth." The spa uses several key ingredients native to the area, including Pima Sweet Mesquite Bean for body polish treatments.
The little seeds are crushed with local honey. Local clays are employed in body and facial treatments. And massage oils with chaparral bush have a very distinct scent: the smell of the desert after it rains."
Peterson says, "The pandemic has been so difficult. Everyone has this huge desire to have self-care. Businesses have been going through so much stress and trouble that we find they want to treat their employees, so we're seeing a tremendous amount of group business. It becomes a team-building experience. They have their treatments and hang out on the patio sipping their drinks and taking in Camelback Mountain. Everyone's mood is way up to the top."
"As the meetings industry rebounds, wellness is a big component. Groups have always used spas, but now it's becoming more of a focal point. We are seeing that for sure and are excited about what the future holds."
–Michael Maggart, Director of Sales, Talking Stick Resort and Casino
Sanctuary Camelback Mountain, situated on 53 acres of Sonoran Desert is also known for its legendary spa. The property's 109 casitas and suites are all within easy access of the Sanctuary Spa, which owns pride of place. Treatments are Asian-inspired and include a Zen meditation garden and reflection pond, a Watsu pool, Sanctum Suite and a dizzying array of body and facial treatments from which to choose.
Chandler: Gateway to the Superstition Mountains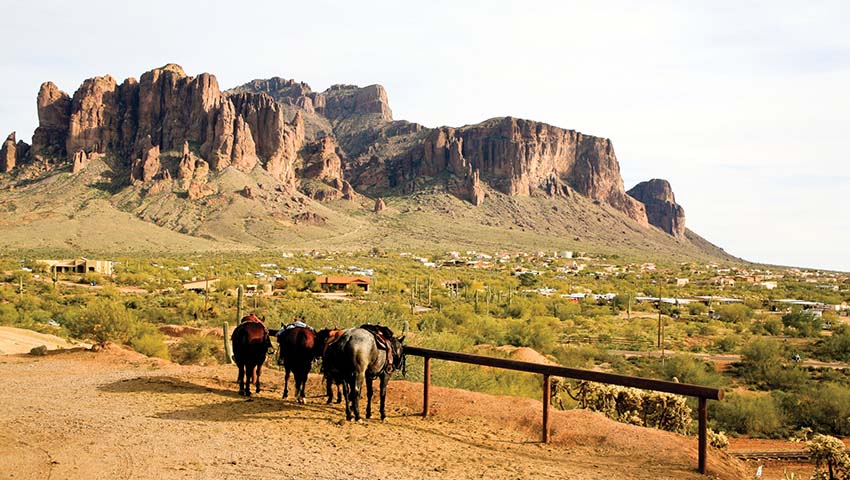 Southeast of Phoenix, Chandler has the distinction of being a gateway city to the healing powers of hiking and trailing through Arizona's nearby Superstition Mountains—some of the most beautiful desert landscapes in the state.
Chandler has nearly 4,000 hotel rooms including Marriott Phoenix Chandler with easy freeway access and Chandler's largest, single contiguous event space with capacity for 1,000 guests in their main ballroom. The hotel features 264 modern rooms and more than 28,000 sq. ft. of event space with flexibility to suit numerous events.
Read More: Arizona: Poppin' Up in AZ
Located in Chandler's downtown district, Crowne Plaza Phoenix Chandler Golf Resort offers 30,000 sq. ft. of meeting space and 249 rooms. Hilton Phoenix Chandler features 197 guest rooms and 17,000 sq. ft. of flexible indoor/outdoor space with its 13 meeting rooms.
All of these properties are about an hour's drive through the desert to The Superstition Mountains and the Apache Trail, 40 miles of winding, unpaved roads through forests of saguaro and barrel cacti. Here, wellness-seeking trail hikers will find the Lost Dutchman State Park, named after a gold prospector whose mine (and gold, it was presumed) was lost after his death.
Groups based in Chandler with easy access to the natural beauties of the Superstition Mountain trails can also stop by the very old-school Superstition Mountain Museum, locally-owned and run, which has a fully restored "Elvis" chapel seen in the movie, "Charro!" back in 1969 when the area was still being used for western movie location sites.
Tucson: Healing Power of the High Desert
If you want to seek the routes of the modern Arizona resort wellness boom, look no further than Tucson, says Graeme Hughes, senior vice president of sales with Visit Tucson.
"I would start with world-known brands like Canyon Ranch and Miraval whose roots are in Tucson," Hughes says. "They were pioneers of wellness early on and really brought the spa and wellness trend to Arizona."
Hughes says that Tucson's landscape is distinctly different from that of the Phoenix/Scottsdale area.
"We're high desert here, that's the difference," he says, pointing out that the area is usually a few degrees lower in temperature and humidity.
After Canyon Ranch and Miraval put Tucson "on the map for wellness" Hughes says that new contenders like JW Marriott Star Pass Resort & Spa (575 guest rooms and more than 80,000 sq. ft. of meeting space), Loews Ventana Canyon Resort (398 guest rooms and 37,000 sq. ft. of indoor meeting space with nearly 40,000 outdoors), The Westin LaPaloma Resort & Spa (487 guest rooms and more than 92,000 sq. ft. of meeting space) and Hilton's El Conquistador Tucson (428 guest rooms and more than 100,000 sq. ft. of indoor and outdoor meeting space), all of whom have signature spa experiences, have stepped in to add new chapters to Tucson's status as a wellness magnet.
"The destination lends itself naturally to wellness," says Hughes. "So many of our activities are outdoor-oriented. We are also bordered on two sides by Saguaro National Park. At Star Pass, you can walk from the resort right out into the mountains."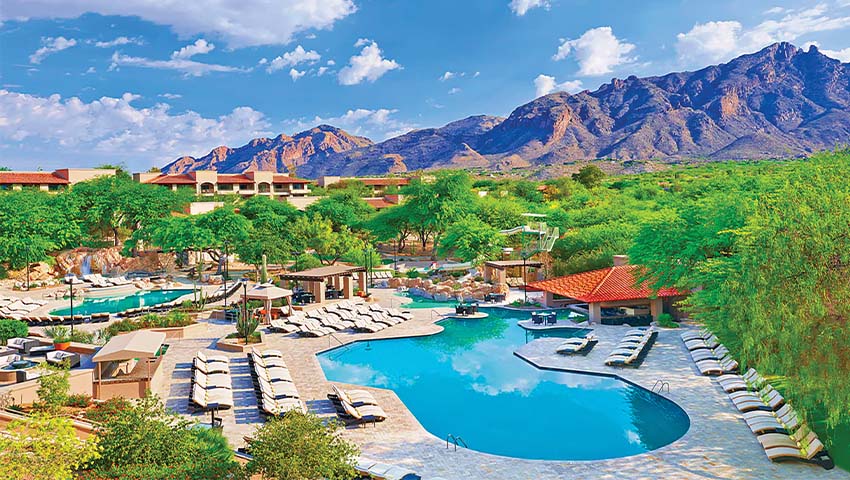 Hughes says that when talking to meeting planners he boasts of the easy access to accessible Tucson International Airport (TUS). "It's not an urban environment here. We are interested in preserving the desert not developing it," he says proudly.
Hughes gave the example of a recent trek meeting planners organized for attendees to witness a midnight cactus viewing deep in the Sonoran desert at Saguero National Park. "It's pretty transformative, out among the saguaros," he says. "The landscape lends itself to meditative experiences."
At midnight, the massive cacti needles took on an otherworldly aura. "It's like they were glowing," Hughes remembers.
"It's unique encounters like this that lift us up from just physical wellness to a holistic experience of physical, mental and spiritual wholeness," he adds.
Resources
Visit Tucson
Visit Phoenix
Phoenix Convention and Venues