Find something new, one group experience at a time
They're here, they're there, they're everywhere. This isn't a Dr. Seuss book: These are new developments in Arizona.
In addition to the myriad of new properties cropping up like groundhogs around the state, Arizona is seeing a vast and ever-growing array of unorthodox and tradition-bending pop-ups and multiconcept spaces of all kinds, including bars (dry and not), restaurants, art galleries and classes, and even fitness classes.
As is the nature of the pop-up, they won't be here forever, so give your next group an experience like no other in the Grand Canyon State.
Phoenix
Growth, change, reinvention. These could easily be words synonymous with Phoenix (Webster, where are you?!). New hotel developments, new restaurants and F&B, in the form of brick and mortars, as well as seasonal pop-ups and "funporiums," should make Phoenix, um, pop up on your short list.
Phoenix Convention Center is preparing to reopen its 800,000 square feet of meeting space by complying with GBAC STAR protocols such as removing touch points, training staff and constant cleaning and disinfection.
Jerry Harper, deputy director of sales and marketing for the award-winning facility in the heart of the Valley of the Sun reports that the city's convention industry is resilient. "Currently, we are close to our average for conventions in 2021 and beyond, but it may be a few years before we fully realize a rebound to 2019 numbers."
Hotels
The 1,003-room Sheraton Phoenix Downtown, Marriott International's leader in Sheraton Hotels' rebrand, continues to expand. Carcara, the property's in-house restaurant scheduled to open January 2022, will aptly feature F&B inspired by the ancient peoples of the Sonoran Desert. Sheraton Downtown PHX features more than 110,000 sq. ft. of event space, including a 27,000-square-foot ballroom; other dining options include the American & More and Breeze Bar, on the fourth floor.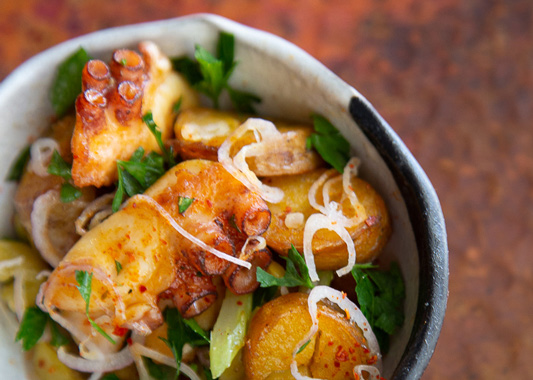 Hyatt Place Phoenix/Downtown opened downtown in September. It features 238 guest rooms, including seven suites, and more than 6,000 sq. ft. of meeting space. Its location in downtown brings attendees close to all the entertainment and F&B a meeting professional could hope for; in fact, downtown's restaurant-scape has been expanding, with several new options like the wood-fire Pa'La Downtown, serving Mediterranean, South American and Japanese fusion; beer, wine and cocktail specialist Ingo's Downtown; classically Mexican Blanco Tacos + Tequila and The Ainsworth, which serves traditional American treats and cocktails.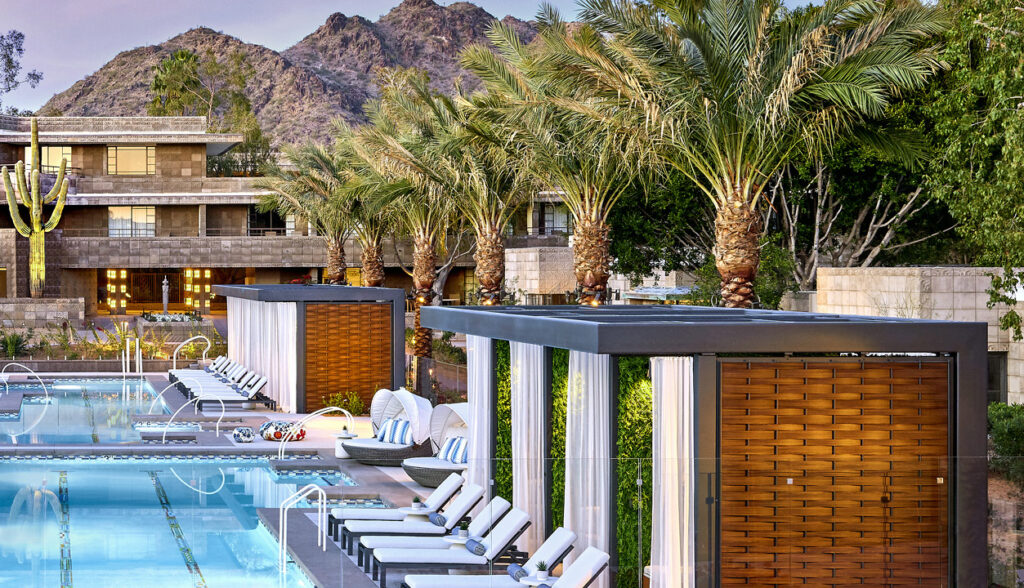 Arizona Biltmore Resort, A Waldorf Astoria Resort has reopened, with two new additions: Renata's Hearth and The Spire Bar. Renata's touches on Latin inspiration to create its dishes, featuring such muy rico delights as salsa flights and Argentinian red shrimp ceviche. The Spire Bar is an outdoor cocktail bar that also serves small plates in a fun-filled lounge space; other F&B options include Frank & Albert's, where hearty American classics are served, Wright Bar and Saguro Pool Bar. Tierra Luna, the property's spa; seven pools; and 200,000 sq. ft. of redesigned meeting space, including the 24,756-square-foot Frank Lloyd Wright Ballroom, await.
Home to NBA's Phoenix Suns, WNBA's Phoenix Mercury and IFL's Arizona Rattlers, Footprint Center just came out of a renovation 70,000 sq. ft. larger. This new and improved convention center is home to Arizona's largest sport bar, as well as Levy Restaurants and Benihana Ra Sushi, the state's first restaurant to feature teppanyaki. The complex's partnership with Footprint, an engineering firm that wants to eliminate single-use plastics, is also an effort achieve a carbon-neutral arena free of plastic waste by switching to biodegradable, compostable and recyclable items.
In 2023, Global Ambassador Hotel, led by hospitality brand developer and restaurant expert Sam Fox, is scheduled to open. The 141-room property will be situated in The Grove, a new 750,000-square-foot mixed-use development. The property will boast five F&B venues, including a Mediterranean rooftop restaurant, which will be the largest rooftop restaurant in the state, at 18,000 sq. ft. Details on meeting space have yet to be announced.
Popping up in Phoenix
Two holiday-themed pop-ups will be returning to downtown. One is Miracle Bar at Floor 13 Rooftop Bar, at the 170-room Hilton Garden Inn Phoenix Downtown. Floor 13 also provides private dining and small plates, in addition to the hotel's 2,543 sq. ft. of meeting space. The other, Sippin' Santa, will appear at Bitter & Twisted Cocktail Parlour. Both pop-ups will be open from Nov. 22 to Dec. 31.
"They're here, they're there, they're everywhere. This isn't a Dr. Seuss book; these are new developments in Arizona."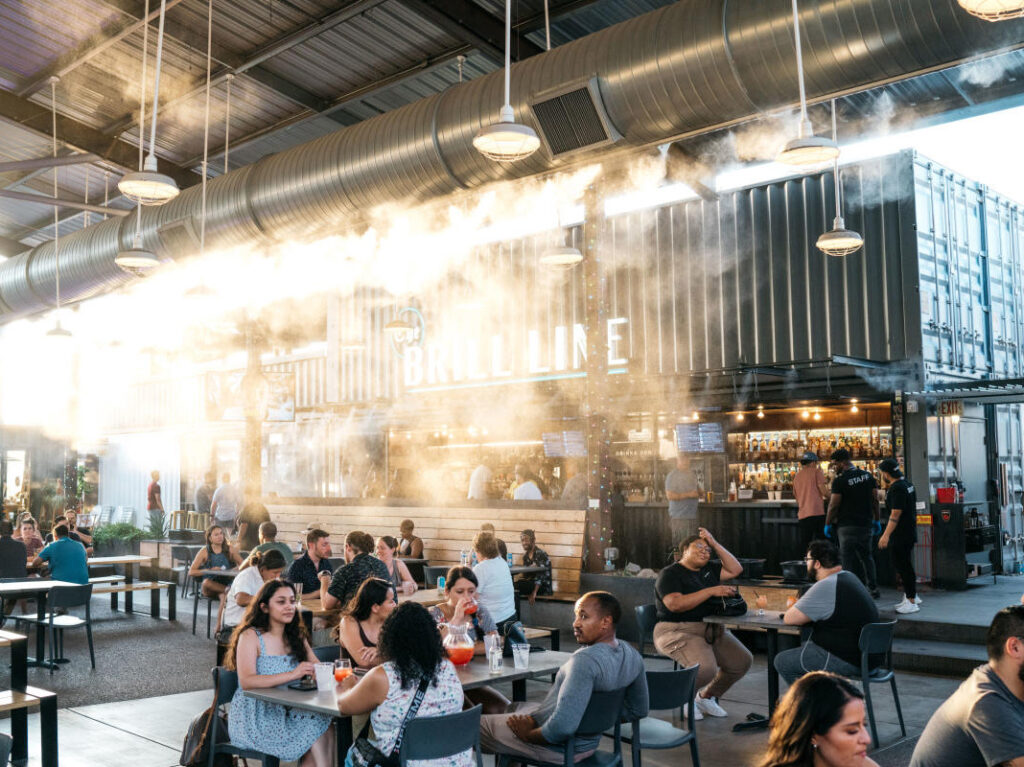 Similar to the pop-up in style but not so transient, The Churchill, in downtown's Roosevelt Row Arts District, is a 9,000-square-foot multiuse space made of 10 recycled shipping containers that operate as restaurants. These containers surround a courtyard, which serve as a space for art and fitness classes and pop-up art galleries; the entire space can be bought out for events, too.
Pemberton PHX—the self-described "funporium" mentioned earlier—is an outdoor community space consisting of retail and art galleries, plus several F&B options, including Baja Fish Tacos & More, cocktail bar Baby Boy, Melt Ice Cream and Baba's Falafel. Pemberton opens itself to pop-ups, as well, and it currently houses the mobile wine car Moiselle Phoenix, beers from Abnormal Beer Co. and coffee from Fever Dream Coffee. Private events at Pemberton are a go.
Touring in (and Around) Tucson
Scottsdale and Phoenix's southern brother, Tucson, offers tours of all kinds: aerial, bus and van, walking and cycling, food and drink, off-road and wilderness. Whether your group wants to see the main or back streets of the city, there are numerous ways to do it.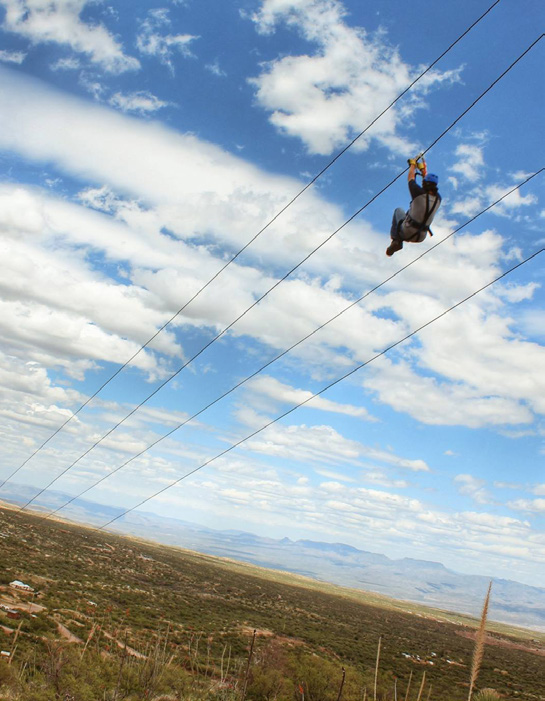 Arizona Zipline Adventures, in Oracle just northeast of Tucson, provides a way to see the city from up above. Arizona Zipline is also home to Peppersauce Kitchen, which serves American cuisine, so attendees can grab a bite after taking flight. There's also Balloon America, a hot-air balloon adventure that travels 9,130 feet above and along Tanque Verde Creek. Its launch site is La Mariposa Resort, which has indoor meeting space for up to 250 and outdoor space for 1,000.
Taste of Tucson offers a 2.5-hour walking tour of downtown. Groups will visit four restaurants, as well as learn about the history and culture of the city, named in 2016 as the sole U.S. City of Gastronomy by UNESCO. Arizona Winery Tours provides groups trips and private tours around Southern Arizona's wide-ranging wineries, as well as lunch at one of the vineyards along the way.
Scottsdale
An experience in Scottsdale is an experience not soon forgotten. This scenic city adjoining Phoenix is home to accommodations of all kinds, from your classic luxury digs to a spacious casita. Add to this the continuing development within the city over the next few years, and you have a contender for your next team-building adventure.
Hotels
With 185 bungalow-style guest rooms, Hyatt's Andaz Scottsdale Resort & Bungalows provides an artful experience with a sweeping desert landscape. Weft & Warp Art Bar + Kitchen, the property's restaurant, serves dishes inspired by the American Southwest, and features the multicourse Chef's Tasting Experience in either the chef's kitchen or the outside garden table, a great option for small groups (eight guest maximum).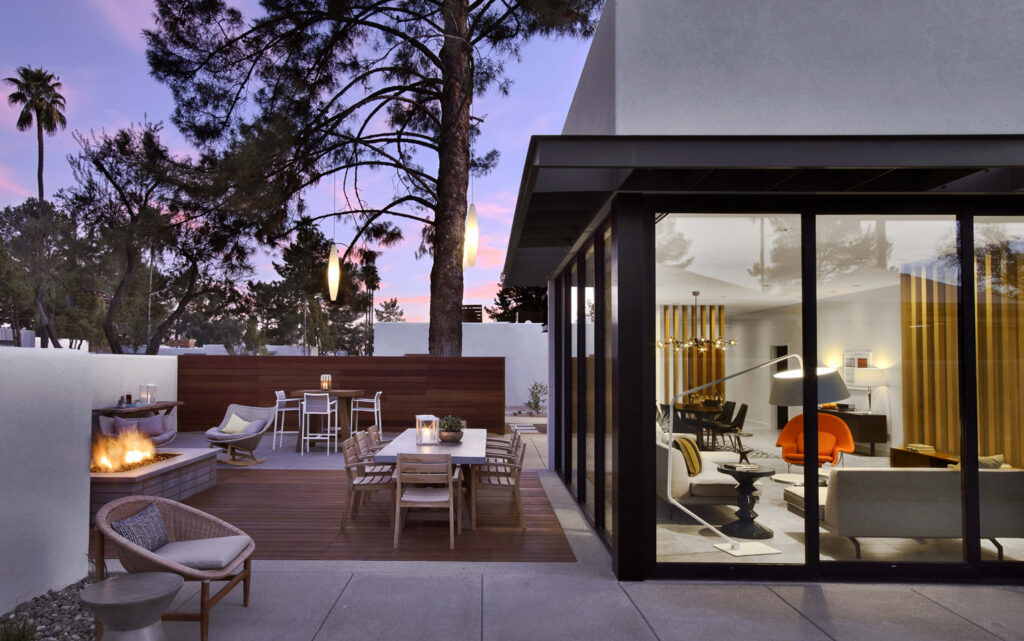 Available for buyouts at Andaz Scottsdale is The Retreat, an executive enclave that features 20 bungalows, a private pool and the two-bedroom, 3,500-square-foot Albers House. The property offers nearly 50,000 sq. ft. with 30 indoor and outdoor meeting venues, its largest being the 7,000-square-foot Studio Lawn. In collaboration with Cattle Track Arts & Preservation, your group can take art classes and tap into their inner muses. Works by Cattle Track artists can be found throughout the property, and more can be seen at Cattle Track Arts Compound, less than a mile away.
Canopy by Hilton Scottsdale Old Town is Old Town's first development in 10 years. The 177-key property is home to a refreshingly modern look, from its 1,972 sq. ft. of event space to Outrider Rooftop Lounge, which sits adjacent to Cobre Kitchen and Cocktails, a restaurant that serves breakfast, dinner, cocktails and craft beers that'll warm the soul.
Four Season Resort Scottsdale at Troon North features 210 rooms, made up of adobe casitas and multiroom suites. Four dining options, such as the Spanish steakhouse Talavera, are on offer. The property has 36,000 sq. ft. of meeting space and recently finished an update to its 17,000 sq. ft. of indoor space, complete with desert-inspired decor.
In spring 2022, The Ritz-Carlton, Paradise Valley is slated to add 215 new rooms to the city, equipped with private entrances, bungalows and separate casitas and oversized suites. Its 20,000 sq. ft. of meeting space is set to include two ballrooms with floor-to-ceiling windows for uninterrupted views of those beautiful Camelback mountains. This new Ritz-Carlton will be at the center of The Palmeraie, an exciting development that will include residences, more than 60 retail shops, entertainment and 12 F&B outlets at its outset.
Caesars Republic Scottsdale, slated to open 2023, will be Caesars Entertainment's first nongaming hotel in the United States. Caesars Republic will house 265 rooms, including 28 suites, a rooftop pool and a 7,000-square-foot convention center; the lawn adjacent to the center will host up to 600 people. Standing 11 stories high, strong local inspiration will be seen from top to bottom, and it will be close by Scottsdale Fashion Square, the city's go-to for shopping.
SLS Scottsdale is scheduled to open June 2023. It will have 235 hotel rooms, including 30 suites, two floors of event space, as well as a restaurant and bar.
Popping up in Scottsdale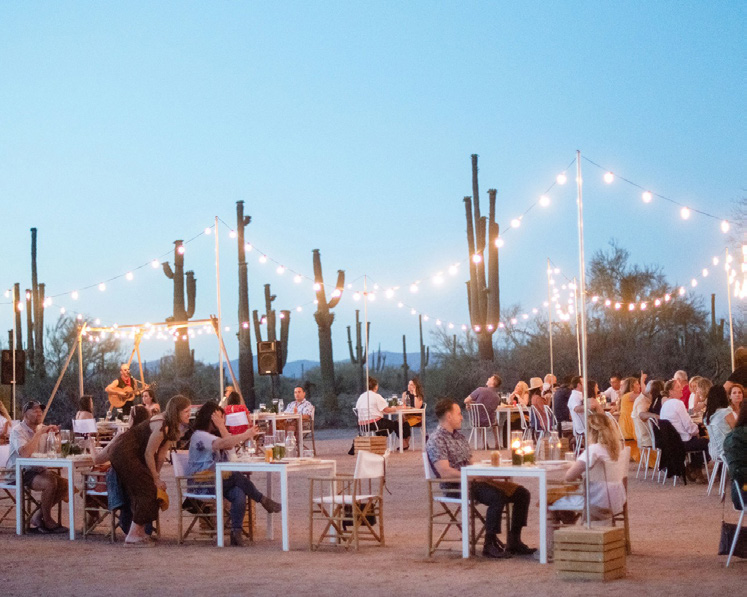 There's eating with a mountain view; then there's eating on the mountain. The latter is locally based Cloth & Flame's approach, the inspiration of husband-and-wife team Matt Cooley and Olivia Laux. Picture long-table pop-up dinners at more than 60 remote locations around the United States, including the Grand Canyon, Superstition Mountains or even the center of a downtown street. Corporate events are tailored to ideas or brand, and are deeply customizable. They've done them for the likes of Google, Chanel and Uber.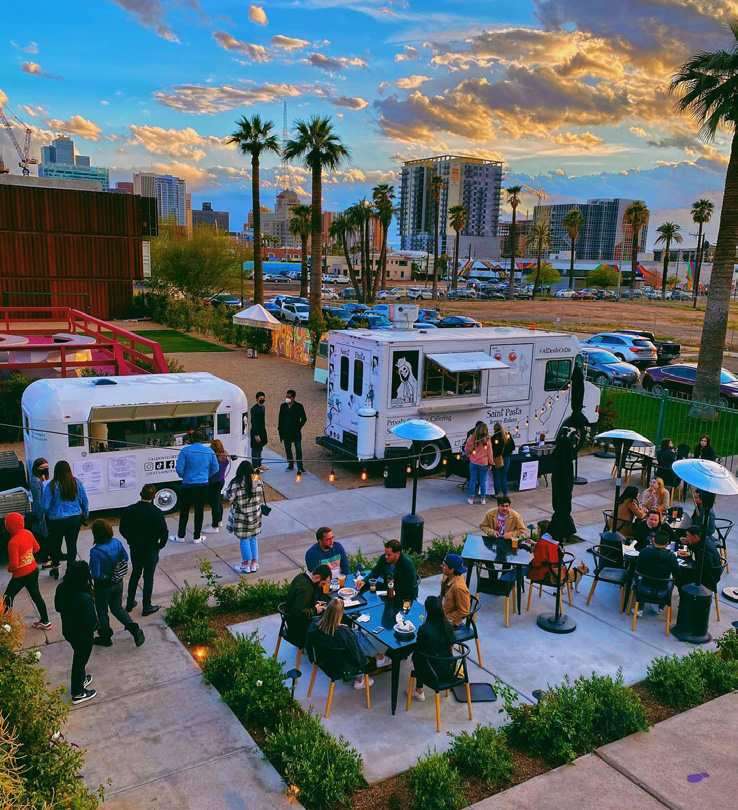 While not a pop-up in the usual sense, Wonderspaces is an interactive art studio that uses light, sound and VR from global artists. A dozen art pieces are showcased at a time and are shown in a rotation of a few months. One recent installation is Human Study #1, 3RNP, by Patrick Tresset. Instead of only spectating, viewers become part of the project; attendees sit down to be sketched by three robots; then their sketches are added to a wall of sketches created before them. These will then become part of another project titled The Collection, which includes more than 36,000 drawings.