The 2016 Event by William Raveis was promoted in the hotel lobby
Perhaps the biggest draw for most vacationers and meeting planners heading for Mohegan Sun (other than its three casinos, luxurious 1,200-room hotel and countless onsite amenities) is its undeniably ideal location: a short drive from Boston; Hartford, Connecticut; Providence, Rhode Island, and easily accessible from New York City and Philadelphia—Mohegan Sun is smack dab in the middle of some of the greatest destinations in the Northeast.
But many of Mohegan Sun's convention and large meeting clientele are repeat customers, and it's not the location receiving the credit. It's the familial connections they make with the hotel and casino staff that make them feel like more than a customer.
Take William Raveis, for example, a large real estate company that just wrapped up their annual two-day conference at Mohegan Sun's convention center (for the fourth year in a row with 800 in attendance).
"They're a family business, and we are a family business," says Steven Csejka, vice president of marketing for William Raveis. "So when the chief spoke at our first event four years ago, it became evident that our companies were going down the same path."
The expression "We treat everyone like family" may be as cliché as they come, but the staff at Mohegan Sun didn't say it—they showed it. During a tour of the meeting spaces, Mohegan Sun's director of convention sales Gary Baker, CMP, stopped to greet everyone he ran into—from the in-house meeting planners and A/V technicians to the familiar faces of the William Raveis crew setting up. The conversation was always informal, familiar and friendly.
The familial vibe carried throughout the hotel and casino staff is owed in part to its founders, the Mohegan tribe, who opened the casino in 1996. The tribe is known in the area for its humble selflessness; often donating time and services to the community and rarely publicizing it.
The vibrant colors, natural sounds, waterfalls, and even the meeting spaces named for surrounding tribes are all pleasant reminders of the casinos' owners and ancestors.
Not Just a Convention Center
Located on 185 acres along the banks of the Thames River in Uncasville, Connecticut, the gleaming, crystalline 34-story tower at Mohegan Sun pays homage to the natural materials the Mohegan tribe used to fashion arrowheads and the ceremonial objects that acknowledged good spirits, such as rock and smoky quartz. The building's geometric shape and large windows provide panoramic views of the river and surrounding New England countryside.
The Casino of the Wind, Casino of the Sky and Casino of the Earth together provide 350,000 sq. ft. of gaming space, including smoke-free areas, nearly 6,000 slot machines and more than 350 table games.
The Shops at Mohegan Sun offer more than 30 stores and boutiques, and more than 30 restaurants and bars provide every type of cuisine and environment, from casual to upscale.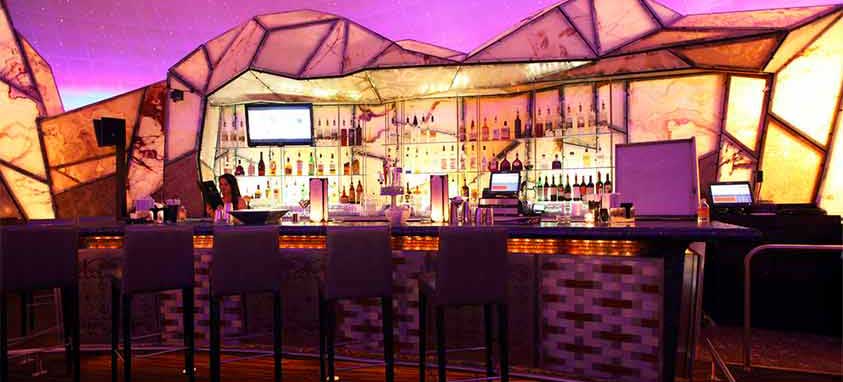 Vista Lounge at Wombi Rock
Casino of the Sky features Vista Lounge, a two-level ultra-lounge with black jack tables, private alcoves and glittering constellations overhead in the largest planetarium dome in the world.
At the Taughannick Falls Bar, guests can sip cocktails at the base of a 55-foot indoor waterfall, or head over to the high-energy Avalon Night Club.
Mohegan Sun Golf Club offers 18 holes of championship golf, and Elemis Spa & Salon features more than 22,000 sq. ft. of space, including 15 spa therapy rooms and a panoramic indoor pool.
One of the biggest draws for meeting planners, Baker explained, was that groups of the largest size can meet at Mohegan knowing confidently that the casino and hotel offer something for everyone, so planners can rest assured that attendees don't feel the need to go off the property.
Conversely, as more young attendees are looking for the opportunity to explore during their travels, Mohegan Sun's central location makes it possible for people to extend their stay and tour New England and beyond.
With offices in Massachusetts, Manhattan, Vermont, and New Hampshire, William Raveis first chose Mohegan Sun for its accessibility, says Csejka, but it's flexibility is part of what keeps them coming back.
"It's not just a convention center. It's a destination that can handle the education sessions and the breakout sessions. It's a big venue and it's still cozy and intimate. And when the convention is done at the end of the day, [our attendees] can have fun."
Unlimited Possibilities for Meetings
The 1,200 spacious guest rooms at the hotel include over 170 suites. It also offers a 10,000 square-foot solarium with indoor/outdoor swimming pool, and an outdoor sun terrace offers 17,500 sq. ft. of space.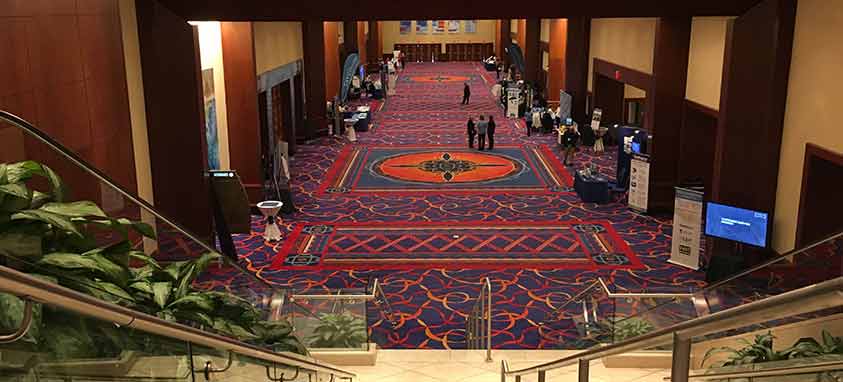 Prefunction space in front of Uncas Ballroom
Meeting spaces include the 38,000-square-foot Uncas Ballroom, which can be broken down into ten meeting rooms and accommodates 3,400. There are 15 additional meeting rooms and a board room on the lobby level.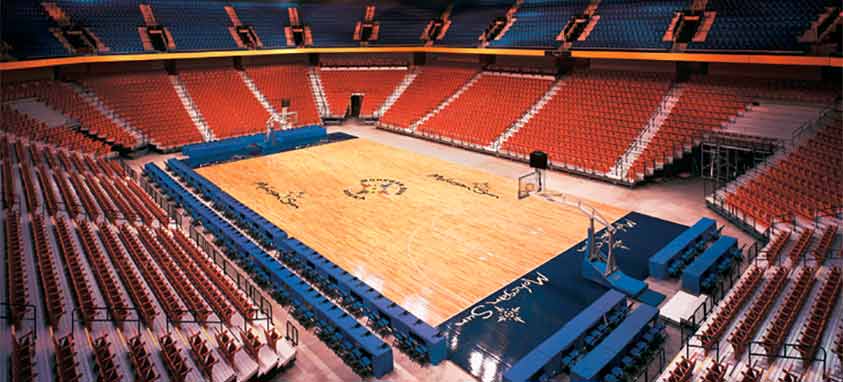 Arena at Mohegan Sun
The Academy of Country Music Awards winner for Medium Capacity Casino of the Year, Mohegan Sun Arena is home to some of the biggest names in entertainment and can seat 10,000 theater-style, and can be transformed into 30,000 sq. ft. of exhibit space. The Wolf Den, which won the ACM award for Small Capacity Casino of the Year, is an intimate stage at the center of Casino of the Earth and hosts free concerts four nights a week. The cabaret theater seats 400 and offers an intimate atmosphere for shows and events.
Comix Comedy Club & Craft Beer Bar features up-and-coming comedians and headliners alike and offers 24 craft beers on tap, and a diverse food menu. It seats 325.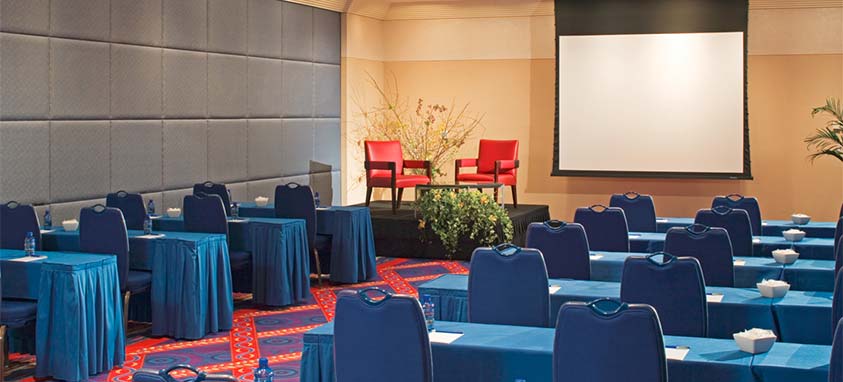 A conference room set up for discussion-style presentation
In total, Mohegan Sun offers more than 100,000 sq. ft. of flexible meeting space, 30 conference and break-out rooms can accommodate up to 5,300. There are expert CMP/CMM certified event service team members on staff to assist with every detail.
A professionally-managed business center features individual workstations, the latest business technology and shipping and receiving services. The state-of-the-art facilities at Mohegan Sun also make it possible to segment blocks of guest rooms in order to broadcast video-feeds and allow two-way conferencing from guest rooms to meeting rooms. Intra-property video teleconferencing is another high-tech feature available.
Fun On Deck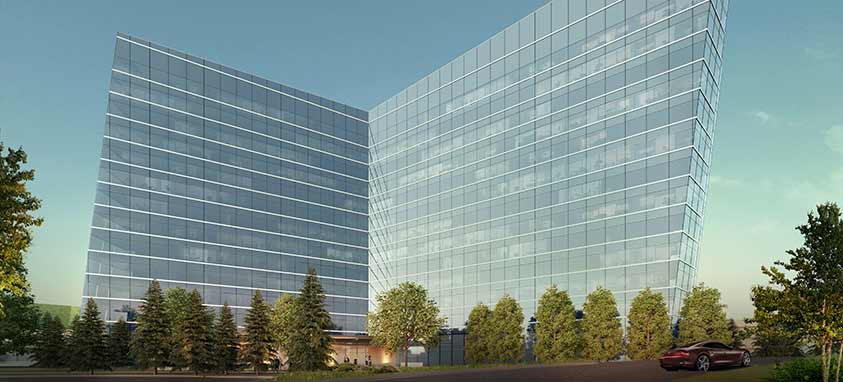 Earth Tower hotel is slated to open in the fall
A second hotel is being added to the flagship property, slated to open in the fall. The $120 million dollar Earth Tower hotel will feature 400 deluxe guest rooms, an indoor pool and fitness center, and even more functional meeting space.
The property is also preparing to add a Tom's Urban restaurant across from the Arena in the existing hotel and casino in the next few months. Tom's Urban offers a wide selection of American street foods, handcrafted cocktails, and more than 40 beers on tap—a great late-night spot after catching a show.