For meeting planners looking to be at hotels that practice green initiatives, Mandalay Bay and Delano Las Vegas are great options for any group size. Many companies that hold meetings don't realize the commitment that large resorts in Las Vegas have to environmental sustainability.
Mandalay Bay is about to be home to the country's largest contiguous solar photovoltaic array panel covering approximately 20 acres of the convention center roof. At peak production, the array is expected to produce nearly 20 percent of the resort's power demand while helping to alleviate demand on the southern Nevada energy grid. It is important for a group to tell the hotel that that environmental practices are important. Aside from the things that the hotel does automatically such as recycling 81% of all material back of house, or having motion sensitive and water saving faucets, both Mandalay Bay and Delano offer 100 percent sustainable/organic banquet menus and we will serve water at meal functions only upon request. We can also partner with a group on team building ideas for attendees in helping the community.
It is important to partner with a venue that has the same belief and values as your company practices. Not only is it the "right" thing to do, but it feels good too!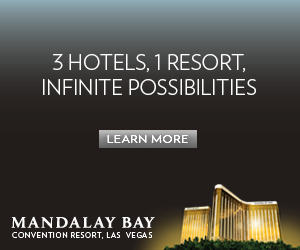 For more information please visit mandalaybay.com/conventions.