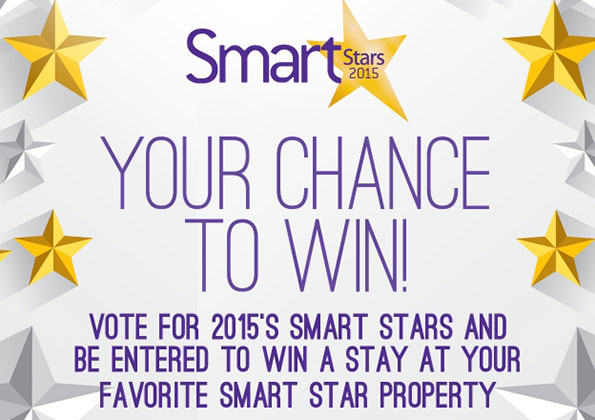 If you are a professional meeting and events planner, you probably spend a lot of time sourcing, recommending and visiting hotels, resorts and convention centers all over the world.
While many of these properties are standouts (hey, that's why you recommend them to your clients in the first place, right?), maybe you don't always stop to give them a shout-out or the public props they deserve.
That's where Smart Stars comes in!
Smart Stars is Smart Meetings' annual awards program that recognizes the best hotels, resorts, and venues—as nominated by you, the readers of Smart Meetings magazine.
Now, we're asking you to vote for your favorite nominees across 25 categories—ranging from Best Airport Hotel to Best Special Event venue. These properties will benefit from your votes with increased exposure and accolades, resulting in more business from meetings and events professionals like you! Go ahead, choose your favorite venues—you know they deserve it.
As a perk for casting your votes, you'll be automatically ENTERED TO WIN a stay at your favorite Smart Star property!
So get your votes in today. You can vote in as many or as few categories as you'd like and you'll see a private record of who you voted for every time you visit the Smart Stars voting site. Voting ends April 30, 2015. Winners will be announced in June. Thanks on behalf of all our nominees, and remember, when you vote upon a star, it makes a big difference where you are!