How does a vibrant, whimsical event space celebrate 14 years of successful meetings? How else than with an equally unique anniversary party?
On November 14, Catalyst Ranch, Chicago's most creative meeting and event space, will be celebrating "A Most Interesting Affair," a perfectly fitting
Invited are clients of various past meetings and special events as well as new friends such as meeting planners and creatives across the spectrum of industries that benefit from the unique venue.  Their preferred caterer, Big Delicious Planet, is whipping up something special for the occasion.
Special guest performances include local celebrities: TV, stage actress and writer, Jen Bosworth will be telling an original story; a band will perform a few original songs and Emmy Award winner Ben Hollis will be interviewing attendees with his famous question "What It's Like to be You?"  These performances pair perfectly with Catalyst Ranch's creative decor.  Tours will be given and guests will be welcomed by Catalyst Ranch's founder and Czarina, Eva Niewiadomski.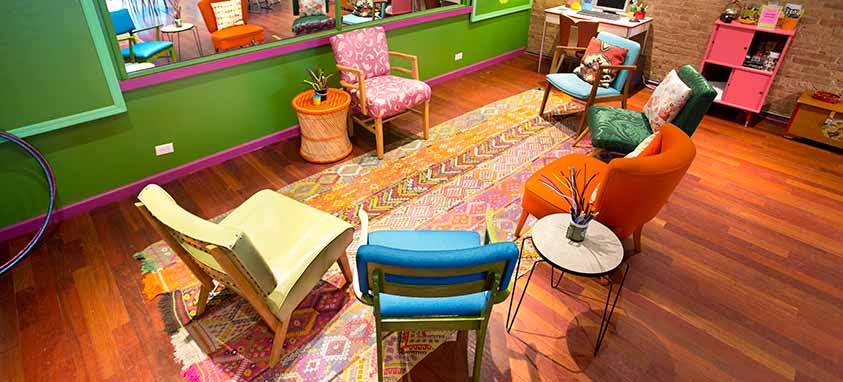 Founder's Vision
Niewiadomski is a successful entrepreneur who created a new category in the hospitality industry–Creative Conference Space–when she opened Catalyst Ranch 14 years ago. Back in 2002, what she accomplished was not often heard of: a woman-owned start-up business.
Her foresight led her not only to business ownership, but she became one of the very first innovative businesses in the now burgeoning, trendy West Loop neighborhood, known by nicknames such as "Innovation Alley" and "Restaurant Row."
Niewiadomski believes that ideas, learning and breakthrough thought thrive when people are placed in an environment that stimulates and invigorates the senses.  It's important to take individuals out of the typical cubicles and conference rooms where they're ensconced throughout their daily working lives if you want them to think differently and approach problems from a new viewpoint.
So she created such an environment at Catalyst Ranch. The rooms are housed in a historical loft in downtown Chicago and whimsically furnished with vintage furniture, ethnic artwork, colorfully painted walls, toys, books and much more.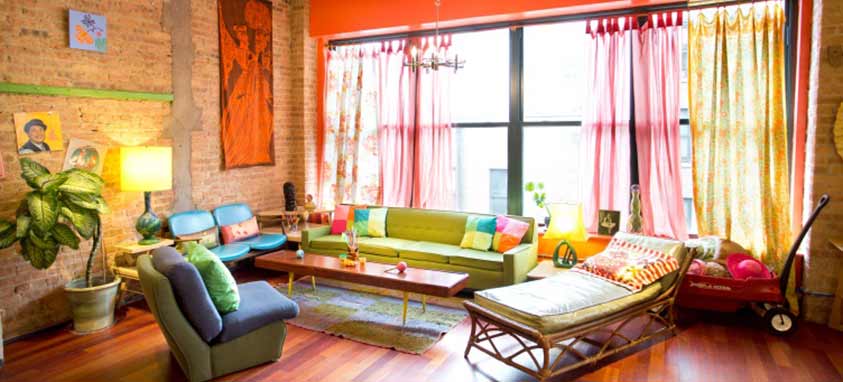 Accolades Roll In
In 2008, Catalyst Ranch was named to Inc. Magazine's Top 100 fastest growing private companies in Illinois. In 2006, 2012 and 2013, Catalyst Ranch won the Most Unique Venue and Best Conference Venue, respectively, in Illinois Meetings & Events Best Of Awards. Niewiadomski won the 2015 Enterprising Women of the Year Award from Enterprising Women Magazine and 2016 NAWBO Member of the Year.
Prior to starting her own business, Niewiadomski spent almost 20 years in corporate, working for The Quaker Oats Company in a variety of finance and marketing positions and at Arthur Andersen & Co.  Eva has a degree in Public Accounting from Loyola University and an MBA from the Kellogg School of Management.
"Convinced by my combined corporate experience at Quaker and my passionate belief in the importance of a creative environment to stimulate the senses to deepen the quality of the off-site corporate meeting, I parlayed my severance, took out a loan and Catalyst Ranch was born," says Niewiadomski. "In our fourteen years of business, we have added a whole additional floor, and assisted countless meetings attendees in 'thinking outside-the-box,' had hundreds of thousands of new ideas generated and hosted many unique weddings, fundraisers and other special events.
"I am looking forward to celebrating with Ranch friends, old and new, and sharing our ever evolving menu of innovative services which ignite the imagination."
Planning to be in the Chicago area November 14? You can join in the celebration and see the venue for yourself.  RSVP here.