Photo by Jackie Donnelly
Over the past year or two, digital assistance has been popping up in new spaces. It has become so prevalent that a future where smart homes are the norm doesn't feel far away. It won't stop with homes either. Certainly, the hospitality industry will need to keep up with this growing demand. After all, nothing is more valuable to the industry than making guests truly feel at home.
Alexa, ask Alexis…
The Kimpton Alexis Hotel in Seattle recently rolled out Amazon Echo devices in each of its 121 guestrooms. The addition of Alexa-powered devices makes the Kimpton Alexis the first hotel in the country to offer the service in every guest room and suite. By simply saying, "Alexa, ask the Alexis," guests will have questions answered and requests satisfied.
Alexa is not the only voice-operated digital assistant on the market. In fact, Bloomberg recently reported that Siri and Alexa are caught up in a fierce competition for hospitality industry dominance. So why did Kimpton choose Alexa over Siri or Cortana?
Jenne Oxford, general manager of the Kimpton Alexis, explains, "One of the appealing things about Alexa is that Amazon is a local company. More importantly, when we asked about the certain functionalities needed, Alexa fulfilled all of the requirements. The answer became obvious."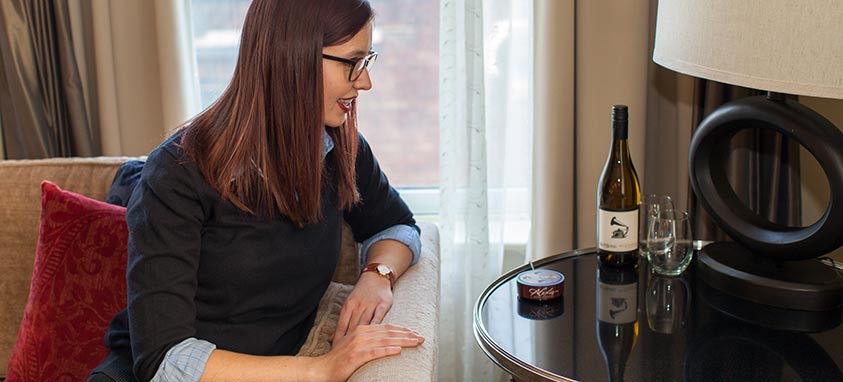 Photo by Jackie Donnelly
The Kimpton Alexis team also worked with Volara, a third-party vendor, to ensure that Alexa would be able to answer questions specific to Kimpton Alexis instead of a generic search engine response.
Even though Alexa has an impressive array of functions, her purpose was never to replace the concierge. Instead, Alexa does everything from relaying in-room requests to giving local restaurant recommendations.
"In terms of communication, Alexa improves the way people are receiving information. They are often more comfortable asking a device for information," says Oxford, adding, "We worked to get benefits that come along with home usage while also adding hotel functionalities. [Alexa assists with] anything from requesting towels to questions about basic hotel information."
What can Alexa do for the meeting planner?
Event benefits were a big consideration in setting up Alexa, as the hospitality and meeting planning industries are closely intertwined. Since Alexa's responses are customized on an audio file, event details can be recorded and circulated throughout hotel rooms. For instance, if coordinated prior to the event, a guest could ask, "Alexa, ask the Alexis where the Smart Meetings event is today." Alexa would respond with all of the necessary information, including locations, times and itinerary.
"Alexa can tell guests plans for the day or week of an event with specific details on a recorded response," says Oxford.
Therefore, Alexa can replace the sending of a painstaking number of emails, text messages or voicemails—a huge perk. Plus, Oxford also mentioned that recordings will reduce the need for paper itineraries and brochures, an important sustainable feature for the industry.
This is only the beginning
There is a delicate balance between staying current and having a discerning eye. Every day it becomes more difficult to decide which technological investments are worth the time and money. Evidently, Kimpton Alexis' decision to integrate Alexa required an evaluation of the industry as a whole.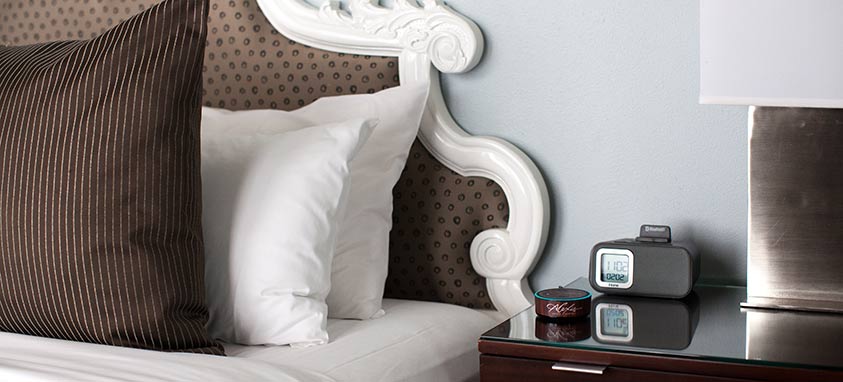 Photo by Jackie Donnelly
"We are trying to do something unique and different. When we see people using this technology in their own homes, we want to provide them with that communication," Oxford comments.
On the future of Alexa, Oxford explains that the process is not stagnant. "We have rolled out phase 1 but we have plans to develop based on guest demands."
"Tech is challenging because it changes so quickly. It's important to communicate as we use [the product]. We need to be constantly evaluating guest relevance. By no means is this the end. We will definitely continually evaluate the next thing and consider changing needs."