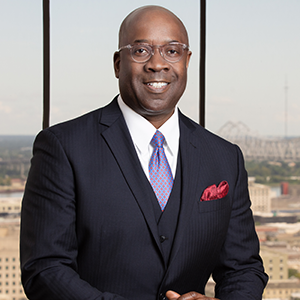 Almost every group wants to give back to the cities that host them, but how can you be sure it will make a difference? Smart Meetings asked Michael Smith, general manager of Hyatt Regency New Orleans and 2019 Supplier of the Year for his secrets to effective change-making.
"We have an obligation to help," said Smith, who lived through Hurricane Katrina and worked tirelessly to help his employees and the neighborhoods recover during the more than six years it took to reopen the property. In fact, for more than three months, the hotel was headquarters for emergency workers, the mayor, city council and Homeland Security. A $285 million investment in the property post-Katrina and post-oil spill in the middle of an economic downturn happened because Hyatt believed in the city. Smith dedicated his time, relationships and brand because he was sure this was going to be the start of a Renaissance for New Orleans. "This is where I feel that I am needed," he said.
Related: New Orleans: A Meeting Planner's Dream
The 40-year veteran of the hospitality industry heralds from a big family in rural North Carolina and was one of the first to get out and go to college. His mother told him that he was "made of a special kind of wood" and that meant he had to give back. However, it was when he was 27 years old and suffered an intracerebral hemorrhage and survived that he knew he had to do something big. "I was given a second chance at life," he said.
Smith has tirelessly supported programs dedicated to sustainability, diversity and inclusion, LGBTQ, arts and culture, education, religion and community and was honored as an unsung hero for his role in evacuating thousands of displaced residents during Hurricane Katrina. He received an honorary doctorate from Dillard University and was named a Jay A. Pritzker Award recipient. Here are his tips for philanthropy activists making the most of this one life for those around them.
1. Be a difference-maker.
Smith and his team went through a significant emotional event, and now he has the power tell the story about what needs to change from a local perspective. Whether he is collecting for United Negro College Fund, Sisters of the Holy Family or UNCF Mayors Masked Ball, he is telling that story from the heart. A few years ago, when a sister hotel in Houston flooded, he raised money from associates, customers and owners to help employees there cover their rent while the property was closed. "We had been through it and benefitted from generosity of associates in other cities," he said. He calls giving "psychic income." You get paid through your heart and that is more rewarding because you feel good inside and outside. You can feel it, touch it, kiss it, see it laugh and cry.
2. Don't talk about it unless you are going to do something about it.
Smith noticed that in the early days of Food Network, no African-Americans were featured, "and we cook better than anyone," he said. Instead of talking about it, he started an event called Taste of Heritage that featured African-American chefs together—including prominent restaurant owners—and raised money to send five up-and-coming chefs to study at Culinary Institute of America and started filling the chef funnel.
3. You can't do it all by yourself; you have to have a team.
By creating a culture of corporate responsibility that includes employees, suppliers and customers—even politicians—Smith is able to accomplish more that he ever could on his own.
5. When charity is more than a check, participants feel emotionally invested in the cause.
Smith advocated that groups go beyond the giving of a check to find CRS opportunities that are a fit for the goals and scope of giving. Marry the needs of the community and the capacity and culture of your organization to find a project that fits. He suggested working with the host hotel and local CVB, who can act as "the glue to put it all together." He pointed to one group that was focused on recreation and brought in 600 people to fix up a park. "Leave something there that is a direct reflection of your event," he said.
The Business Truths Behind Michael Smith's Charitable Work
There is a payoff for all that good work. "When you do good for people, they want you to do better," he said. Companies that give back are more successful. Hyatt Regency New Orleans officially reopened in March of 2012 with a fundraiser featuring the actor Brad Pitt in partnership with Make it Right Foundation and raised more than $5 million to build a dozen houses in the Lower Ninth Ward.
To this day, he underwrites 12-15 events each year and now the property "owns the social market in the city and everyone knows it, so they come to us for their fundraising events," he said.
His mantra before, during and after Katrina was that "charity is a business model and the right thing to do."
As a champion of health and wellness, Smith recently implemented a program of mind, body and soul that has not only affected the lives of his associates, but the community as well. By helping to create a healthy menu, partnering with local gyms, and providing a meditation and relaxation room on property, Smith has truly set a standard for mental and physical wellbeing. Smith enjoys exercising daily with a favorite pastime of mountainous nature walks.
Deemed a wine connoisseur, Smith has collected more than 1,000 bottles of the finest wine over the years. He enjoys traveling the world learning about the different cultures, cuisine and traditions. When home, he loves to cook the many dishes experienced while traveling, adding his special twist, then sharing with friends and family. Through his leadership, vision and passion, Smith's efforts have not only perpetuated economic development, but achieved long lasting and sustainable results. His desire for the betterment of the community has boasted him as a necessary attribute to any city—and especially, New Orleans.
Board and Committee Memberships
New Orleans Aviation Board– Chair Operations/DBE
New Orleans Convention & Visitors Bureau, Chair & Board Member
New Orleans Chamber of Commerce– Chairman's Council
Audubon Nature Institute, Board of Directors
Human Rights Campaign– Committee Chair 2016, 2017
United Negro College Fund (UNCF)– Chair, 2014-current (Largest fundraiser in the city of New Orleans)
New Orleans Museum of Art– Trustee
New Orleans Business Alliance, Board Member
New Orleans Tourism & Marketing Commission, Board Member
Greater New Orleans Hotel and Lodging Association, Board Member
Saints Hall of Fame, Board Member
Ernest N. Morial New Orleans Convention Center– Board Member
District of Columbia Taxi Cab Commission – Commissioner, 2001-2004
Awards
Times-Picayune— Loving Cup Award, 2019
Boys Scout of America— Whitney M. Young Jr. Service Award, 2019
Jay A. Pritzker Award – Hyatt Hotels General Manager of the Year, 2017
Honorary Doctorate—Dillard University,2017
Boys Scout of America— Whitney M. Young Jr. Service Award, 2017
New Orleans City Council Proclamation— Philanthropy & Civic Engagement, 2016 
National Black College Hall of Fame Inductee— Chairman's Award, 2015
Sisters of The Holy Family, 2015
National Urban League – NOLA Empowerment Award, 2014
YLC – Young Leadership – Role Model, 2014
Certificate of Recognition – Aviation Board 2013 
New Orleans Urban League – 10thAnniversary Recognition
Trumpet Award (Recognition of African Americans who has inspired success in others), 2012
New Orleans City Council Proclamation- Unsung Hero (5th year Anniversary for Hurricane Katrina), 2010
Numerous other recognitions and awards for community service