How to maximize meeting impact on new social media tool while minimizing downsides
A week ago Julius Solaris (@tojulius), founder of Boldpush, posted on Meta's new Twitter copycat platform his Threads emoji heart Events infographic celebrating conversations, relationships and comments on the platform while simultaneously bemoaning the lack of hashtags, DMs and search. He was thumbs up for strong celebrity drive, easy account creation, general excitement and the fact that it counted 100 million users in 5 days due to its easy onboarding (one click from Instagram and you are set up with a feed of your followers from there).
He also noted the downside of not having the platform available in Europe, having it so tied to Instagram (you can't delete without deleting Instagram), that it lacks identity and has a weak algorithm that shows you a lot of random posts. In conclusion, he said that the platform probably works best for consumer events with a strong presence on Instagram, and could be used for backchannel, branding customer service, demand generation and community building. The post received three likes.
The same week, he saw lots of engagement for a musing that "Somebody told me this yesterday and it stuck with me. If you charge more than $150 per hour and you don't reply within the hour to a client message, then you shouldn't charge that much. Agree?" The overwhelming reaction was "disagree." The Events Coach Juliet Tripp (@thejuliettripp) may have summed it up by saying, "It sounds like a co-dependency issue, not a healthy working relationship."
Read More: Why Event Profs Jumped on Clubhouse in 2021
Due to the shortfalls Solaris outlined, those sorts of rhetorical questions seem to be winning the day on the fast-growing platform. Not, "What is the best barbecue restaurant in Memphis?" but "Why is barbecue the best food ever invented?" That is hypothetical, but feel free to answer either question by hitting us up on @jtlongandco.
What does the Threads mania mean for planners?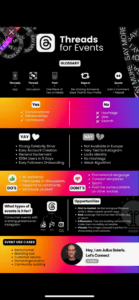 Because discovery is so difficult without hashtags, Twitter favorite for the industry #Eventprofs hashtag started @eventprofsonthread to try to connect the events tribe and as of this writing was at 104 followers.
Zillow Executive Producer of Live Content and Smart Women in Meetings Award winner Karen Hartline (@khartline) is one of those. She is feeling reminiscent about the early days of Twitter when conversations were more positive and physical Tweetups brought people together for meaningful connections. She was director of events at Mashable at the time and they were all about the social networks. "You could post that you were going to be in downtown Los Angeles and would anyone want to meet up? That would be asking for trouble the way the platform has shifted to trolls today," she said.
Hartline credited the positive, chatty tone on Threads to the fact that people come over from Instagram where they are already primed to talk more about personal things than stirring up controversies.
When asked the best way for meeting professionals to use this new tool, she saw it as an investment. "I can see meeting professionals connecting there pre-event as a Slack alternative. The way it connects comments, it can collapse a conversation and 'thread' it together without getting noisy. It doesn't show up in the feed over and over like it does on Slack," she said.
Hartline suggested putting the snaky symbol on event websites and enlisting speakers to have conversations there to create excitement in advance of an event to get those conversations started.
She also saw potential as a fun way to continue the conversation after the event by encouraging attendees from stage to "Tell us what you thought on Threads."
The new app megaphone may not be for everyone, she cautions, citing some of the same drawbacks Solaris noted. Just like any other social network, a brand has to have someone managing that and you can't moderate like on an app or Slack. "You also have to think about whether you have time for another platform in your life," she said.
"After a few improvements, it could be even more valuable, but event professionals should get on now to get used to it and start building a following," she concluded.
A Threads To-Do List
Nick Borelli (@nick.borelli), marketing director with Zenus, an ethical facial analysis company, also saw the new platform as an evolving tool. "Meta is behind it, so I think it will last," he said, ticking off the benefits. He hopes the designers are listening to how relieved people are that it is not as loud and angry as other platforms and will try to maintain that as it grows. "We are in a war for attention and if TikTok gets shut down in the U.S., that will only benefit Threads," he reasoned.
The introduction of hashtags is a "when not if" situation in his mind. That will make it more valuable for things like selling tickets. But he also looks forward to an improvement in the Algorithm after superusers train it on interaction preferences.
He hypothesized that the platform could be good for associations looking for a sense of belonging between events. "It is the intersection of events and lifestyle," he said.
When asked how a meeting professional might get started, he had some smart tips:
The winning strategy during this land-grab stage is to post more than you normally would to stake your place.
Try to find other event planners to see how they are using the space.
Don't look for an "expert." No one has written the rule book yet because it is brand new so feel free to experiment and be seen as leaders.
Building community is your best bet.
Customer service might be useful there.
It isn't Instagram so don't lean on visuals too much.
Ask questions.
Define what it is for you.
Spark Event Collective founder Anh Nguyen (@atnguyen1123) posted early in the Thread life that "I'm kind of convinced that at the end of the day, all of these apps are just different ways for us to find connection with other humans. So, you can buy the guide, or take the course, but mostly just be a human, regardless of where you're communicating with people."
Watch Out for the Downside
The same factors that give Threads staying power (owned by Twitter and leveraging Instagram linkage) could also be the biggest strike against it. "Meta is first and foremost a business and they will bring in advertisers at some time just as they did with their other platforms. That could appeal to advertisers who are now lukewarm at best on Twitter."
Others look warily at the mothership's record on data protection, especially since many didn't even read the privacy policy before clicking the button to give access to their friends data.
"There are lots of reasons for Meta to play it safe when it comes to data protection," said Borelli, pointing to lawsuits in the U.S. and Europe. "The best strategy is for them to be more conservative about selling data, but then again we know what they have done in the past," he said.