Gun violence in the United States is, unfortunately, a reality every event planner must confront. The number of people killed in mass shootings has risen from 272 in 2014 to 692 in 2021. As of July 4, 2022, there have been 320 mass shooting deaths already this year.
With the recent Highland Park mass shooting, people are anxious about event safety. The burden is on planners to make attendees feel safe and secure. We asked Mark Herrera, director of safety and security for International Association of Venue Managers (IAVM), for strategies to improve security at events in light of these ominous statistics.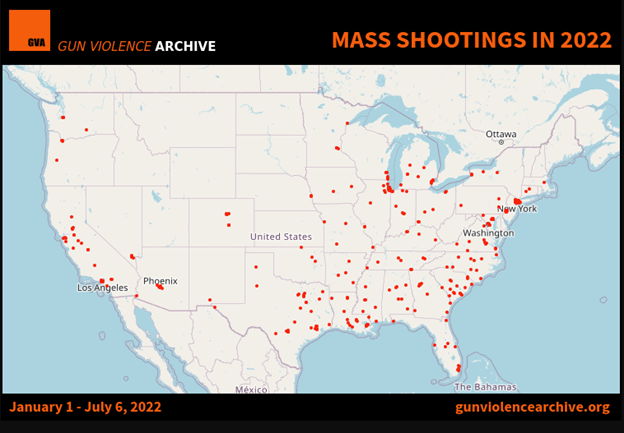 Assess Security Requirements
Not every event is created equal. Several factors contribute to how much security a specific event needs. These include:
Event type:

Low energy events like business conferences or seminars aren't likely to create risk. High energy events like political conferences, parties or rallies can push people to take drastic actions, requiring a more robust security detail.

Geographical location:

Different areas have different gun laws and cultures. An event in an open-carry state may need more security than an event where guns are strictly regulated.

Number of attendees:

The more people that are at an event, the more crowd control and de-escalation security staff will have to perform.
Read More: Pandemic Advisory Group Offers Resources to Planners
Train for the Worst Case
During the Covid pandemic, a lot of security resources were diverted to enforce health and safety measures like masking and social distancing, leaving physical and cyber security vulnerable. Plus, when events were completely suspended, many of the tenured staff that were the most knowledgeable took early retirements or quit, leaving many venues with fewer, less experienced staff. Without staff devoted to event security, it is much easier for bad actors to slip by.
Read More: Live Shooter Attack in Texas: A Reminder Planners Must Consider the Unthinkable
When looking for security or venues, seek out teams with engaged staff. Their training should be reinforced over multiple sessions, including webinars, lectures and tabletop simulations. Herrera recommends using every available resource—he brings in local, state and federal officials to close any gaps in training and utilizes FEMA's free online security training.
Employ a Guest Service Approach
Herrera has hands-on experience running security for every kind of venue. He has also given 413 training sessions on de-escalation strategies, situational awareness, risk mitigation and crowd management. These security techniques and resources are what he has found to produce the best results in event security.
Staff should be able to identify anomalous behavior in a crowd, activities that might indicate someone has negative intentions. How meeting representatives go about interjecting, diffusing and removing bad actors can make all the difference. Herrera recommends the "guest service approach" when engaging with uncooperative or disruptive attendees. He teaches staff to give them the best customer service possible. If the guest is intending to do harm, this shows that staff have an eye on them, diverting them away from the event. If the guest is innocent, they still receive a good customer service experience.
 "
It really takes the air out of the balloon when I interject using the guest service approach if someone has ill intent."
–  Mark Herrera, Director of Safety and Security for International Association of Venue Managers
Look for Near Misses
To recognize shady behavior, staff need to understand the modern threat environment. Covid has made countless people feel powerless to prevent financial struggles, family deaths and job loss. Herrera says this has accelerated the pattern of "homegrown violent extremists"—lone wolves, emotionally distressed people and criminal actors. They target public assembly venues with large crowds to exploit the media coverage that results from attacks. Knowing what potential threats are looking for in a target is crucial to preventing tragedy, he says.
Read More: Keep Calm and Plan On: How to Prepare for a Post-pandemic World
Herrera uses a "Near Miss Program" to encourage his staff to identify and discuss any potential risks in security and customer service. They submit reports to him, which he uses to build a guide on how to respond to any situation. This makes all staff aware of potential threats and builds a culture of trust and security.
Questions You Can Ask
It is up to you as the event planner to make sure the venue you choose has proper security measures in place. When assessing a venue, here are some questions Herrera recommends you ask:
What does the venue incident response plan look like?

How often do staff practice this plan?

Does it account for the latest health and safety measures?

What kinds of training do staff undergo?

When was it last completed?

Is that all the possible training your staff has access to?

Is your staff trained in guest service de-escalation? Health and safety measures?

What technologies do you use to ensure the physical and cybersecurity of the event?

How is everyone at the event involved in assessing risk?
Event security is not something to be taken lightly. With the right staff, training and knowledge, risks can be identified and mitigated to keep your attendees safe.