As health and safety standards change with every new surge in Covid cases, many planners adopted virtual or hybrid platforms, but not all attendees have embraced the shift.
Some are eager to get back to in-person meetings, while others are hesitant to be around others again. Some prefer the accessibility of virtual sessions, while others struggle to focus on one thing at a time.
To account for the diversity of habits, personalities and wants, American Express Global Business Travel (Amex GBT) put together a list of the most common "personas" and provided suggestions on how to make every type of attendee feel comfortable, included, engaged and prepared during your event. Those tips are organized below to give you the edge while planning your next meeting.
In-person Events
Though planners are most familiar with in-person events, it is important to understand how much they've changed in the last few years. Try taking these new expectations into account during your next event.
Main Takeaways
Leave room between sessions for socializing and resting.

Implement mask and social distancing policies that will put attendees at ease.

Try a non-traditional venue that engages with the local culture.

Include small breakout sessions to let attendees connect with each other.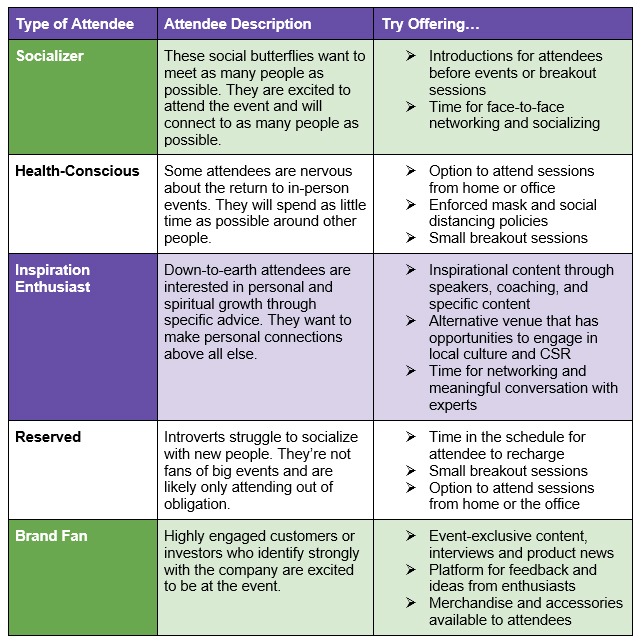 Hybrid Events
When an event offers both in-person and virtual sessions, attendees will often determine how they attend based on how the event caters to their interests. These three attendee types can be found at any type of event—here's how to give them the best event experience.
Main Takeaways
Include multiple methods of communication between attendees, speakers and organizers.

Incentivize in-person attendance with exclusive sessions and guests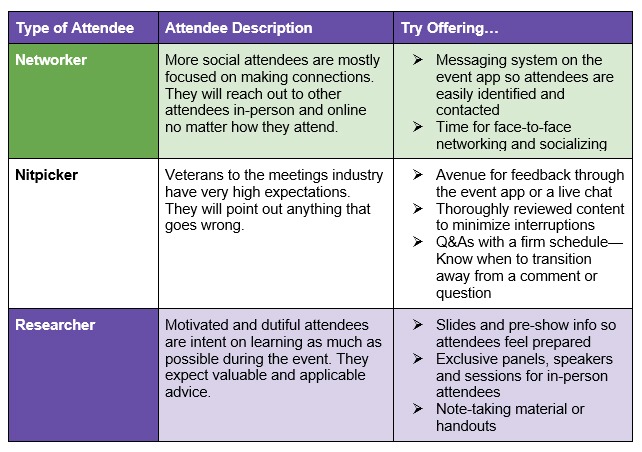 Read More: Make Hybrid Events Worth Every Dollar for Virtual Attendees
Virtual Events
This type of event exploded during the pandemic. While many are moving to hybrid or in-person meetings, virtual solutions are still sometimes necessary. Here's how you can improve your virtual event for the five main types of online attendees.
Main Takeaways
Recommend that attendees keep their cameras on to discourage multitasking.

Include polls, games or any other engaging activities in sessions to encourage participation

Invite exciting speakers to keep attendees focused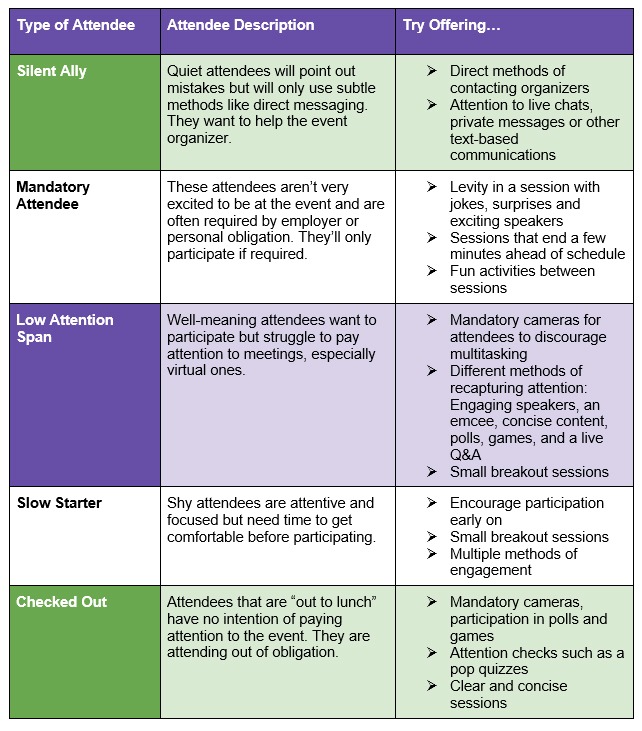 Read More: Winning at Maximizing Virtual Audience Engagement: 10 Fun Ideas from Dahlia El Gazzar
No matter what type of event you're planning, there will be a wide variety of people that will attend. Providing attendees with the tools and events they want will leave them satisfied with the experience and willing to come back for more.