In the post-pandemic era, robots whizzing down hallways will be commonplace. Like it or not, coronavirus has sparked a renewed interest in automation in the hospitality industry. Of course, the "robotization" of modern life is much bigger than that. They have been making their way into all sectors of society, from Tesla's robot-filled Gigafactory (indeed, robots on auto assembly lines have around for decades) to ordering fast food at your local McDonald's.
There's been an increased interest in contactless technology in the hospitality industry. Because robots are about as contactless as a hotel can get, their presence has become especially attractive.
In a survey by Hotel News Resource, contactless technology ranked highest in order of importance among hoteliers, followed by sanitation technology and customer relationships. In an industry where recovery is desperately needed, 86 percent of those surveyed believe technology would help.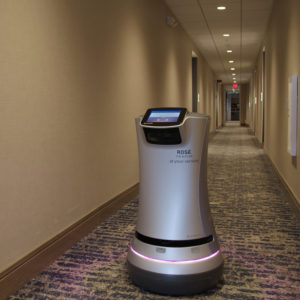 Hotel Trio in Healdsburg, California, is located near many wineries in the Dry Creek, Russian River and Alexander County regions of Sonoma County. The property has automated wine delivery with Rose (as in the blush wine) the Robot, which offers a touchless experience, finding rooms and elevators without human intervention; while out and about, it even displays a message that reads, "I'm on a guest delivery." While the delivery of wine might be Rose's primary mission, it also supplies snacks, groceries, towels and toiletries. When Rose arrives, guests are alerted that the robot is waiting outside their door.
Although Rose the Robot has been with the hotel since 2018, Hotel Trio said in a press release that "she transitioned, literally overnight, from novelty to necessity."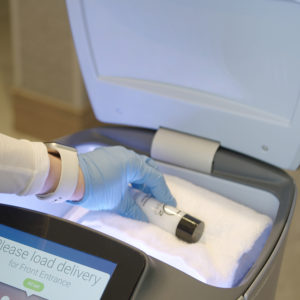 Other hotels have introduced cleaning robots in response to coronavirus. Two Hilton properties in Southern California, Waldorf Astoria Beverly Hills and The Beverly Hilton, deployed Xenex LightStrike robots to assist with their Hilton CleanStay with Lysol protection program; after housekeepers have completed standard cleaning, the robots follow up using ultraviolet light to kill remaining germs. Xenex robots are used to clean guest rooms, restrooms, elevators, meeting rooms and to disinfect luggage. They have long been in use by hospitals, such as Mayo Clinic, Stanford and HonorHealth. Unlike Rose the Robot, these robots are not fully autonomous.
Cirq+Clean is an autonomous robot by cloud-based platform Cirq+. With the Cirq+ in-room mobile hub, CBot recognizes empty hotel rooms and roams around the space while spraying a electrostatic disinfectant on surfaces and areas missed by manual cleaning. Once sterilization is completed, housekeeping can enter the space to change linens, clean bathrooms, vacuum and complete all other cleaning tasks, after which CBot will return to the room for a final cleaning.
Cirq+Clean is a great not only for hotels, but also schools and other businesses that have a lot of foot traffic. The company's Cirq+Air drone can clean larger areas, such as professional stadiums, which can be sanitized in 3-4 hours.
Airports are turning to cleaning robots, as well. Cincinnati/Northern Kentucky International Airport (CVG) introduced Avidbots Neo, an autonomous floor-scrubbing robot, to assist staff in sanitizing the terminal. Pittsburgh International Airport (PIT) had floor-scrubbing robots before the pandemic, but—much like the Hilton properties—it has added ultraviolet cleaning to their duties.