The possibilities for BIG moments in Dallas are endless. It starts with an effortless arrival into one of two major airports and continues with magnificent meeting spaces, breathtaking views and world-class cuisines. Whether you're looking at Dallas for an annual meeting or planning exciting things for your incoming group, we have something extraordinary waiting for you.
Get Here and Get Going
Getting to Dallas is easy. A prime location puts nearly every major city in the continental U.S. within a quick three-hour flight from Dallas. Two major airports service the city: Dallas/Fort Worth International Airport (DFW) and Dallas Love Field (DAL). Dallas can seem like a big place, but don't worry – we have that covered too. Once you're on the ground, Dallas Area Rapid Transit (DART) gets you where you need to be. The recent extension of DART's Orange Line allows for an easy ride into the city from DFW.
Get to know the Kay Bailey Hutchison Convention Center Dallas
The Kay Bailey Hutchison Convention Center Dallas (KBHCCD) offers over one million square feet of exhibit space. It is one of the largest in the country, yet with flexible spaces that make it just as suited for large tradeshows and international conventions as for intimate business meetings and corporate functions. Events can take advantage of 726,726 square feet of contiguous exhibit space, including a 203,000-square-foot, column-free exhibit hall – the largest in the United States. Additional venue options include the 9,816-seat arena, 1,750-seat theater, two ballrooms and 96 meeting rooms.
Blending form and function, KBHCCD is not just a practical choice for major events, but also a beautiful one. Welcoming guests to the center is Pioneer Plaza, where one of the largest bronze sculptures in the world re-creates a Texas cattle drive with 40 longhorns and three cowboys. Inside, terrazzo flooring and art depicting the history of Dallas and its residents create an inviting setting for attendees.
For events large and small, the convention center provides state-of-the-art technology that keeps visitors connected. In fact, it was the first wireless convention center in the world, and remains one of the fastest with its Cisco-Certified system. Other amenities include a fiber-optic transmission system for audio and video broadcasts throughout the center; catering by award-winning chefs of Centerplate; three permanent first aid rooms; and two gift shops that, in addition to souvenirs, offer small parcel shipping, copying and faxing.
In late 2011, the city of Dallas debuted the center's headquarters hotel. Connected to the Dallas Convention Center by sky bridge, the Omni Dallas Hotel has 1,001 guest rooms and incorporates more than 110,000 square feet of meeting and event space. Included among its 40 meeting rooms are the Dallas and Trinity ballrooms, boasting 32,000 and 15,000 square feet, respectively. The hotel also boasts an impressive lineup of dining options, and recently added four more restaurants just outside of the hotel and in walking distance of KBHCCD.
Plan your BIG moment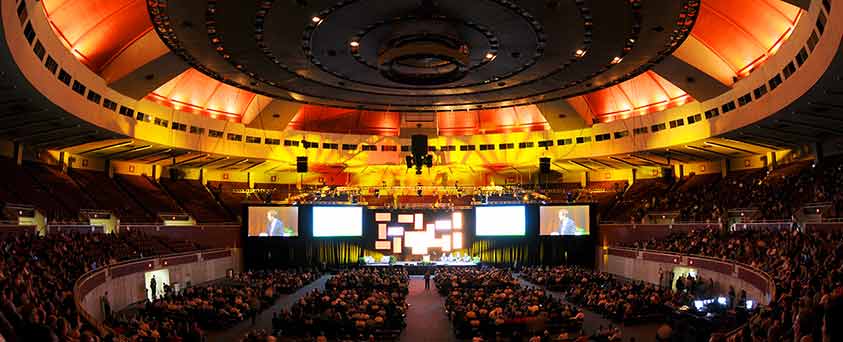 Dallas is a hotbed of vibrant entertainment, world-class dining and family-friendly attractions and thanks to easy access – a stress-free three-hour flight from almost anywhere in the country – you and your attendees will arrive quickly. Your next meeting will be complimented with unparalleled amenities and unforgettable experiences. Dallas is the city where Big Things Happen. Book your next meeting at VisitDallas.com.