Sheraton Gateway Los Angeles Hotel
One of the biggest meeting trends Smart Meetings saw this year was the rise of new and improved airport hotels. Throughout the world, really, airport hotels are emerging as key meeting venues that are both convenient and cutting-edge.
We're not playing favorites, but we believe The Westin Denver International Airport reflects the airport hotels trend to a "T."  The resort-style property, which opened about a year ago, is five minutes from Denver International Airport and just 37-minutes from downtown by commuter rail.
The Westin's award-winning architecture is a large factor in its popularity, featuring a stunning, towering glass and steel structure for an innovative vibe that brings out the best in meetings. The 519 guest rooms and suites are soundproof, with panoramic views of the Rockies, downtown and the airport.
The hotel and airport have the only open-air event plaza in the country. The 80,000-square-foot plaza has helped Denver elevate its status as a global meetings destination and gives planners unique options for special events. The Westin also boasts 37,500 sq. ft. of indoor and outdoor meeting and event space, including a 7,168-square-foot ballroom.
"Having exceeded our revenue predictions for 2016, we look forward to hosting even more meetings and conferences in this coming year," says Tom Curley, general manager of The Westin Denver International Airport. "Guests next year will see more food and beverage options and even more exciting events activated on our outdoor plaza."
Several airport hotels near Los Angeles International Airport (LAX) have upgraded with meetings in mind. Sheraton Gateway Los Angeles Hotel completed a multimillion-dollar renovation in July, elevating guest experiences by combining a fresh design and new technologies, according to Bill Sinclair, general manager. The 802-room Sheraton features 50,000 sq. ft. of newly upgraded meeting space, including an 11,400-square-foot ballroom.
Hyatt Regency Los Angeles International Airport expects to complete a $75 million renovation Jan. 1. The former Concourse Hotel, which was rebranded in October, offers more than 50,000 sq. ft. meeting space, including one of the largest ballrooms in the LAX market, at 14,000 sq. ft. There's an outdoor lawn that can host up to 750 and a new state-of-the-art conference center with more than 10,000 sq. ft. of meeting space. The 580-room hotel features 24-hour shuttle service to and from LAX, adding a much-appreciated convenience for business travelers.
"Our hotel is not only helping to transform Century Boulevard, but it is elevating the hotel experience for travelers who want the convenience of staying close to the airport," says Jeff Rostek, managing director for the Hyatt Regency. "We offer a level of upscale quality and a fine attention to detail with the hotel's design and service. Our reimagined public spaces, guest room design and anticipatory service will remind guests why it's good not to be home."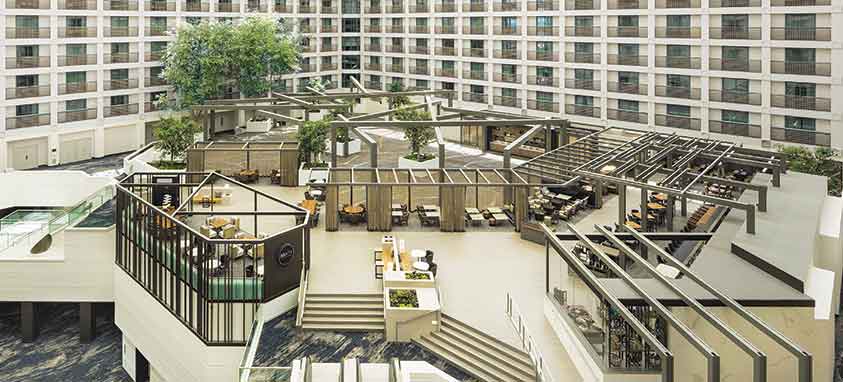 Hyatt Regency San Francisco Airport completed a top-to-bottom, multimillion-dollar transformation in October. San Francisco's thriving F&B scene will be evident at 3 Sixty, an all-in-one dining experience that features a bar, lounge, restaurant and market. Menus will change seasonally, ensuring sustainable purchases and practices that support Northern California farmers and purveyors.
"We want to offer an experience where our guests can connect and make things happen, while enjoying modern comforts that they expect when traveling including amenities like free Wi-Fi, a state of the-art-fitness facility and seasonal, locally sourced dining options," says Irby Morvant, general manager.
The 789-room Hyatt Regency has added two ballrooms that showcase views of San Francisco Bay. The property's 69,285 sq. ft. of event space also includes a spacious foyer, seven-story atrium and poolside pavilion.
Airport hotels are upping their games and Smart Meetings definitely took notice in 2016.