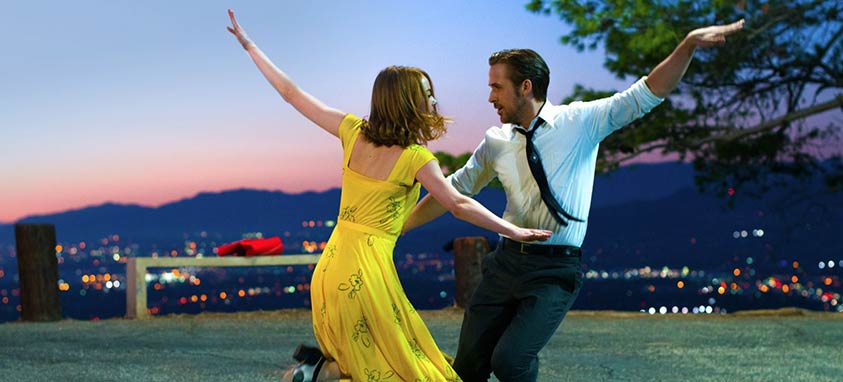 La La Land photo by Lionsgate
The 89th Academy Awards air this Sunday from Hollywood. Some people care about the music, while others care about the costumes. As meeting planners, we want to know more about the interesting locations we're seeing. The filming locations of this year's best picture nominees were certainly notable. We take you on a planner's tour of the films' picturesque settings—from Montreal to Atlanta to Sydney—and break down where to host an event.
Arrival
Synopsis:  After a mysterious spacecraft touches down on Earth, a team of experts is formed to investigate. Linguist Louise Banks (Amy Adams) leads the exploration in search of fundamental answers that could prevent a global war.
Filming location: Montreal, Quebec
Notable conference center: Palais des congres de Montreal, holding 113 rooms and venues with 551,520 sq. ft. of space.
Interesting attraction: Walk the four distinct ecosystems found in North and South America at the Montreal Biodome: Laurentian Maple Forest, Tropical Forest, Gulf of St. Lawrence, Labrador Coast and Sub-Antarctic Islands. Visitors of all ages will appreciate the variety of animals, including puffins, penguins, beavers, frogs, snakes, monkeys, bats and more.
Iconic meal: Fairmont Bagel—soaked in honey water and baked in a wood-fire oven—paired with smoked meat.
Why you should visit: Many restaurant options, diverse cultures and subcultures, eco-friendly, year-round festivals, and art museums.
Fences
Synopsis: An adaptation of August Wilson's Pulitzer Prize-winning play. Troy Maxson (Denzel Washington) is a black garbage collector in 1950s Pittsburgh. He is resentful that segregation in baseball was eliminated only after his days in the Negro Leagues. The lingering frustration is evident in his interactions with those closest to him.
Filming location: Pittsburgh
Notable conference center: David L. Lawrence Convention features 53 meetings rooms for a total of 77,952 sq. ft. and two 250-seat lecture halls.
Interesting attraction: The Duquesne Incline has been carrying visitors up Mount Washington since the 1870s. Restored in 1963, it's one of two trolleys that take you up the hill to a spot where three Pittsburgh rivers converge. From a large platform over the cliff, there are beautiful photograph opportunities during the day and views of dazzling city lights at night.  
Iconic meal: Sandwich, with Italian bread, stuffed with meat, ketchup, coleslaw and french fries or a simple bowl of Pierogis. Finish with a smiley cookie from Eat'n Park.
Why you should visit: Home of Heinz, good coffee, affordable entertainment, Andy Warhol Museum and a variety of subcultures.
Hacksaw Ridge
Synopsis: The true war story of Desmond Doss (Andrew Garfield), who saved the lives of 75 men without using or carrying any firearms in Okinawa, Japan, a brutal WWII battleground. Doss was the only American soldier in WWII to refuse a weapon and was morally opposed to killing, even in war.
Filming location: Sydney
Notable conference center: International Convention Center Sydney provides more than 86,000 sq. ft. of meeting room space across 70 rooms. The adjacent headquarters hotel, Sofitel Darling Harbor, holds 590 rooms.
Interesting attraction: Sydney Opera House is a UNESCO World Heritage Site and a major attraction in the city. The building resembles billowing sails, or shells, and is surrounded by water. Visitors may use this location for photo opportunities, indoor and outdoor tours, theater entertainment, and concert hall shows.
Iconic meal: A beetroot burger, optional Vegemite add-on, and Tam-Tams for dessert.
Why you should visit: Beach city, Taronga Zoo, free activity options, architectural beauty, harbors and art galleries.
Hell or High Water
Synopsis: Brothers Toby (Chris Pine) and Tanner (Ben Foster), reunite after years of estrangement to rob different branches of the bank attempting to foreclose on their inherited family land. Simultaneously, Texas Ranger Marcus (Jeff Bridges) is seeking one last thrill before his impending retirement. Marcus begins to close in on the brothers during their series of robberies.
Filming location: Clovis, New Mexico
Notable conference center: Clovis Civic Center offers 4,000 sq. ft. of meeting space and an 11,325-square-foot ballroom and exhibition hall.
Interesting attraction: Under Lock and Key is an excellent team-building experience. The live escape games are highly interactive, challenging and exciting. A team of two to six people is locked in a room and given an hour to solve puzzles and find clues that ultimately lead to an escape from the themed room.
Iconic meal: Enchiladas, with blue corn tortillas, and green chili stew, paired with Piñon coffee.
Why you should visit: Rich rock 'n' roll history, college sports, Clovis Depot Model Train Museum, tribute band festivals, 22.5-acre Hillcrest Park & Zoo and rodeo activities at Curry County Events Center.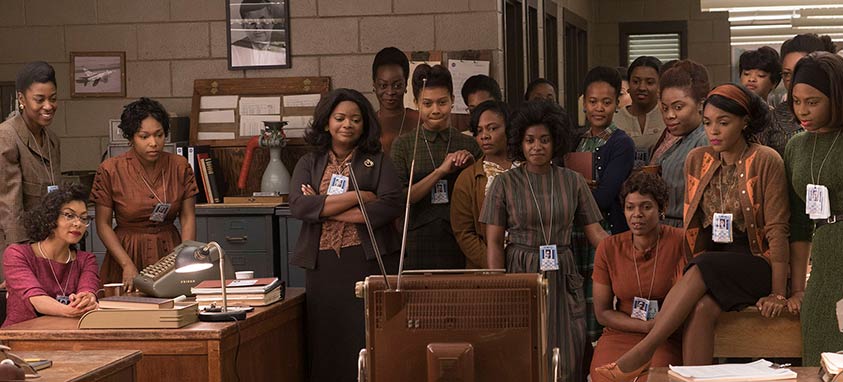 Hidden Figures
Synopsis: The true but generally untold story of three African American women working at NASA. Katherine G. Johnson (Taraji P. Henson), Dorothy Vaughan (Octavia Spencer) and Mary Jackson (Janelle Monáe) use their brilliance to create one of the largest space operations in history: the launch of John Glenn into orbit. This accomplishment was essential to the nation and revolutionized the Space Race.
Filming location: Atlanta
Notable conference center: Atlanta Convention Center at AmericasMart provides 500,000 sq. ft. of available space (100,000 sq. ft. of contiguous space), more than 45 breakout rooms and 1,100 Westin hotel rooms on-site.
Interesting attraction: World of Coca-Cola presents the fascinating history of the iconic soda. The museum details the story of how chemist Dr. John Pemberton created the soft drink in 1886 while attempting to concoct a cure for headaches.
Iconic meal: Chili cheese dog, paired with a cold Coca-Cola of course.
Why you should visit: One of the world's largest aquariums, Fox Theater, graffiti street art (which is encouraged) and the Rev. Martin Luther King Jr.'s birthplace.
La La Land
Synopsis: A romantic musical that follows Mia (Emma Stone), a hopeful but struggling actress, and Sebastian (Ryan Gosling), an old-school jazz musician. Both struggle daily to achieve their dreams in the backdrop of modern-day Hollywood.
Filming location: Los Angeles
Notable conference center: Los Angeles Convention Center (LACC) holds 64 column-free meeting rooms, with sizes range from 308 sq. ft. to 26,342 sq. ft.  
Interesting attraction: The Griffith Observatory is on the south-facing slope of Mount Hollywood in Griffith Park. The facility, opened in 1935, provides incredible views of the Los Angeles Basin and Hollywood Sign. Griffith Observatory also offers intriguing space and science exhibitions.
Iconic meal: A colorful plate of high-grade sushi.
Why you should visit: Disneyland, Universal Studios, Hollywood, Rodeo Drive shopping, hip nightlife, major production studios, celebrity sightings, warm weather, beaches and food trucks.
Manchester by the Sea
Synopsis: When his brother dies, Lee Chandler (Casey Affleck) becomes the sole guardian of his nephew Patrick (Lucas Hedges). Lee returns to Manchester-by-the-Sea to look after 16-year-old Patrick. Being in this community compels Lee to deal with issues from his past.
Filming location: Manchester, Massachusetts
Notable conference center: The Thomas Jefferson Memorial Center, which is located on 15 acres of woodlands.
Interesting attraction: Singing Beach, with nearly a half-mile of shoreline. Its name comes from the sound that the sand makes when walked on. The beach is open seven days a week, including showers and changing areas. Singing Beach is just a five-minute walk from town and from the train station.
Iconic meal: New England clam chowder, lobster roll and a bloody mary.
Why you should visit: Gorgeous shores for a total of 13 miles, small-town charm, commercial fishing and other water activities year-round.
Moonlight
Synopsis: The three chapter story of a young man's struggle to define himself while dealing with all of life's obstacles, including his own sexuality.
Filming location: Miami
Notable conference center: The  IACC certified Kovens Conference Center has 37,000 sq. ft. of flexible event space and complete meeting packages.
Interesting attraction: The Art Deco District is reminiscent of 1930s Florida. Pastel-colored buildings hold neon signs and offer many outdoor dining options where stunning beach views can be seen.
Iconic meal: The Cuban Sandwich with a cafe con leche.
Why you should visit: Fantastic beaches, tropical weather, vibrant nightlife, water activities, impressive shopping options and Everglades.