It would be an understatement to say that change is in the air. Last week Donald Trump was inaugurated as the 45th president of the United States. While the Trump administration begins to take action, businesses are hopeful that he will keep their industries in mind.
The travel industry is a major player in the U.S. economy, contributing more than $148 billion in tax revenue and more than 15 million jobs. Without it, every U.S. household would pay an extra $1,192 in taxes per year. Tax revenue, job creation and related services are all partially contingent on the travel industry. Therefore, the future of U.S. travel is a pressing concern right now.
The U.S. Travel Association (USTA) has released a list of priorities for this year, including:
1. Creating policy recommendations for what UTSA calls an "air travel blueprint"
2. Developing a Secure Travel initiative, which emphasizes emergency readiness and response
3. Assisting in secure and proficient travel
4. Modernizing national airports
President Trump has extensive experience with the hospitality sector under his belt. Since he is likely acutely aware of how the travel industry impacts adjoining economic environments, some travel companies are cautiously optimistic.
Consumer Concerns
Under this administration, federal regulations, including those designed to protect consumers, will likely be subject to new limitations. Trump has vowed that for every new federal regulation implemented, two existing ones will be scrapped. Federal regulations impact and shape every sector of the travel industry, so these changes could create an important chain reaction.
In December, a report by the National Economic Council indicated a growing trend of hidden fees which weigh on travelers, and in turn, the economy.
"The real prices of things are now being hidden or muddied by the addition of mandatory fees," noted Charlie Anderson, senior adviser to the director of the National Economic Council, in a blog post on the White House website. "Quoted prices don't reflect what things actually cost—the real prices are hidden by fees."
During the Obama administration, government officials made numerous calls for increased traveler protection. Key travel initiatives took place during this time, including the eradication of hotel and resort fees and clearer price disclosures on airline tickets. It's possible that the creation of such of policies may slow down in the future—and existing laws may be subject to revision or repeal.
"For a Republican administration—Trump's included—regulation is a dirty word," Said Anthony DeMaio, a former airline lobbyist who now works for the Washington, DC, according to a report in The Washing Post. "The increasingly powerful airline industry will not accept more fare-transparency regulation."
The Impact on Hotels
In several public statements, Arne Sorenson, president and CEO of Marriott International, has expressed concerns about policies that could be damaging to the travel industry.
In an interview at World Economic Forum in Devos, Switzerland, Sorenson discussed the future of travel in 2017. "We had more than 75 million visitors from abroad to the United States last year. That supported… 2.5 million jobs. If you see all of that business disappear overnight that would be detrimental to our business, to our industry and to the economy as well."
Improvements in Transportation
If Trump follows through on his promise to oversee crucial infrastructure improvements, then the new administration could provide a big boost for transportation. Likewise, travelers would gain a more enjoyable experience.
Additions, repairs and upgrades to transportation resources would be monumental for the travel industry. However, extensive infrastructure projects require a lot of funding. Money would need to be derived from either increased taxes or additional fees and tolls for privatized projects. Initially, these expenses are potentially negative for transportation services.
Meanwhile, Trump's stance on countries such as Cuba has prompted questions about travel to these areas. Although immigration and trade policies between the United States and Cuba continue to be restricted, tourism between the two countries is skyrocketing. Last year a record four million people visited the country, making it a rapid-growth market for airlines. New airline routes and cruises have made travel to Cuba much more accessible as well. Consequently, Cuba anticipates at least 100,000 U.S. visitors this year.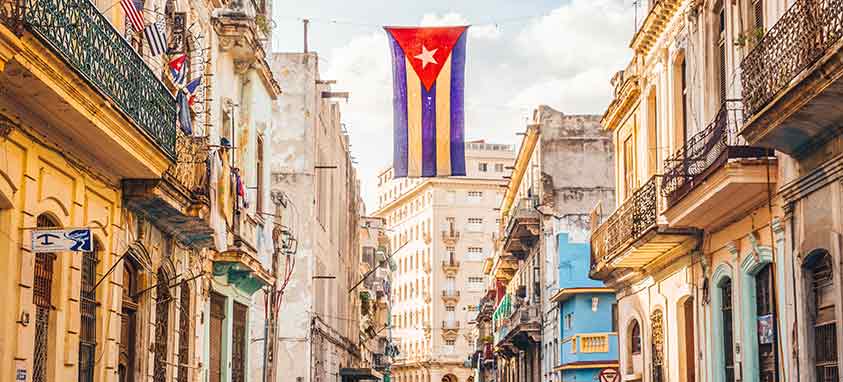 Growing American tourism has had a very positive effect on Cuba.  For instance, privately-owned restaurants are thriving because of American patrons. Restaurant owners have used this prosperity to reinvest in their communities and refurbish buildings.
Gary Kelly, Southwest Airlines CEO, discussed potential Cuban complications.
"Those flights have high demand both from the United States and from Cuba and obviously we're hopeful that we can continue to operate them," Kelly said in a report to the Tampa Bay Times.  "If the government… decides that that's not possible, obviously we'll obey the law but we're hoping that's not the case."
It seems that Trump favors stricter policies with Cuba, as well as with other Central and South American countries. Trump has threatened to abolish the normalization of U.S.-Cuba relations that Obama started in Dec. 2014, unless the United States gets a "better deal."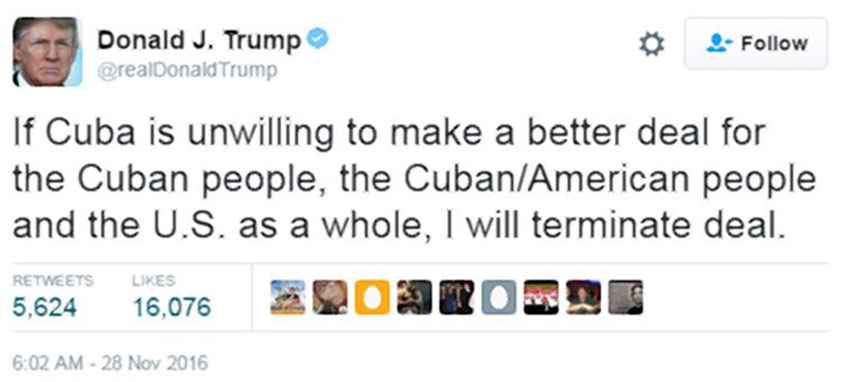 Southwest is one of five U.S.-based airlines that began flying to Cuba through a Havana-Tampa route enabled by the Obama Administration last month.
Looking Forward
It's very possible that President Trump will translate his hospitality experience into constructive travel policies. Genial border experiences, services which provide assistance with visa insurance and potential regulation changes are a few of the ways that Trump can boost the industry.