2016 was a tumultuous year that included sky-high political tensions, significant racial discord and prominent terrorist attacks around the world. Naturally, many Americans are feeling uncertainty and apprehension about traveling. Some may even feel the need to carry a weapon when they fly.
According to the Transportation Security Administration (TSA), which operates security checkpoints at airports across the country, an increasing number of travelers has been discovered to be carrying firearms at airports.
In 2016, TSA officers screened more than 738 million passengers, which represents an increase of more than 43 million since 2015. From those screenings, TSA agents discovered a total of 3,391 firearms in carry-on bags. An average of 9 guns were found each day, which is a 28 percent increase from 2015, when 2,653 firearms were intercepted. 83 percent of those guns were found to be loaded.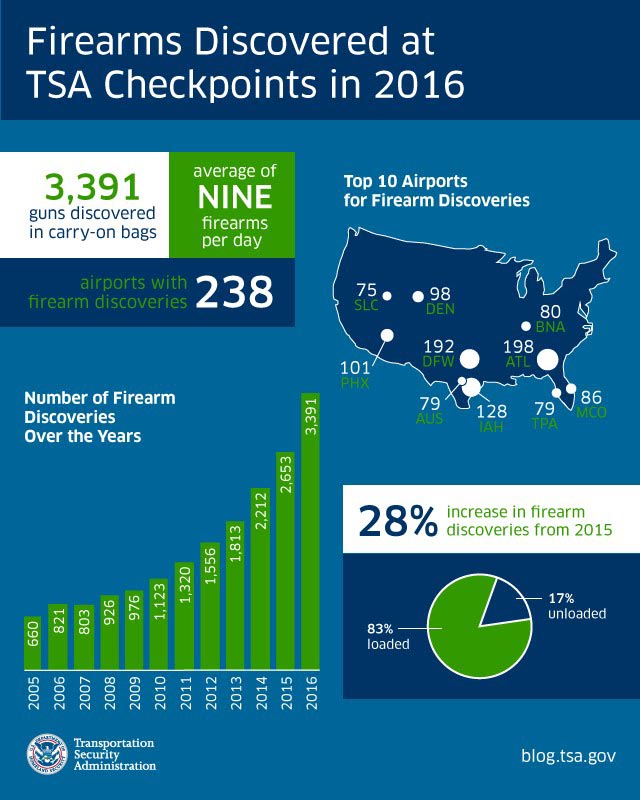 Certain airports are more prone to firearm discoveries than others. The U.S. airport with the most firearms found is Hartsfield-Jackson Atlanta International Airport, where 198 guns were intercepted. Following closely in second place is Dallas/Fort Worth International Airport, with 192 firearms discovered.
Top 10 Airports with the Most Firearm Discoveries:
1. Hartsfield-Jackson Atlanta International Airport (ATL):198
2. Dallas/Fort Worth International (DFW): 192
3. George Bush Intercontinental Airport – Houston (IAH):128
4. Phoenix Sky Harbor International (PHX):101
5. Denver International (DEN): 98
6. Orlando International Airport (MCO):86
7. Nashville International (BNA):80
8. Tampa International (TPA):79
9. Austin-Bergstrom International Airport (AUS):78
10. Salt Lake City International (SLC):75
Firearms were not the only dangerous items confiscated at TSA checkpoints last year. In some cases, travelers attempted to conceal or hide their weapons, Cleverly disguised stun guns and knives hidden in pens, belt buckles, lipsticks, pill bottles and even smartphone cases are some of the more interesting finds.
Not all travelers intend to bring banned items in their luggage. In many cases, passengers who bring prohibited items such as guns, ammunition and knives tell security agents that they brought them accidentally. When packing and preparing for your trip, be sure to carefully inspect your bags and suitcases before you head to the airport.