Julia Smith, CEM, CTA was named 2016 Chairperson of International Association of Exhibitions and Events (IAEE) at the organization's annual meeting, networking luncheon and awards presentation in Baltimore. She is the successor to 2015 Chairperson Megan Tanel, CEM.
"I look forward to building on IAEE's successful advocacy initiatives, and to promoting program development to attract future generations to careers in the exhibitions and events industry," Smith says. "I am honored and excited to serve as 2016 Chairperson, and will be able to draw on my experiences as an involved IAEE committee and board member and volunteer."
Julia Smith's Background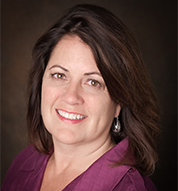 Smith joined Global Experience Specialists (GES) in 1989 after seven years in show management, and is currently Senior Vice President of National Sales. She has served on a variety of IAEE committees including the IAEE Awards Committee, the CEM Appeals Committee, as past chairperson of IAEE Services, Inc., and on the board of the IAEE Southwest Chapter. She is a graduate of IAEE's Krakoff Leadership Institute. For nearly a decade, Smith served as a board member of the Health and Pension Trusts for Local 831, the decorators union in Southern California, and she is currently a board member of the Exhibition Services & Contractors Association (ESCA) and Visit Anaheim.
Smith was the first associate member of IAEE to earn the Certified in Exhibition Management (CEM) designation, is a CEM Faculty member, and has taught CEM modules in the U.S., Taiwan, China, Canada and Europe. She is a recipient of IAEE's Distinguished Service Award, as well as the inaugural recipient of IAEE's Woman of Achievement Award. Smith also contributed chapters to the most recent editions of IAEE's Art of the Show textbook.
IAEE Board of Directors
IAEE welcomes the following new members to the IAEE Board of Directors:
–Gregg Caren, Executive Vice President, SMG
–Lenay Gore, Director of Meetings & Conventions, American Public Transportation Association
–Chris Nemchek, Senior Vice President, Specialty Foods Association, Inc.
–Dennis Smith, President, Messe Frankfurt North America
Continuing Board of Directors members include:
–Chairperson-Elect Ryan Strowger, CEM, Senior Vice President of Exhibitions, Conferences and Sales, International Association of Amusement Parks & Attractions (IAAPA)
–Secretary/Treasurer Daniel McKinnon, CEM, Vice President, Client Services – Global, FreemanXP
–Immediate Past Chairperson Megan Tanel, CEM, Vice President of Exhibitions and Events, ––Association of Equipment Manufacturers
–Director Vicki Bedi, CEO, PSBedi & Co Pvt Ltd
–Director Thomas Cindric, Jr., CEM, Vice President, Informa Exhibitions
–Director Christopher McCabe, Executive Vice President, Emerald Expositions
–Director Robert "Bob" McClean, Jr., CPA, Executive Vice President, Promotional Products Association International
–Director Robert "Bob" Morgan, General Manager, Dulles Expo Center
–Director Susan Schwartz, CEM, Managing Director, ConvExx
–Director Stephen "Steve" Sind, President & CEO, Global Event Strategies, LLC.
Ex-officio Directors include:
–Walter Yeh, CEM, Executive Vice President, TAITRA – Taiwan External Trade Development Council representing the IAEE Asia Exhibition Council
–Aaron Bludworth, President & CEO, Fern representing the Center for Exhibition Industry Research (CEIR)
–Andrew Ortale, Executive Vice President, National Trade Productions, Inc. representing the Chapters Leaders Council
–Angela Harar, CEM, Senior Director of Tradeshows, The Vision Council representing the IAEE MATSO Council
–Mary Bender, Marketing Director, Emerald Expositions representing the IAEE Public Events Council
–Samantha Lohse, Project Manager, Marketing, National Business Aviation Association (NBAA) representing the Robert L. Krakoff Seat
About IAEE
Trusted since 1928, IAEE is the largest association of the exhibitions and events industry in the world, with a membership of show organizers, exhibitors and exhibition suppliers. Organizers of more than 20,000 exhibitions and buyer-seller events around the world are members of IAEE. The organization advocates and promotes the awareness of face-to-face exhibitions and events as the primary medium for business development and growth. www.iaee.com