A comprehensive survey of meeting profs with tips for sourcing environmentally friendly
It is an understatement to say that the sourcing conversation in 2023 has gone way beyond dates and rates. Event organizers are now tasked with considering everything from bandwidth in the ballroom and bleisure opportunities to the size of the culinary program's greenhouse gas footprint.
Dana Jackson, senior global sourcing manager with Bishop-McCann, shared that planners are increasingly tuned into client values around sustainability, inclusivity and diversity. "Organizations are shifting to line up their actions with their words," she said. That includes adding contract terms that outline practices such as donating leftover meals and decor, housekeeping policies that reduce water waste and use of environmentally friendly products.
In our February survey of 367 meeting professionals, respondents ranked sustainability as a major priority when choosing a destination to the extent that 42% always or usually include questions about sustainability in their requests for proposals, a practice being dubbed "sustainable RFPs."
We asked for specifics about what moves the green needle, strategies for finding regenerative partners and best practices for measuring whether all that conservation made a difference.
Since the overwhelming majority (88%) at least sometimes (38%), usually (35%) or always (16%) work with Destination Marketing Organizations (DMOs) or Convention and Visitors Bureaus (CVBs) to find vendor partners, we asked them what is being requested the most and what they suggest to make a meaningful dent in the impact meter for good and for bad. You might be surprised how much of a difference a few simple changes can make in the overall environmental picture of a conference when you tap into the experts for thoughtful adjustments attendees will applaud in the end.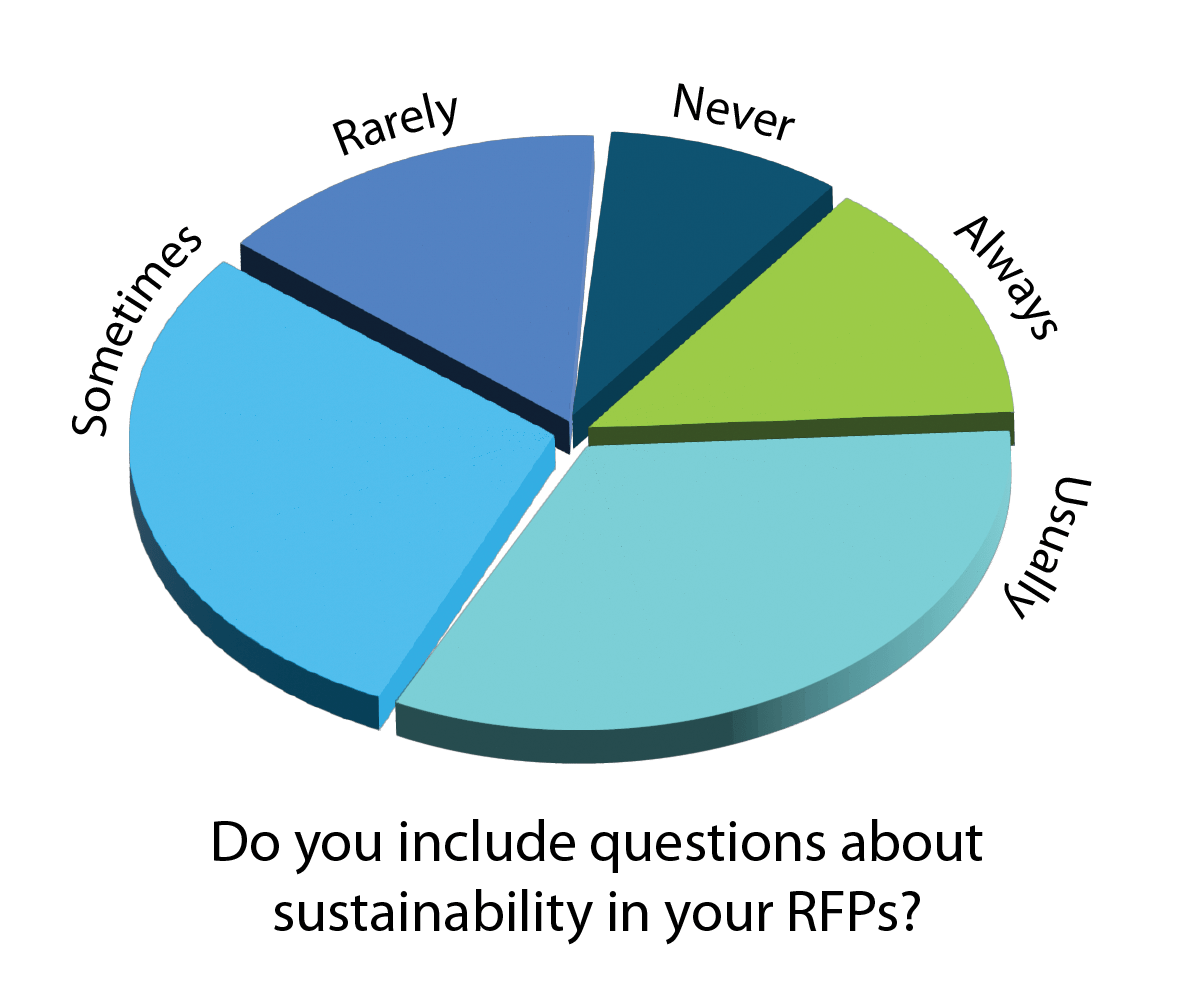 Top Green Asks
What do planners want in a sustainable partner? The meat and potatoes issue meeting organizers ask about first is food sourcing and waste handling. More than 61% said they are looking for venues that have detailed programs around ethically and locally sourced ingredients and established protocols for minimizing food waste. They want recycling programs that go beyond a catchall bin with differentiated openings.
And location matters. Event organizers are considering how far their attendees will have to travel to get there and how many sprinter vans and bus loops will be required to keep them going once they are on site. Walkable cities get bonus points in this calculation.
Also high on the list is whether a building/city is LEED certified (46%) and energy efficient (45%).
Carbon offsets as a way to buy sustainability were not at the top of many lists. Only 17% said that was one of their selection considerations.
Often planners are balancing sustainability and guest experience with an eye for that elusive win-win, such as asking guests how often they would like the room refreshed.
The Partner Paradigm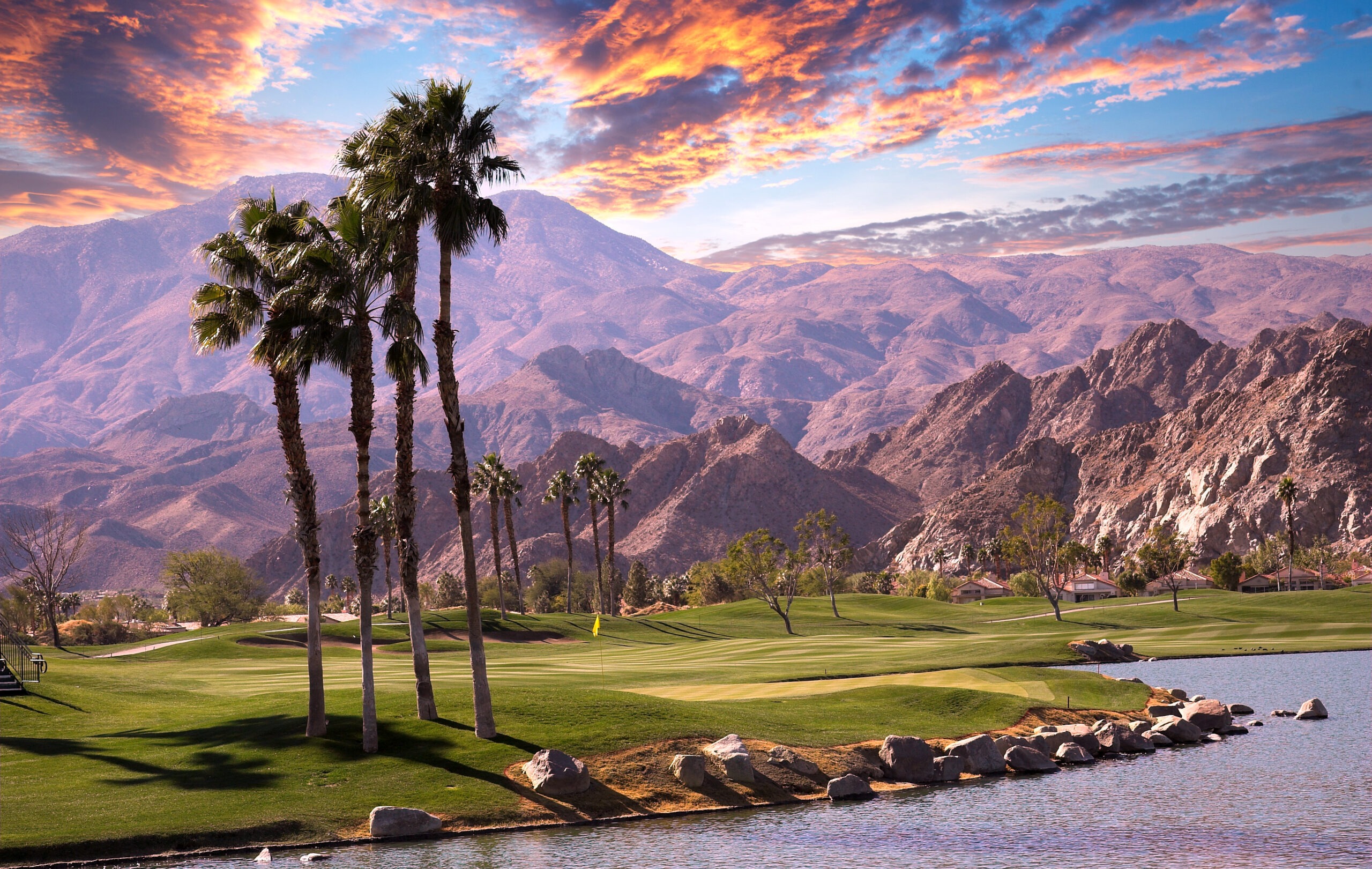 One way to feel confident that you are choosing a destination that can check all the boxes is to work with a local partner who understands the resources available and can point you to venues that align with your goals. As we said at the outset of this journey, the majority of planners (88%) who responded to our survey, at least sometimes work with local DMOs to source greener meetings.
Destination marketers are increasingly taking a partner approach to helping with sourcing and resources. Catharina Cecilie, head of sustainability with Wonderful Copenhagen in Denmark, said: "We have a more consultative approach to a group's individual needs and the conversations we most often have are around reducing or mitigating the meeting footprint and how to create broader long-term value from the meeting."
The themes are often around travel and transportation, food, venues and accommodation, materials and communication, socially responsible partnerships and lasting impact.
In coastal southern Florida, Discover the Palm Beaches Chief Sales Officer Kelly Cavers encourages planners to leverage the resources already in place from organic local produce and recycling efforts to the growing Florida Green Lodging initiative and 4Ocean CSR program that pays fishermen to pull up trash. Florida Power & Light funds Manatee Lagoon, an Eco-Discovery Center that educates and can also be rented for events. And local producer Tellus produces tableware made from the waste of their sugar operation and composts in 84 days. "These programs are all in place locally for meeting producers looking for creative solutions," said Cavers.
Sustainability Loop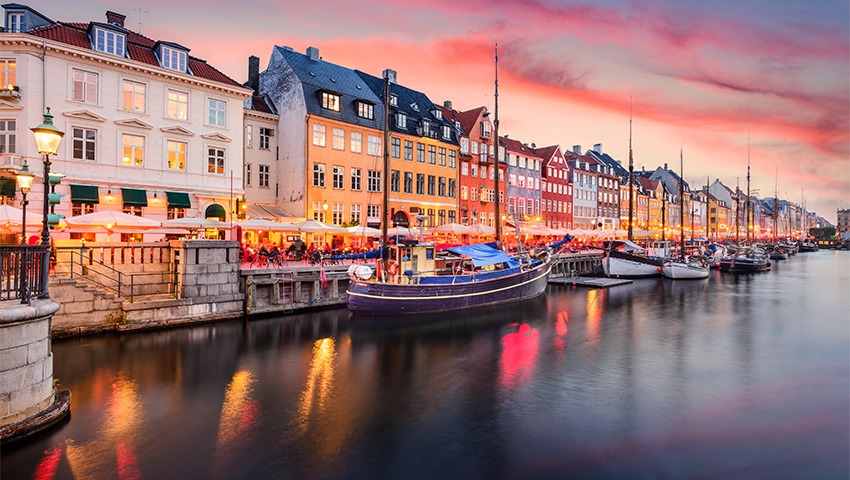 Beyond the smiling photos from the corporate social responsibility beach cleaning and the pile of reused towels, how does a meeting professional know whether those lofty net-zero goals were realized? How can we quantify doing the right thing? And, perhaps more importantly, how can we learn how to do even more in the future?
Most respondents (53%) to our survey said they start by setting a goal. The definition of "success" depends on the client's wants and needs. That is the starting point for establishing baseline expectations for sourcing and planning. The trick is to refer back to those goals and review progress at set milestones. That makes it easier to stay on track, according to one respondent.
Catharina Cecilie, head of sustainability with Wonderful Copenhagen in Denmark, advised: "Make sure that creating sustainable, long-term value for stakeholders and society is an integrated part of your organizations business model—including a strong strategic road map, well-defined effective KPIs to measure the impact and potential of their meetings on natural, human and societal capital." She suggests informing delegates about sustainability initiatives and activities and looking at sustainability from a holistic point of view to minimize consumption.
Paula Port, vice president of global marketing with Destination Toronto suggested making authenticity a priority. "There is a true commitment and a growing sense of responsibility to prioritize sustainable practices in the meetings and events space [in Toronto]. This runs deeper than a trend; there is an expectation in our role as a DMO that our plans are both actionable and measurable." Destination Toronto joined Destination Canada in the "Canadian Business Events Sustainability Plan" to support education and best practices and track progress over time, benchmarked by the Global Destination Sustainability Index (GDS-Index). "Accountability in our plans is an increasingly important decision-making factor for groups when selecting a destination. In addition to recommendations for off-site venues and local businesses aligned to a sustainability plan, planners are also actively seeking out female and/or indigenous-owned businesses to partner with," she reported.
Facility partners, Metro Toronto Convention Centre and Exhibition Place are both longtime leaders in this space. Exhibition Place has officially signed the Net Zero Carbon Events Pledge, a global initiative to address climate change across the events and meetings industry, per the targets laid out in the Paris Climate Accord, to commit to achieving net zero by 2050. The Metro Toronto Convention Centre's F&B program is a masterclass in sustainability, grounded in local sourcing, in-house culinary, community partnerships, and a rooftop garden (including beehives). Further, the MTCC has developed a partnership with Bullfrog Power to provide a green electricity solution should groups choose this option. Bullfrog Power effectively supplies power from natural, renewable sources. 
When asked about how planners sourcing in the Windy City know they are having a positive impact, Rose Horcher, vice president of client services with Choose Chicago, shared a testimonial from Lauren Parr, senior vice president of meetings and learnings with American Geophysical Union (AGU), which held its gathering for a community of earth and space scientists in Chicago in 2022 for the first time. "In a world where our planet is facing the threat of climate change, it's important to meet in locations that are aligned with our beliefs and values. Chicago is the most sustainable city that AGU has partnered with and views sustainability as a strategic, economic and public health necessity." She cited McCormick Place as committed to "all facets" of a sustainable campus, pointed to over 70% of the city's buildings being green certified, and the collaborative nature of city leadership focused on creating a better future for residents."
View from the Supplier Side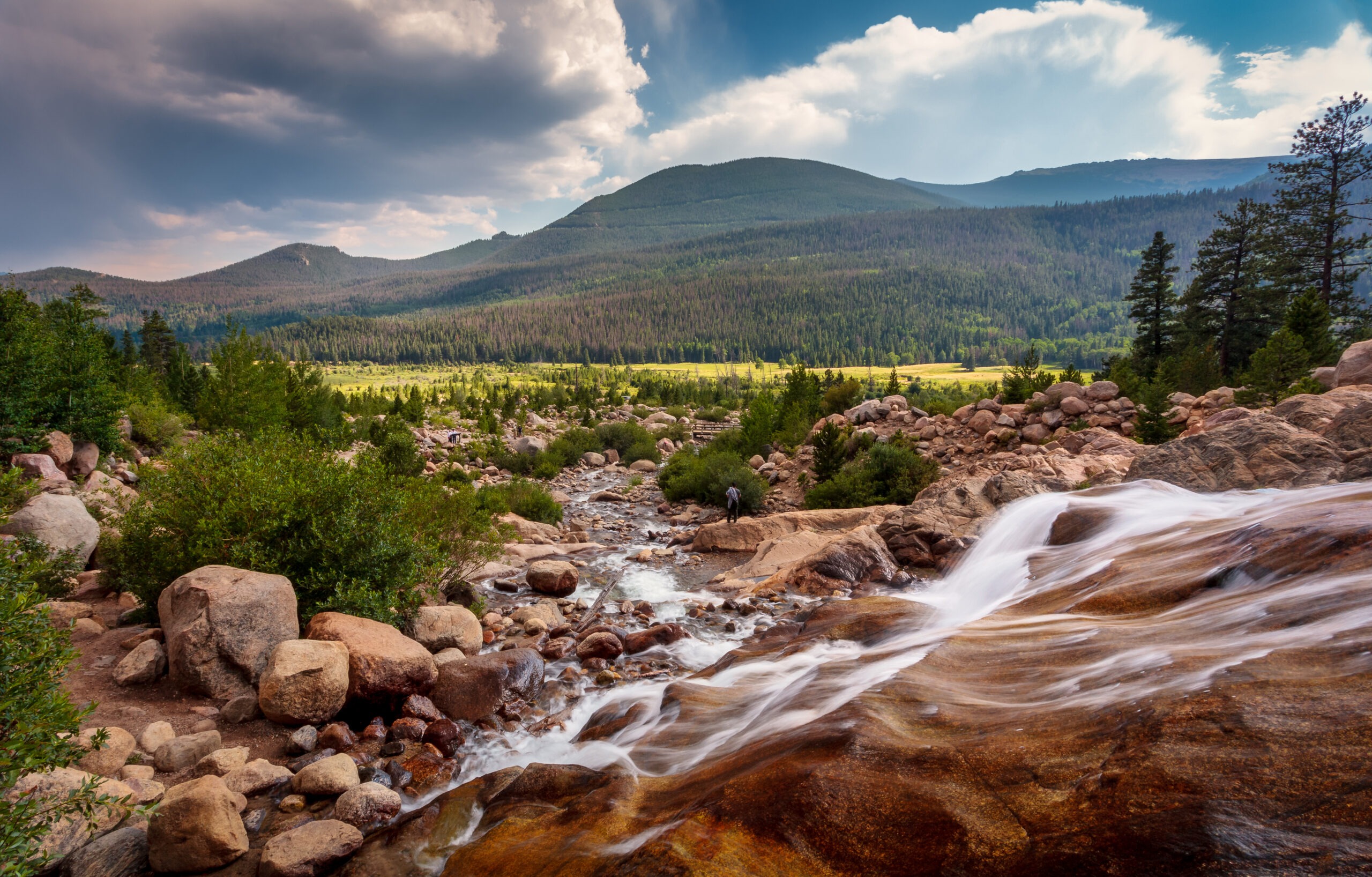 Although meeting professionals are overwhelmingly conscious of the importance of considering sustainability in their sourcing, suppliers say some of you are being subtle about it or other priorities, such as the fact that concerns about costs are taking up all the clean air in the room.
One-third (37%) agreed with the statement that "meeting professionals are asking about a destination's sustainable practices much more frequently than three years ago." Another third (37%) said the number of inquiries has been steady. And 26% said fewer people are asking than three years ago!
Rory Archibald, business development manager for associations and sectors at Visit Scotland said sustainability is usually in the top three asks along with price and connectivity. Associations in particular are conscious of the issue because their members are asking about it and they are focused on the legacy side of their events. "If they don't ask, we muscle in and bring it up," he said. "We want to use our connections to help you make good decisions that benefit the planner and the lives of the population."
He shared that F&B, recycling and digital signage are the least impactful, but most popular areas asked about, possibly because LED signs can also be massive cost savings at a big venue. He suggested offering extended stay options for a vacation as a sustainability measure because a one-and-done event-holiday saves a flight.
Teresa Savage, vice president of business development with Monterey County Convention & Visitors Bureau, reported that sustainability has always played a significant role in the California coastal destination, and is often a deciding factor for why organizations choose to source there. "Now that health and safety measures are under control, we're starting to see sustainability come back into the conversation," she shared. California, particularly Monterey County, has made significant efforts to reduce single-use plastics, reduce carbon footprint and offer sustainable, local, farm-to-table food and beverage options.
"We're extremely proud of our LEED-certified facilities and venues. From the Monterey Bay Aquarium to the Monterey Bay Conference Center, sustainability is a core value and woven into our fabric," she said. She pointed to award-winning chefs who provide educational entertainment, often sharing their green efforts. As the "salad bowl of the world", the region produces an abundance of ingredients that can help reduce an event's carbon footprint and add unique elements to the program.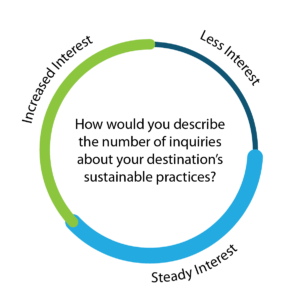 When questions about sustainability come in from meeting professionals, most (37%) refer them to their website or include details in their RFP responses (36%). Some (20%) say they are proactively sending information before they are even asked.
What do they share? The answers track pretty closely with what meeting professionals are asking for: information about recycling programs (76%), food sourcing/ waste (69%), sustainable tools (42%), LEED certification (48%) and location/need for transportation (48%).
Some destinations offer comprehensive lists of local hotel sustainability initiatives. Tiffany Eck, associate director of destination services and sustainability guru with Visit Denver, shared that the destination conducted a survey of downtown hotels and created a comprehensive Hotel Sustainability Report to take the legwork out of sourcing greener. A "Green Vendor Directory" lists local companies with a third-party certification verifying their sustainable credibility.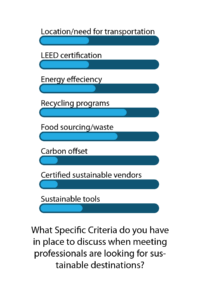 Of course, LEED Gold-certified Colorado Convention Center and the 11,000 rooms within short walking distance paired with the convenient A Line Train between Denver International Airport and Denver Union Station are big draws for programs that prioritize the environment. The destination also created a Voluntourism page for those looking to incorporate CSR or local givebacks in the agenda.
In Denmark, Catharina Cecilie offers up the destination's ever-evolving "Copenhagen Sustainability Guide" and Copenhagen Legacy Lab initiative, a strategic approach to creating long-term societal impact. "Copenhagen Meeting Planner Guide" is where partners share their sustainability efforts and clients can find sustainable suppliers. She encourages planners to include these elements systematically in sourcing and in the pre-planning phase.
To download the full whitepaper with a list of tips for the one thing meeting professionals can do to make the biggest environmental impact when sourcing,
click here
.