Flexible event space gives broadcast convention more with less
The pandemic forced cinephiles to wait two years to reunite in Las Vegas for the National Association of Broadcasters' NAB Show in 2022. The conference is slated to return to Vegas in April for its 100th anniversary with an expected 65,000 people.
Smart Meetings spoke with Chris Brown, executive vice president and managing director of global connections and events, about the process of coming back into the event space, what will stay the same and what will be different.
A Euphoric Return
Like so many other events, NAB had to do a lot of "twisting and turning" to find the right approach to coming back. By the time the 2022 show was approaching, Brown and his team noted a drop in Covid cases linked to improved weather conditions.
"We developed policies," Brown says. "We changed them 64 times, and then we tried to whittle things down to where we thought it was logical," he said. The policy initially required proof of vaccination to attend, but eventually was changed to only requiring proof of a negative test.
Those who have gone to the NAB Show know how interactive it is. Pre-Covid, attendees probably remember rows and rows of cameras from Sony to Canon that allowed them to test out the products in real time.
Read More: Opinion: Why Covid Safety Should Still Be a Priority for Corporate Events
To minimize issues, Brown's team recommended putting up partitions and scheduling attendees to interact with the products to limit the amount of people in an area and made sure there were sanitation products available to sanitize after using.
"We used a communication campaign around our guidelines for exhibitors to just keep reminding them to be cognizant of these kinds of things," said Brown.
Despite their efforts to create social distance cushions, they were no match for attendees need to reconnect after the two-year pause.
"None of us were sure what to expect there. People were hugging people and were definitely shaking hands—people were touching each other," Brown said. "People were just so ready to get out and be with other people. The overwhelming sort of feeling around the event was just almost a type of euphoria. It was the most feel-good event that I can remember in that in that regard."
A Matter of Space
For the 2023 event, Brown and his team luckily had a lot of space to work with to give exhibitors and attendees enough room to move and interact within the Las Vegas Convention Center after the expansion. With a total of 2,934,153 sq. ft. to utilize, Brown's team organized the aisles in the convention space to be slightly wider.
"To the naked eye, I don't think it was readily noticeable," Brown said. "That is something we will continue doing into this year's show, mostly because we can."
Create, Connect and Capitalize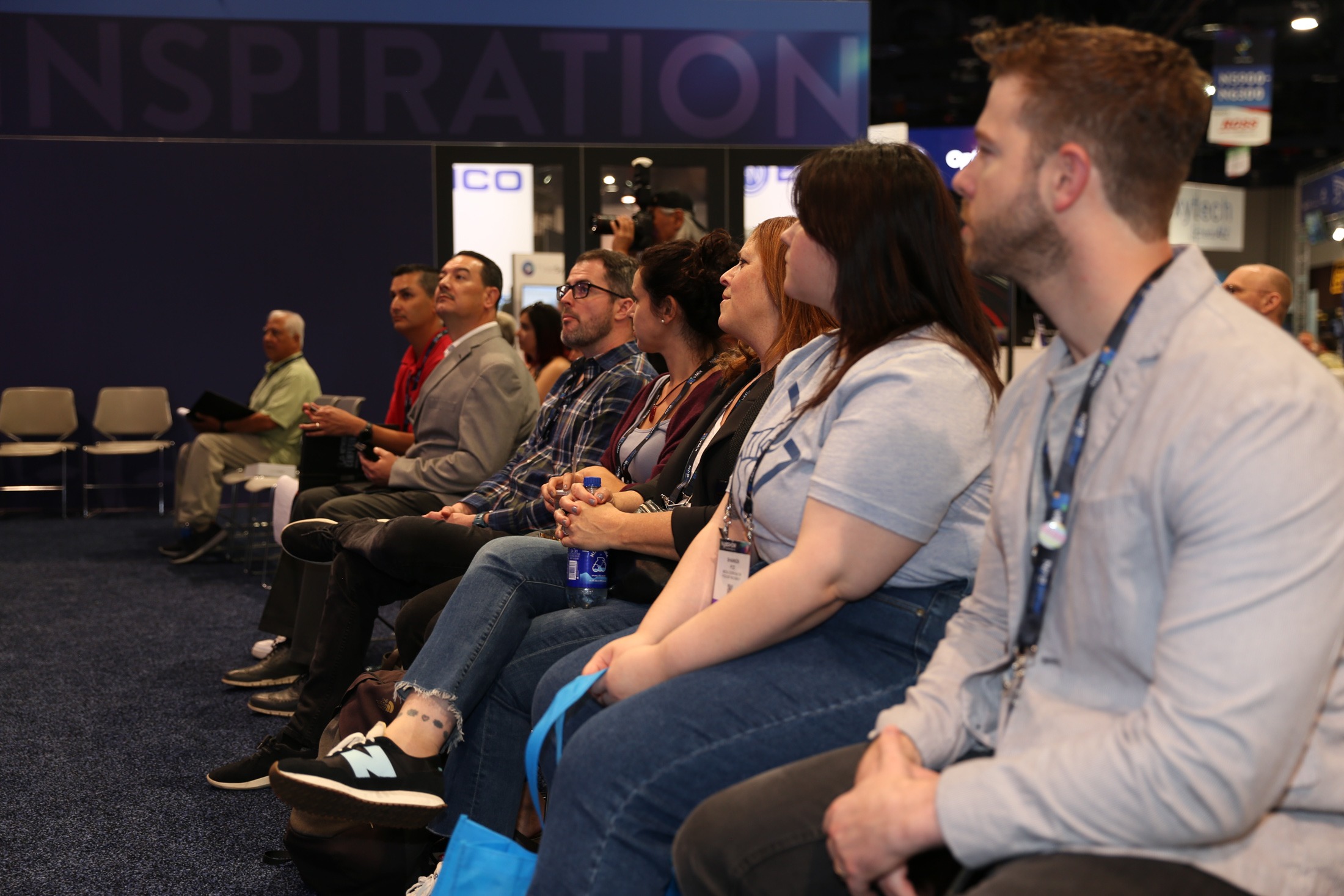 A major change to NAB in 2022 was the creation of three content spaces to better organize the event around the themes of "create," "connect" and "capitalize". These areas were meant to reflect the organization of the industry as well as provide a more simplified, organized way for attendees to navigate the event.
Brown also shared the creation of a fourth additional element in the show's organization. "We also added a fourth destination, which we feel is something that kind of cuts across all three of the pillars and that's intelligent content, which is all about data and how data is affecting how content was created and distributed."
Within each of the areas, NAB created experiential zones that allow attendees to learn about featured categories. "Because we've never done this before and it was somewhat ambitious. We debated a lot about whether we should just try one or two."
Brown's team eventually settled on launching five zones, each containing multiple facets that included special demo zones and a peer-to-peer networking area.
"We wanted to give attendees a place where they can kind of go use it as almost a home base," said Brown. "It would give them information on what they should be looking for out on the show floor, what trends are happening and what companies are showing."
A Healthy, Strong Industry
After being away for a few years, Brown is hopeful that this year's attendees will feel empowered. "We want to reinforce and make sure people walk away thinking, 'wow, that is clearly the most important, top annual gathering for this industry, and it's healthy and it's coming back strong.'"