One woman's approach to bringing other technicians on the AV career track
"I have been referred to for years as 'the AV guy,'" Anca Platon Trifan, CMP, DES, founder, creator and event producer of Tree-fan Events, shared within minutes of jumping on our Zoom call. "Words matter and we need to change the vernacular. Otherwise, we are assigning that position to a certain type of person and it makes it difficult for a woman to picture herself in that role."
It turns out, Trifan has trunks full of ideas for broadening the definition of who can be an event producer. Let's learn more about her journey and what she thinks it will take to bring different points of view to the industry.
A Long Journey
Trifan started in radio in high school in Romania and taught herself about equipment and programming all through college. In order to grow in her chosen profession, she found ways to make money to come to the United States to learn about audiovisual production and attend training in New Jersey on a scholarship, working multiple odd jobs.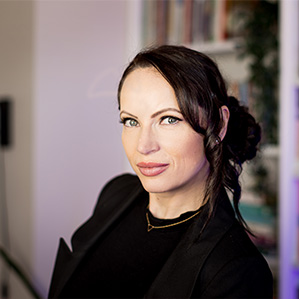 Read More: Think Event Technology Is Still a Man's World? Think Again.
She found her way to the West Coast and took a job repairing computers to get her toes in at a production company. She worked hard to learn everything she could by organizing the warehouse and creating a system for checking equipment in and out and quality testing it. "I learned about the gear before I ever had a chance to use it in a production setting," she said. In the process, she found mentors in the husband-wife team that owned the company.
Few and Far Between
"I would like to think things are changing, but last week I was in Las Vegas for a show with 330 technicians working a major event and only eight were women," said Trifan. Many times, she is still the only woman on a crew.
The biggest barrier to entry is training, she reported. "There is still a stigma to a man and a woman working one-on-one," she said. She has also heard, "You are too pretty to worry about these things," an especially upsetting comment for a woman who takes her wellness and strength training seriously.
Another wall is simple logistics. "It is difficult to juggle a family and the long days," she admits. She was traveling for three weeks on back-to-back shows and her husband, a man she described as "a huge supporter," carried the household chores and the family obligations with two children on his shoulders.
"Not every woman has that support system, and many carry the load themselves," she said. People who have to be home to pick up the kids miss opportunities and are not top of the list when jobs come up, she observed.
Passion Project
"If I were a young woman again, if I weren't as resilient, passionate and strong headed enough to go through or over walls, I would probably consider something else," Trifan reflected. "It is tiring because you have to prove yourself every time."
Some men, particularly older men, still have to be convinced to take orders from a small woman, she reported, even if she knows her stuff. "I am here because I am confident in my skill set," she said.
Those skills didn't come easily or by accident. "I had to teach myself a lot of things because no one else would teach me. Having that support and another woman to talk to is so powerful. It is a completely different type of energy," she said.
Trifan approached her job as a lone wolf in the beginning, but eventually realized there are other women feeling lonely, so she started reaching out on LinkedIn and Instagram to build community. "My male friends hadn't experienced what I had seen and heard. I wanted to create opportunities for women to share their experiences in camaraderie."
"I would be so much more advanced in my career and what I want to achieve if I had more support along the way. I have so much I want to do, but I also feel like I am behind all the time," she said.
Event Boss
After years of working for someone else, Trifan realized she could be benefitting from all that work. "Sometimes I say that I am the worst boss ever. I had to learn work-life balance and had to be dragged out of my home office. I had to figure out a plan for myself to keep myself mentally healthy." Even pregnant she was working physical jobs until the very last minute and only during her second pregnancy did she realize the need to cherish the time with her young children. "I don't want to burn myself out again," she said.
A Chorus of Voices
Trifan's hope is that now that more people are talking about diversity and inclusion in the industry as a whole and event production in particular, it will be more difficult to ignore the calls for change. "The more voices are added to the fire, the louder it gets. That is a process. It isn't going to happen overnight," she cautioned.
Read More: Diversity, Equity and Inclusion Are Good for Your Meetings (and Business)
"It's just a matter of time, but I have faith, given enough choir of voices, people can have a home life and a work life."  And maybe on the next job, she will be hailed as an "AV tech" instead of an "AV guy". Maybe.