Editor's Note: On Dec. 8, PCMA announced that Viola Davis, Academy Award-winning actor, producer and philanthropist will deliver the closing message on Wednesday, Jan. 11. in a chat format with host Holly Ransom.
The hot news today is that Ohio native and award-winning singer-songwriter and pianist John Legend will perform during PCMA Convening Leaders 2023 Networking Reception on Jan. 10 at Nationwide Arena in Columbus. The first African American man to join the club of performers who have won an Emmy, Grammy, Oscar and Tony (EGOT) was born in Springfield, Ohio, where his grandfather was a pastor and his grandmother played the organ.
But that is just one of the reasons why meeting professionals will be flocking to Columbus in January. Smart Meetings sat down with PCMA CEO and President Sherrif Karamat for insights about what to expect at the opening reception on Jan. 9 and beyond.
Adjusted Normal
"We are playing a little bit of catch-up from last year," when Convening Leaders was in Las Vegas and the Omicron variant was impacting travel plans again, Karamat recalled. "We didn't have all the boosters to keep people safe. It was a very different world." He is expecting 4,000 people in Columbus this year despite rumors of a looming economic downturn.
"In the business events space, there was a realization of the need for being together and we are all determined to build back stronger than 2019," he said.
Read More: Ramsay's Kitchen Opens at Harrah's Las Vegas
Karamat pointed to an increased focus in the agenda on mental health and wellness, increasing engagement online and offline in addition to managing talent issues, remote workers and training workforces today. He also stressed the importance of seeing the meetings industry as a force for good in advancing sustainability. "We are in a face-to-face business, so we have to focus on those meat-and-potato issues," he said.
The Main Stage
The big stage will reflect those priorities. Wharton organizational psychologist and author of "Think Again," Adam Grant will talk about how non-conformists move the world forward and challenge the way business is done.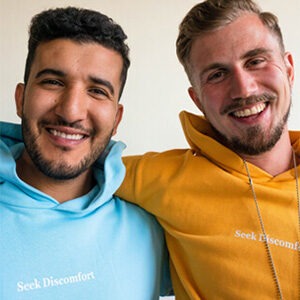 Yes Theory speakers Thomas Barg and Ammar Kandil will share secrets for embracing uncertainty to reach your full potential. The hosts of the "Project 30" video series will talk about why we need each other more than ever.
Multi-award-winning Olympic athlete Allyson Felix will share her advice for embracing uncertainty. "The last few years have been anything but certain, so this is very timely," Karamat said.
Dean of the Tuck School of Business at Dartmouth Matthew Slaughter will put the economy into context. He is a member of the Council on Foreign Relations and a former member of the White House Council of Economic Advisers. "He will paint a picture of what is happening in the economy," said Karamat.
In addition to business leader and former Hewlett Packard CEO Carly Fiorina, Hilton Worldwide CEO Chris Nassetta and Encore President and CEO Ben Erwin will share insights about what is happening in ballrooms across the country.
Prepare to Thrive
Karamat shared that people are coming to Convening Leaders for four reasons: business opportunities/connections, peer learning, content that will equip them for the future, and an experience that truly transforms.
His advice is to prepare in advance to meet with people you want to do business with. Reach out through the app or in other ways. But also make an effort to meet with new people who might not bring you business, but will push you to understand things differently.
Scan the agenda and focus on sessions and topics that meet your individual needs. "That way you won't miss out on the best ideas for you," he said.
Insider Tips for Planning a Columbus Conference
Convening Leaders will highlight some of the top spots in the city named one of the 52 Places to Visit in 2019 by The New York Times, but there is more, according to the experts at Experience Columbus.
Yes, the 1.8-million-square-foot Greater Columbus Convention Center (GCCC) offers 373,000 sq. ft. of contiguous exhibit space, 75 meeting rooms and the largest ballroom in the state. Downtown Columbus has more than 5,000 hotel rooms, 2,700 of which are connected or adjacent to the convention center. And, in total, there are approximately 32,000 hotel rooms citywide, with the recently expanded Hilton Columbus Downtown being the largest hotel in the state.
But did you know that the 14th largest city in the United States and the fastest-growing one in the Midwest is within a one-hour flight from more than half of the U.S. population?
The Biggest Small Town in America also checks DEI boxes with a Diversity Apprenticeship Program that is bringing new voices to the industry and a CBUS Soul collaborative platform for multicultural experiences that supports diverse businesses.
GCCC was also the first convention center in the world to be certified sensory-inclusive. To accommodate guests with sensory processing challenges and provide an inclusive and seamless experience, GCCC teamed up with KultureCity to provide sensory bags filled with noise-canceling headphones, fidget tools, verbal cue cards and weighted lap pads for people with autism, dementia or Post-Traumatic Stress Disorder who might be affected by noise and overstimulation. Staff was trained by medical professionals on how to recognize guests with sensory needs and authorized to escort them to quiet zones if needed.
Visitors will not go hungry. The city was named one of the 32 Places to Go and Eat in 2019 by Food & Wine magazine. Celebrity chefs and local favorites are advancing the farm-to-table movement with a Midwest twist.
The city is also has a wild side. The Metro Park system consists of 19 natural parks and 28,400 acres of hiking and biking trails and forestry. For indoor adventures, visit the Center of Science and Industry (COSI), voted the best science museum in the country multiple times. At Columbus Zoo & Aquarium, visitors can catch a glimpse of supremely unique animals for the region, including Pallas's cats, Asian elephants, manatees and okapi—a striped, extended relative of the giraffe.
Karamat praised the cooperative nature of the community as everyone from CEOs of banks, hospitals, major corporations and the university came to meet him on the site inspection and talked about how they work together. "These people understand our business and how to drive meetings forward. The social fabric, including the foundry business incubator, aligns with our vision of ourselves as an experiment in new ways of meeting," he said.