To learn what meeting professionals value most as the industry emerges in the post-Covid world of gathering, Caesars Entertainment launched its Caesars Entertainment Remastered Tour—showcasing the company's largest reinvestment year having spent hundreds of millions in 2022 on upgrading their venues across the United States while gathering extensive feedback.
Caesars launched the Remastered Tour in May with its first event hosted at Shoto Contemporary Japanese Izakaya in Washington D.C. with 100 guests in attendance. The intent of touching down in major markets was not only to host elegant parties but also to gather feedback during roundtable discussions from industry professionals, from planners to executives, on how to better execute events and produce elevated experiences.
"So many of our major market products are being touched with some type of renovation, asset, improvement, restaurant additions—there's something happening at so many of our properties," Rebecca DeLuca, Director of Key Accounts & Strategic Partnerships, Caesars Entertainment says.
The five-city tour has already passed through Washington D.C., and Chicago, and will arrive at the end of August in Dallas followed by New York at one of the city's newest venues, The Edge at Hudson Yards in September before wrapping up the tour in Atlanta with a tentative date hovering sometime in October.
"We're using very new, modern and unique venues and we're creating experiences in each of these cities," she says, adding that the events are focused mainly on food, entertainment and reconnecting.
Read More: A Revamped Reno Could Take Meetings to the Next Level
Mapping Out What Matters Most
Caesars Entertainment invited an artist to observe and sketch out a roadmap based on the feedback given during the roundtable discussion hosted at the D.C. event with specific areas that meeting profs said to be at the forefront of their thoughts when selecting a meeting venue.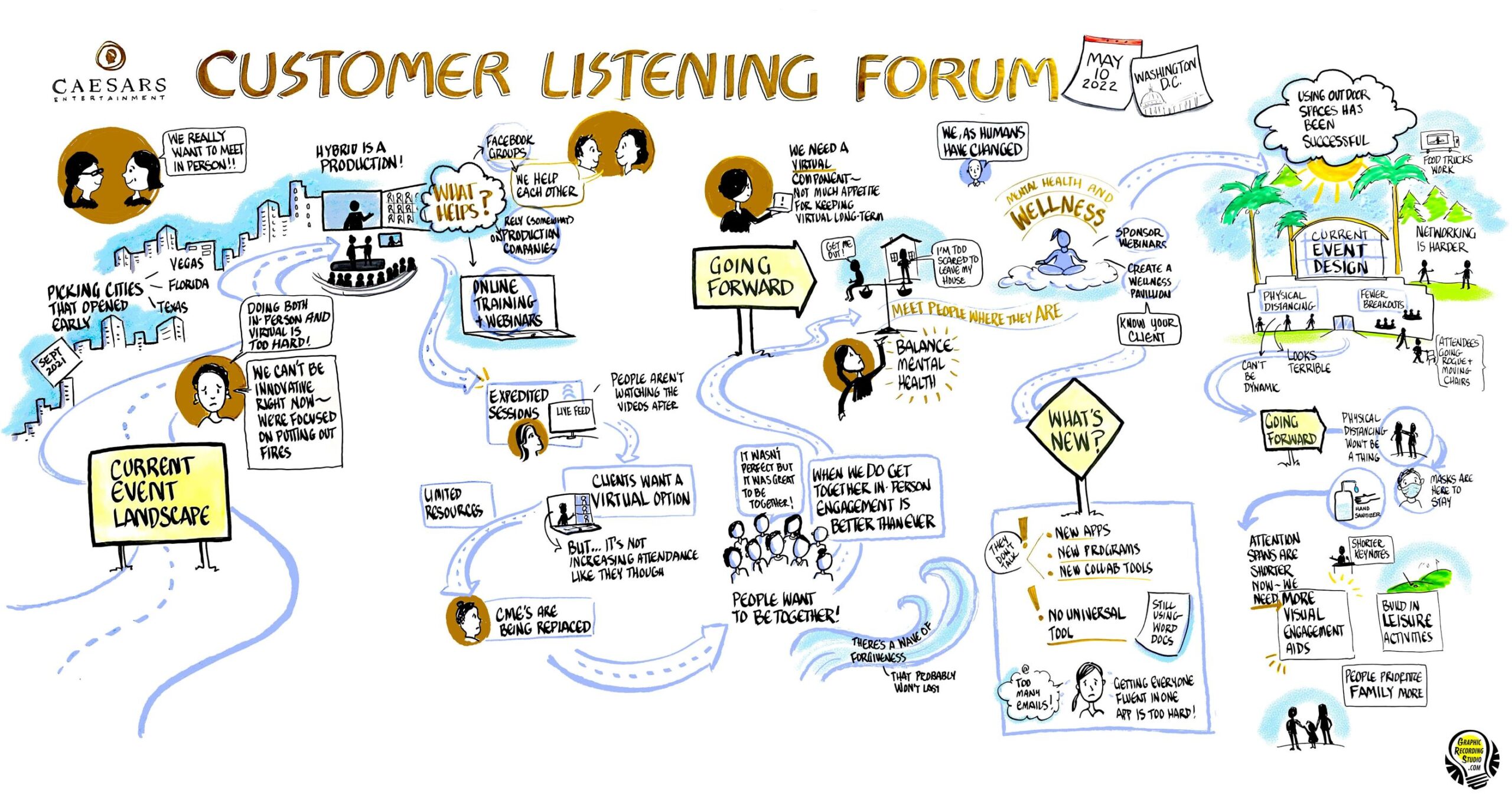 Another key component of the tour, according to DeLuca, is raising awareness among planners that venues across the U.S. are ready to host events—opposed to the assumption that the most suitable venues are in cities that were subject to fewer restrictions during the pandemic.
"We're listening to them about what's going on with their business, how they feel about the industry coming back, what's still keeping them up at night and how they feel about Caesars Entertainment," DeLuca says.
While conversations around the current recession in the U.S. has been elevated to a major concern among planners—potentially cutting into innovation resources—Deluca says optimism remains high in the meetings industry. Other concerns among planners include staffing shortages, training new event industry professionals and the high cost of planning virtual and hybrid events.
Read More: Make Hybrid Events Worth Every Dollar for Virtual Attendees
Driving Creative Partnerships
Caesars Entertainment partnered with the Las Vegas-based and woman-owned creative agency Til Death Do Us Party in March, under the direction of agency founder Audrea Hooper, creating an event brand with edgy rockstar vibes focused on entertainment tying in the visuals of concerts and events hosted at the company's venues, simulating the sensory experience one would have while visiting Las Vegas. This branding strategy included visuals associated with numerous performers including John Legend, Keith Urban and Adele to name a few.
However, the events also include live entertainment, featuring music from Las Vegas performer Lisa Marie Smith and performances from French magician Titou and others. "There's an entertainment aspect to all of this," DeLuca says, adding that the events are intended to create an immersive entertainment experience as well as an immersive technology experience with marketing visuals. "We have an interactive NFC wall," she says, with an appearance similar to records that guests can scan using their phone to get additional information on restaurants, entertainment and performers. "It's an immersive educational experience, plus it adds an elevated aesthetic to each event venue."
Caesars Entertainment also partnered with Lauren Harwell of the Denver-based destination management company Imprint Events Group to curate and execute each event in every location that hosted a Remastered Tour. The partnership has since grown through the production of these events with Imprint Group adding an additional layer of unique creative depth.
Read More: 5 Ways to Create an Unforgettable Event
Extending Digital Reach
Caesars Entertainment also engaged in a major social media push by placing its in-person brand in a digital space to increase its reach from hundreds to thousands of people. "I think that it speaks to digital technology and how incorporating a social media strategy into in-person events allows us to create FOMO and extra excitement at our events," DeLuca says. While the hurdle of creating engaging experiences through remote and hybrid events remains, DeLuca says that utilizing social media can bridge the gap in a cost-effective manner during the current period of recovery for the events industry.