The research indicates experience tops destination. In other words, most meeting attendees would rather have a "wow" time somewhere memorable than another breakout room even if it's at an upscale hotel or resort. But what if you can plan for both? To wit, the wow destination is San Francisco. The wow experience is an intimate gathering at a memory-making new hotel that includes private dining at its restaurant, which is the latest hot spot in that food-obsessed city.
The hotel: the new Kimpton Hotel Alton just steps from Fisherman's Wharf yet oceans apart from the touristy clamor of that locale. The restaurant: Abaca, the first in the city to offer a fine dining experience showcasing a cuisine your groups may never have tried—Filipino.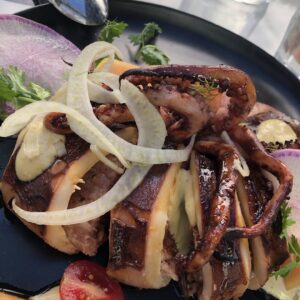 Permit me to add a personal note. Some years ago, a visit to the Philippines on business left me with indelible impressions of the historic allure of Manila (and its perpetually snarled traffic), the grace and innate friendliness of its citizens ("I'm the former mayor here, so let me know if there's anything I can do to make your stay in our country more enjoyable") and the food.
The food. How shall I say it? Wherever I've traveled around the globe, I've typically found something I think is delicious. In the Philippines, well, not so much. I didn't get Filipino cuisine. A lot of salty, sour, garlicky flavors, as I remember it.
After dining at Abaca these many years later, I have totally revised my opinion. Filipino cuisine is wonderful. Especially under the direction of chef Francis Ang and his wife Dian. Ang has spent time in some of the city's best restaurants since moving there from Manila at age 19, including Gary Danko, Campton Place and Fifth Floor.
In 2018, his Pinoy Heritage won Best Pop-up from the San Francisco version of the website Eater. At Kimpton Alton, the Ang's light-filled dining room seats 50 indoors and about 28 on the patio, plus there's a banquet room for private dining and events. Buyouts and private dining are welcome, if you can get on the schedule.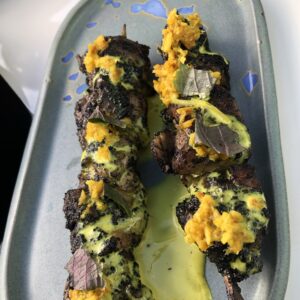 "The whole idea is to make things approachable," Francis Ang told Eater, including for diners who may or may not have experienced Filipino food before. "We want to be approachable and at the same time helping to educate and spreading our culture and our cuisine. A lot of these recipes, it's just us interpreting it into our own with California ingredients and produce and something we may have learned from like, literally, cooking with a tita on the street or somebody's yaya."
See also: Deeply Rooted: Cuisines Simmered in Local Traditions
Shareable small plates dominate the menu. And though I recall Filipino food as meat-centric, Ang has vegetable options like a skewer of summer vegetables in pinakbet sauce (a word derived from a word meaning "shriveled"). A Filipino classic, sisig, is served over fried rice and adorned with fuchsia-hued pickled onions, chicharron crumbles and a perfectly poached egg. Star of the larger plates is an impressive-looking whole squid stuffed with chorizo and topped with a calamansi aioli.
Cocktails are tropical-fruit forward, the likes of King Bird (bourbon, jackfruit-infused Campari, tamarind, pineapple, curry leaf) and Pandan-Quiri (milk-washed rum, pandan, calamansi).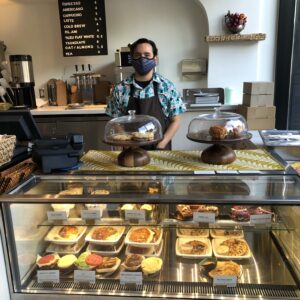 Ang was a pastry chef in his past life, and he shows off these refined skills in the mornings at a panaderia and coffee counter at one end of the restaurant bar, with modern takes on traditional Filipino sweets like Bibingka Rice Cake with salted egg and triple cream cheese and Cheese Ensaymada with gouda and mornay sauce.
Steps from Abaca is the hotel's event space of just under 1,000 sq. ft., perfect for board meetings, intimate get-togethers and cocktail parties. Customizable meetings can include breakfast upgrades, complimentary cocktail receptions and live music.
The mood is sophisticated and calm, yet rooted in the 1970s San Francisco counterculture movement, with the playful decor and extra touches the brand is noted for—like Victrola record players in the 248 guest rooms and thrilling skyline views of the city at no extra charge, not to mention yoga mats and Frette bed linens. Ten suites—largest is 635 sq. ft.—can give your C-suite clients eclectic furnishings, classic and vintage-inspired furniture and eye-catching artwork.