On Sept. 15, Germany deemed travel to international trade shows essential in a momentous, if also controversial, change for the global events industry. Germany is home to one of the largest trade show industries in the world, so there is no doubt that salvaging these events is vital to restoring its economy. According to the Association of the German Trade Fair Industry, the estimated economic impact of canceled or postponed trade shows in Germany was €18.5 billion ($21.9 Billion US) since the pandemic struck six months ago.
See also: Germans in Spain: Testing Post-Virus Tourism
This announcement is exciting for event professionals and companies involved in Germany's trade show and events industry. Meeting planners and show managers are now joining front-line, essential workers considered essential to the German economy.
This means that not just German trade show attendees can attend shows. Attendees from any country can travel to trade shows in Germany if they have valid visas where necessary. Upon entering the country, exhibitors must present their show ticket and proof that they are scheduled to attend at least one scheduled trade show meeting.
However, attendees from outside countries do not get a free pass to roam around Germany. After being cleared to enter the country, all international travelers are legally obligated to follow the quarantine regulations within the specific German state in which they are staying. Most states require individuals to self-isolate for 14 days.
A Balancing Act
Over the past few months of the pandemic, a complicated question has been debated tirelessly by government leaders, the press and many in the events industry: "Which issue is more essential to solving: economic impact or potential health risks?"
That is the wrong question when it comes to professionally produced meetings. "Trade shows and business events are not part of the COVID problem, they are part of the COVID solution," explained Kai Hattendorf, managing director and CEO of UFI, The Global Association of the Exhibition Industry. "We need governments to understand that point, and Germany, one of the three biggest and most important markets for trade shows globally, is getting this."
This decision signals international exhibitors and attendees worldwide that the events industry will recover, beginning with the trade show sector. Exhibitors, attendees, event professionals and business leaders worldwide will be excited to know there is now a way to attend trade shows.
This comes off the heels of the tireless advocation of the trade show industry by executives involved in these shows. These leaders insist that trade shows are not just generic mass gatherings, but instead organized business events where everyone's health and safety in attendance can be managed with care. Unlike consumer events, pre-emptive and preventative health and safety protocols are continuously being administered and updated.
A Leadership Role
Although some will argue that the German government's decision to deem business travel essential seems to be slightly premature, the success of the return of the events industry in Germany could open the door for similar opportunities in other countries worldwide.
Finally, there is some optimism in the events industry. But…will other countries follow?
A Powerful Force for GDP
According to the Events Industry Council, Germany ranks only behind the United States and China in the events industry. In 2019, Germany hosted more than 3 million conferences and congresses in 7,500 venues.
In fact, out of all of Germany's key industries, the meetings industry ranks sixth.
| | |
| --- | --- |
| Industry | Average Annual Revenue |
| Automotive industry | 428,92 billion EUR |
| Mechanical engineering | 261,78 billion EUR |
| Chemical and pharmaceutical industry | 202,95 billion EUR |
| Electrical engineering industry | 184,34 billion EUR |
| Food industry | 179,56 billion EUR |
| Meetings industry | 129,09 billion EUR |
Furthermore, among all the events and meetings in Germany, business events rank the highest. Here is how the Germany meetings industry is divided monetarily, according to Kongres Magazine:
Average Annual Revenue by Event Category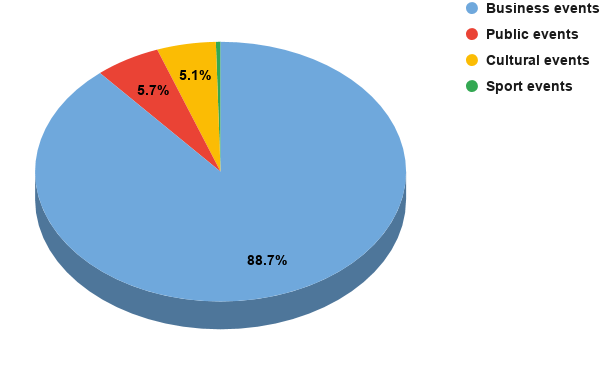 De-de Mulligan is a regular blog contributor for Rentacomputer.com and president and chief content strategist for Mulligan Management Group. As a former meeting planner who has received Ohio MPI's Planner of the Year award twice (2006 & 2012), she brings a unique perspective to this blog post. You can find her on Twitter @DedeMulligan or LinkedIn.