Destinations International's annual Washington, D.C., show pumped up the education and business-event-strategist quotient with help from friends at PCMA to attract record attendance of more than 1,000 planners and suppliers to Walter E. Washington Convention Center on Wednesday.
For the first time, the keynote and meals were delivered on the tradeshow floor and more meeting professional education sessions were added to the agenda. Don Welsh, president and CEO of Destinations International, called the new format "a powerful partnership."
See also: Destinations International and PCMA Team Up to Bring Planners and CVBs Together
PCMA President and CEO Sherrif Karamat positioned the experience as bigger than the attendees in the room. "This industry has an impact beyond hospitality," he said.
But First, Awards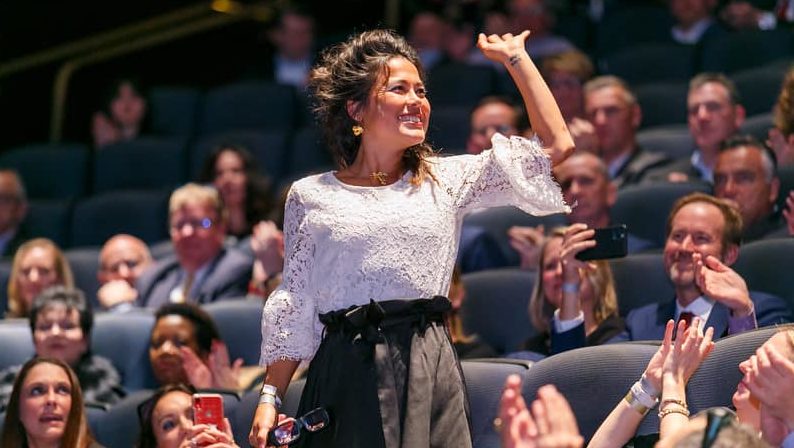 The one-day conference kicked off with a Spirit of Hospitality awards presentation and a private screening at National Air and Space Museum to benefit Destinations International Foundation. The award went to United Airlines, for its commitment to enhance sustainability, inclusiveness and customer-centric service.
More: United Saves 40,000 Customers from Missed Flights
The recognition was followed by an IMAX premiere of Into America's Wild, a new film by MacGillivray Freeman Films that was sponsored by Brand USA. The 3-D experience documented John Herrington, the first Native American astronaut, and Alaskan pilot Ariel Tweto (both of whom were in attendance) on a cross-country journey that touched on many of the destinations in the room.
Deeper Understanding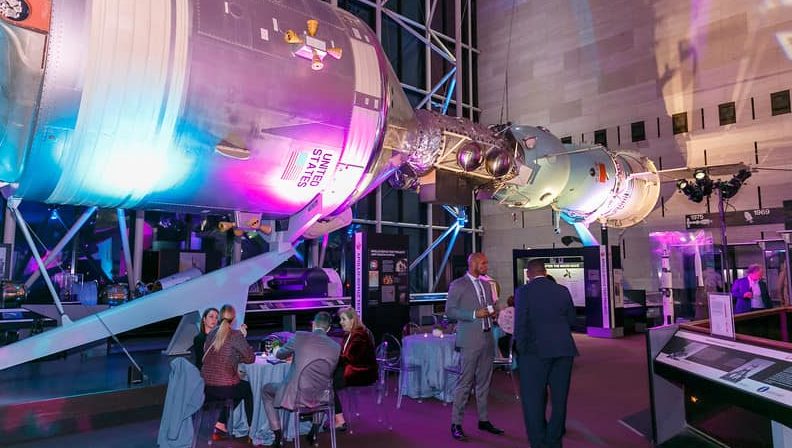 Several sessions at the conference focused on nurturing empathy—for audiences, teams and yourself. Megan Finnell, director at Medical Group Management Association and Megan Martin, manager of channel partner events at RingCentral, kicked off the day with "A Method to the Event Madness: Empathetic Design," a hands-on exercise that helped meeting professionals put themselves in the shoes of their attendees and stakeholders to design agendas.
"User-centered design asks how each group is feeling at any given moment," Finnell explained. "That is how you give everyone what they want."
A panel discussion led by moderating consultant Brad Weaber resulted in a trio of meeting professionals telling everyone exactly how they felt about how quickly the business is moving today, how convention and visitor bureaus are—and are not—helping, and the importance of social issues in decision-making.
Windy Christner, senior director of meetings and expositions at American Pharmacists Association, shared the initial fear she expressed to fellow panelist Tom Norwalk, president and CEO of Visit Seattle, about taking a group to his city after seeing aggressive homeless people on the street. Instead of avoiding the problem—or the city—she incorporated a fundraiser into her program to help sick children living in cars, raising $15,000 and quite a bit of awareness. In turn, Norwalk underscored the urgency of being part of the solution and expressing their concerns to elected leaders.
Keynote speaker Sara Ross tied a call for deeper mutual understanding with a talk she titled "Igniting the Leadership Vitality Factor: Next-Level Leadership for an On-Demand World."
Ross helps people become more aware about how they present themselves in everyday and stressful situations where reaction times are short—something all meeting professionals face. Everyone, she said, has both reflecting (big picture, strategizing) and reacting (survival, fight/flight, stress, emotions) systems—but only one can be dominant at a time. Our reflecting system can't be active at all times, yet calling on it during challenging moments by taking a minute to slow down will result in better long-term decisions, she advised.
"Good leaders are accountable, supportive and empowering," Ross said.
Then she made a bold prediction: "The future belongs to people who can manage attention and energy." With those marching orders, attendees rose and went out into the hall to do their own partnering.