Puerto Rico is open and wants your business. That's the clear message from Discover Puerto Rico, the island's DMO, which assures planners and other potential visitors that all the island's main meeting venues and visitor attractions are fully operational.
As recently as Jan. 11, the latest aftershock, at 5.9 magnitude, rattled the earthquake-rocked island and did further damage to the southern coast, where previous quakes in recent weeks had destroyed many structures. But authorities are emphasizing that no major damage was reported elsewhere, and that power is now restored to 98 percent of the island.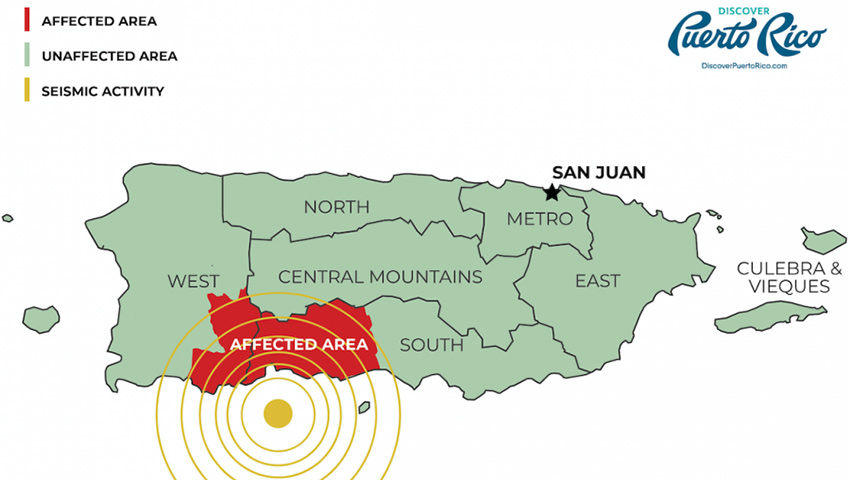 "One of the best ways that people can show their support for Puerto Rico at this time is to keep their upcoming vacations, work trips, meetings, conferences and events," said Brad Dean, CEO of Discover Puerto Rico. "We are a resource for their questions. Tourism is vital to the local community and to keep the economy recovering, Puerto Rico needs to maintain the record-breaking tourism boom it experienced in 2019, which fueled the local communities."
This past week, nearly 56,000 cruise passengers disembarked at the San Juan Cruise Port. All flights are reported to be operating normally to and from the San Juan, Ponce and Aguadilla airports. Puerto Rico Convention Center and major attractions, such as El Morro, El Yunque, San Cristobal Fort, and all areas around San Juan, continue to be open.
The DMO advices that planners visit its website update page for the latest information.