Marriott Hotels, the legacy brand of Marriott International with over 550 hotels and resorts in more than 60 countries and territories in the world, has embarked on a journey of the mind. That was the uber-message delivered at the unveiling of a makeover of iconic San Francisco Marriott Marquis, a 1,500-room meetings mecca in the SoMa District, near Moscone Center.
Julius Robinson, senior vice president of classic premium brands for Marriott International, led off an evening's celebration at the newly redone hotel with a "fireside chat" with Eric Berlow, TED senior fellow and a researcher, into the nature of creativity and how best to stimulate it. Robinson also discussed the results of a Marriott Hotels global study that delved into today's travel trends and "the powerful impact of letting your mind travel."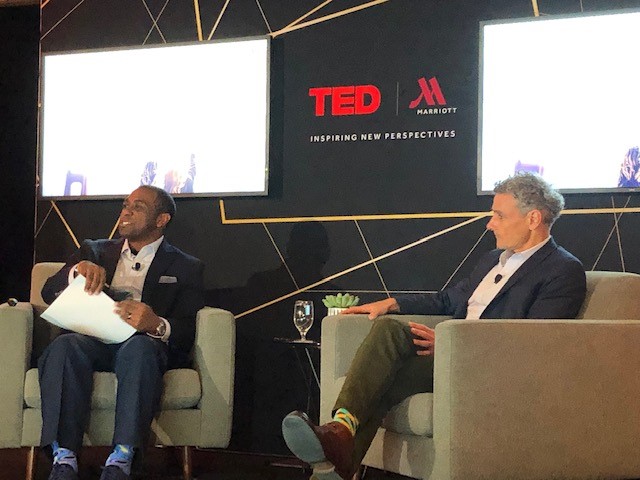 Marriott Hotels, Robinson said, is ensuring the continued relevance—"future proofing"—of the brand by basing its design thinking on approaches that enable a range of work styles and stimuli for encouraging creativity and inspiration.
"We believe our guests at Marriott have the ability to do great things when they are inspired," Robinson said.
Not surprisingly, the Marriott study found that many people think they are too busy to be their best selves. Conducted with 7,500 business travelers in nine countries, the study found that 83 percent believed not having enough time to clear their minds impacted their creativity—more than half said if they had an extra 15 minutes in their day, they would use it to hit the mental pause button.
Other findings:
Eighty percent of global respondents noted inspiration often comes from a moment of pause.
Globally, 69 percent reported that they spent at least an hour a day multitasking, while in the United States that percentage spiked to 80 percent.
Seventy-seven percent of U.S. respondents said trying to complete all their daily to-dos distracted them from doing what was really important (compared to only 50 percent in Mexico and China).
Berlow, a scientist and researcher, said his own work has indicated that most people think social media is their No. 1 distraction. "But tech doesn't distract us," he countered. "We distract ourselves. It's a part of human nature. We're curious, and so as soon as we're in the deep state of work, we want to be distracted."
A survey of creative styles conducted with 10,000 people demonstrated that creative habits fill a spectrum, Berlow said. "Some people," he said, "are kinetic creators. They get their ideas while in movement. Others are meditating creators."
Marriott's refreshed design approach, Robinson said, aims to "encourage our guests to reach their full creative potential" by accommodating this spectrum with both social and private spaces, as well as places to be in motion and others for quiet contemplation.