Tens of thousands of passengers pass through international airports annually, so they're hotbeds for catching a bug. For busy professionals, catching a cold can be quite a hindrance, so it's important for them to remain healthy.
Online travel website Netflights.com ranked the top 25 healthiest airports in the world—airports that are making strides to make sure passengers stay healthy—physically and mentally. They were rated on a scale of 1–23, based on several factors, including access to yoga classes, gyms and outdoor spaces. Here are the top 10 airports from the list. 
10. Toronto Pearson International Airport (YYZ)
Score: 13
This is the busiest airport in Canada and second-busiest in North America. It's set up for sleeping, as winter delays are a common occurrence. It features designated rest zones, free sleep zones and Muskoka chairs.
9. San Francisco International Airport (SFO)
Score: 13
The seventh-busiest airport in the United States, SFO is a major hub for flights throughout North America and a popular gateway for flights to Europe and Asia.
8. Haneda Airport (HND)
Score: 14
Just 30 minutes from central Tokyo, HND is Japan's busiest airport. To combat stress-inducing busyness, the airport features plenty of places to relax, such as spas, green spaces and relaxation areas.
7. John F. Kennedy International Airport (JFK)
Score: 15
JFK is the primary international airport in New York City and busiest international air gateway in North America. In the event of a layover, wind down in one of the three relaxation spaces, spas or yoga classes. If it turns out you have more time, check out The Metropolitan Museum of Art store in Terminal 4.
6. Vancouver International Airport (YVR)
Score: 15
The second-busiest airport in Canada is surrounded by a lot of remarkable greenery. Make the most out of your layover by taking a quick trip Iona Beach or Flight Path Park.
5. Hong Kong International Airport (HKG)
Score: 16
At HKG, you can enjoy local cuisine or even grab a quick massage. If you have the time, you can take it easy at any of the many amenities, including meditation and relaxation spaces, the spa and the massage center.
4. Changi Airport (SIN)
Score: 18
Located in the most populated country in the world and serving as one of the major transport hubs in the world, SIN in Singapore is filled with plenty of entertainment, including a cinema theater, as well as gardens and several rooftop swimming pools.
3. Dubai International Airport (DXB)
Score: 19
A major gateway for travel between Europe and Asia, DXB is the busiest airport for international travelers. It has a Zen garden filled with fish ponds, shrubs and palm trees, allowing passengers to chill out before, after and in-between flights.
2. Schiphol Airport (AMS)
Score: 20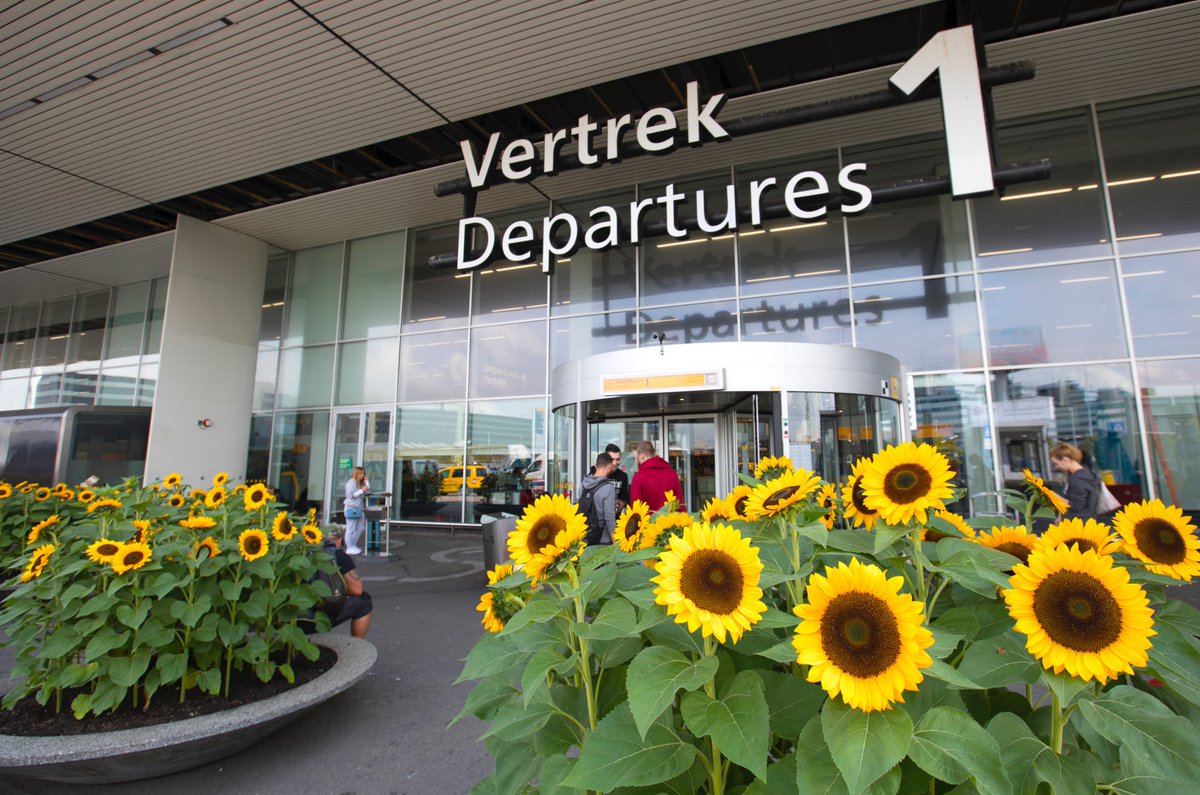 Partly due to its proximity to Amsterdam's city center, AMS is ranked as the world's best airport to have a layover. Add to that the many green spaces, yoga studios and spas, and you may not ever make it out of the airport.
1. Frankfurt Airport (FRA)
Score: 21
In 2017, more than 54 million people passed through. FRA is the busiest airport in Germany and the eighth-busiest in the world­—partially due to the city's status as a major financial center—and the healthiest. It boasts relaxation spaces, yoga classes, prayer rooms and outdoor green spaces galore.