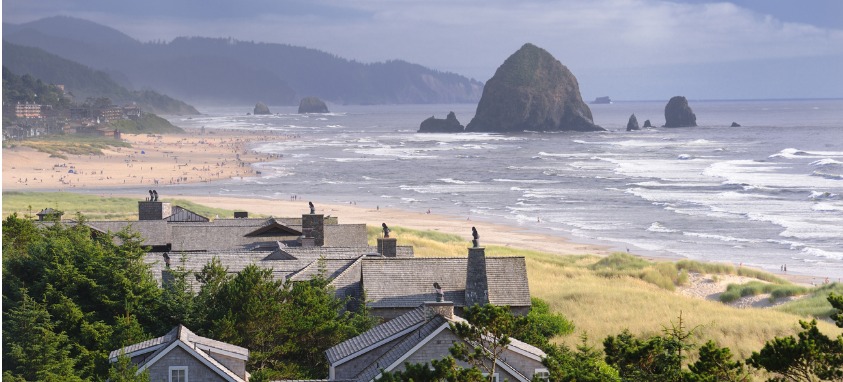 There's nothing quite as calming as relaxing on the beach after a long day of networking. The salty smell of sea air and sounds of lapping waves is a portal to instant paradise. If you're looking for the best seaside town for an event, Coastal Living has released its top 10 happiest seaside towns in America. We have updated it with suggestions for coastal meeting.
10. Cannon Beach, Oregon
A small town overlooking the Pacific Ocean, Cannon Beach is ideal for those looking to retreat to a place where nobody knows your name. With fewer than 2,000 residents, the community is close and the location is cozy.
Visit the city's Haystack Rock, a 235-foot landmark that hosts plenty of tidal creatures to explore when the tide is low. If you're there spring to mid-summer, catch a view of Tufted Puffins sitting among the rock. And don't forget to stop by the annual Sandcastle Contest in June to see massive, temporary works of art.
Tolovana Inn is right on the beach, giving you breathtaking views from your hotel room. The inn also offers 3,300 sq. ft. of flexible meeting space, hosting groups of up to 150.
9. Bellport, New York
Didn't expect to see New York on this list? It may be well-known for the hustle and bustle of its streets, but there are spaces to relax, too. Located on the South Shore of Long Island, this town is the perfect place to go when looking to escape the city, yet stay close enough should anything arise.
Bellport, itself, is a quaint village, dotted with locally owned businesses for shopping—or just browsing. It is also home to the historic Gateway Playhouse, a summer theatre that opened in 1950. Ho-Hum Beach, located a few miles from Bellport Bay, is Coastal Living's top pick for the area's beaches.
SpringHill Suites Long Island Brookhaven is perfect for hosting smaller meetings. It offers more than 1,000 sq. ft. of meeting space, including East End ballroom, which can hold 120 people.
8. Hampton/Hampton Beach, New Hampshire
Hampton is home-base for some of the biggest tech and retail companies. But escape to nearby Hampton Beach, and you'll find a charming little seaside town adjacent to 13 miles of silky sand and gentle waves.
Mosey your way over to the boardwalk for seafood to die for, a line of shops facing the ocean or a concert on its Sea Shell stage. Play arcade games, dance your heart out or listen to live music in Hampton Beach Casino Ballroom, which has been open for more than a century.
Overlooking the water, Ashworth By the Sea is a winner for groups and solo fliers. If you're looking to host an event along the beach, the hotel has you covered, with more than 6,000 sq. ft. of space, including a grand ballroom.
7. Cambria, California
A secret hidden in San Luis Obispo County, Cambria is a seaside town to hide away in when you're looking for a special glimpse of the California coast without all the summer tourists.
With bright blue water, tide pools full of starfish and a walkway along the bluffs, you'll be in heaven. Many houses overlooking the water are available for rent—a splurge worth saving for. Drive 15 minutes north to see legendary Hearst Castle, which overlooks San Simeon, then end the day at Moonstone Beach, discovering colorful rocks and shells to take home.
Host your mid-sized event at Cambria Pines Lodge, a charming hotel with plenty of amenities. Their Peacock Room totals 1,680 sq. ft.; for an outside reception, the Gazebo Garden holds 250.
6. Anna Maria, Florida
Turquoise waters are perfect for fishing, kayaking, paddle boarding and more—and that's what you'll find in Anna Maria, a small town known for its white sand and glimmering water.
With the Gulf of Mexico on one side and the mouth of Tampa Bay on the other, this Floridian city is a dream, with boutique art galleries and shops lining its adorable main street and dolphins and manatees lining its shores.
If you're looking to make last minute copies for your event, Waterline Marina Resort & Beach Club has a 24-hour business center outside of its 1,570 sq. ft. of event space. Catering is made simple with the resort's on-site restaurant offering a tasty menu.
5. Bluffton, South Carolina
Bluffton is a small Lowcountry town for those looking for a calmer escape than nearby Hilton Head Island.
Visit Old Town, which sits on a bluff overlooking May River, and wander through its farmers market, art galleries and local shops. Take a tour of the Rose Hill Mansion, a plantation house built in the late 1850s. Dolphin and whale watching is an exciting pastime for residents and visitors alike.
Meeting room awaits you at Montage Palmetto Bluff, including its 1,800-square-foot Oak ballroom and 1,410-square-foot River Room. And should you wish to visit Hilton Head Island, it's a mere few minutes away.
4. Vero Beach, Florida
Is it truly a surprise that Florida wins two spots in the top 10? With plenty of history, Vero Beach is one of the larger towns on the list in size and laidback appeal.
Catch a show at Riverside Theatre, where you can catch professional actors, comedy shows, dueling pianos and a lecturer series. The McKee Botanical Garden features flowers of all types and colors, perfect for wandering through on a calmer day. And don't forget the historical Vero Beach Museum of Art, which features revolving exhibits and an art school.
Inside meeting space totals 1,500 sq. ft. at Kimpton Vero Beach Hotel & Spa. Include the seaside gazebo and pool deck, and there's more than 3,000 sq. ft. waiting for you to create coastal experiences, including the 1,806-sqare-foot Shoreline Patio.
3. Cape Charles, Virginia
With lush greenery surrounding the city, a welcoming "Love" statue and plenty of sea activities, Cape Charles is out of the way, but welcoming to anybody who finds it.
Head to the Harbor and watch watermen bring in their catches of the day, then dine on fresh seafood. For guided kayak tours around the Eastern Shore National Wildlife Refuge or Chatham Vineyards, visit Southeast Expeditions or stop by the Cape Charles Museum & Welcome Center.
In the mood to host more than 200 in an intimate setting. Welcome to the private Sunset Bluff at Sunset Beach Hotel & Beach Club. For banquets, look no further than its Barrier Island Room, which can accommodate another 200.
2. Traverse City, Michigan
If you like paddling and sailing, Traverse City is the spot for you. While less of a beach town, it has that seaside vibe to it.
If you visit in July, you can catch the National Cherry Festival, with shops and vendors offering the berry for everyone to taste. Front Street is the place to be if you hope to explore the town and all it has to offer—breweries and distilleries, boutiques and art galleries and a slew of restaurants adorn this hub.
Featuring more than 10,000 sq. ft. of meeting space is Great Wolf Lodge. The White Pine ballroom offers 4,042 sq. ft. of space, while the Northwest Territory holds 250 within 2,016 sq. ft.
1. Ocean City, New Jersey
In first place is Ocean City, overlooking shell-decorated sand and waves for everybody to splash around in.
You won't find any alcoholic beverages here, as the city prides itself on being a "dry town." But that doesn't indicate that the town is any less fun to visit. A three-mile boardwalk, built in 1902 to connect hoteliers and a view of the ocean, is a nexus for bike rentals, street performers and Ocean City's first brewery.
For a luxurious stay, head to Port-O-Call Hotel. Its location is prime, offering gorgeous glimpses of the Atlantic. More than 2,000 sq. ft. of meeting space awaits you.