From elite rewards members to priority boarding classes, airlines are constantly trying to rank you. While these categorizations are usually based on how much you're spending, Thai Airways has initiated a new seatbelt restriction some may feel shame larger passengers. Other airlines may follow suit soon.
The airline's new seatbelt for passengers in business class on Boeing 787-9 (Dreamliner) aircraft is limited to a 56-inch waistline. Thai Airways added two Dreamliners to its fleet last September, introducing installed airbags on seatbelts for business-class seats. The safety upgrade also prevents children from flying on an adult's lap.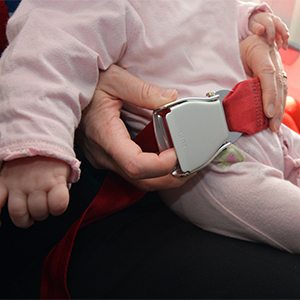 U.S-based airlines, such as Hawaiian Airlines, will add Dreamliners to their fleets in the next few years, but it has not been announced whether they will have the seatbelt safety upgrade, as well.
There has been social media backlash about obesity policies airlines have implemented in recent years, with many air carriers requiring passengers who can't fit in one seat comfortably to purchase two adjoining seats or upgrade their tickets to wider seats at the front of the plane. United Airlines, for example, offers same-rate pricing on two tickets for the same passenger when purchased together. However, if an additional seat is required to be purchased on the day of the flight, a higher ticket price may apply. American Airlines' policy requires that a new seat must be purchased if the customer's body extends more than one inch outside the edge of the armrest, and a seat belt extension is required.
Some airlines outside of the United States may not allow customers to remain onboard if there are no adjoining seats on the flight, assigning them instead to the next available flight with open seats.
Form of Embarrassment or Motivation?
Although some passengers may feel embarrassed by these restrictions, others look on them as a motivator. New Zealander Michaela Martin was advised by an airline last year that a seatbelt extender would be needed and that she should consider purchasing an additional seat. For Kayla, this kickstarted her to get serious about losing weight, and since then she has lost nearly 70 pounds. "The feeling of pure embarrassment and shame is something I'll never forget," she wrote in an Instagram post. "The day I started loving myself enough to start taking care of me and nourishing my body was the day I turned a new page."
Every airline has its own regulations, but flights originating or landing in the United States must adhere to guidelines issued by the Federal Aviation Administration. The FAA requires that each passenger is secured with a seat belt during certain phases of flight, and allows use of seat-belt extenders up to 25 inches. It does not, however, require that extra seating be provided.