The Hindu holiday of Diwali is being celebrated all over the world this week, even at a 30,000-foot altitude in the sky. Emirates, the Dubai-based airline, is honoring Indian culture by serving passengers special treats.
All passengers flying to India from Dubai are receiving a Diwali delicacy. In economy class, guests are getting Motichoor Ladoos, which are prepared with chickpea flour, ghee, cardamom and saffron flavored syrup. The dessert is wrapped in a decorative box garnished with a pistachio and silver leaf embellishment.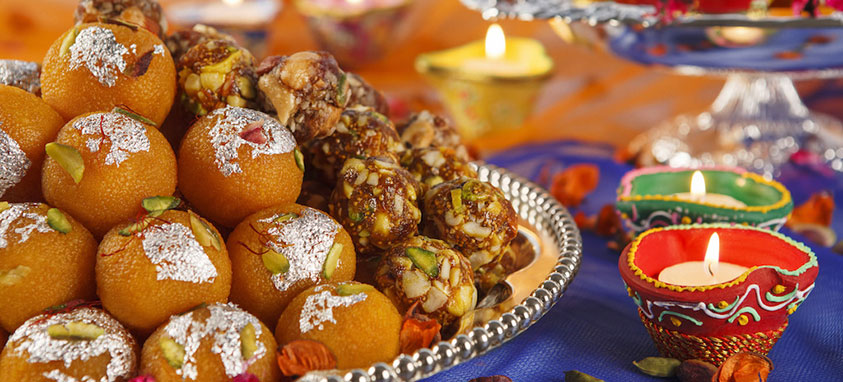 Photo of Motichoor Ladoos with a dry fruit burfi dish, credit: Emirates
And in business and first classes, fliers are chowing down on the Motichoor Ladoos paired with a dry fruit burfi dish. This nutty mixture is made with cashews, almonds, pistachios, walnuts, raisins, dried figs and dates. The limited-edition sweets are being offered from October 16 until October 22.
"Spreading the Diwali festive spirit from Dubai to the world. Happy Diwali from all of us at Emirates," the airline Tweeted.
Emirates' impeccably dressed flight attendants also pounded the pavement. They took to the streets and stores of Dubai to share the love. The crew personally handed out boxed goodies to passersby, drivers and shoppers.
Diwali, known as the festival of lights, represents the victory of light over darkness. It is a five-day cultural celebration with a candle lighting ritual, firework displays, dancing and, of course, food. Meeting professionals looking to incorporate the positive energy of this popular occasion have incorporated Indian cuisine into the food and beverage offerings at events during Diwali and all year round.