Photo credit: Southwest Airlines
As the headlines are awash with the human misery of Harvey, Irma and Maria, our four-legged friends have not been forgotten. Lessons were learned from an earlier disaster named Katrina, a dozen years ago, when thousands of pets were abandoned in the rush to flee floodwaters—many never to be seen again.
In a coordinated display of logistics, communication and perseverance—all classic meeting planner skills—animal-advocate groups sprang into action last month as Hurricane Harvey made its way toward Texas. Humane Society of the United States, American Society for the Prevention of Cruelty to Animals and other pet-friendly organizations began what could be called a furvacuation.
They began emptying Texas animal shelters and relocating homeless dogs and cats to no-kill facilities in other parts of the country.
After Harvey struck, Van Nuys, California-based Wings of Rescue flew 17 missions and saved more than 1,500 animals within the first two weeks. Relief flights continued as Irma hit. Southwest Airlines teamed up with Helen Woodward Animal Center, flying shelter animals to the San Diego facility for eventual adoption.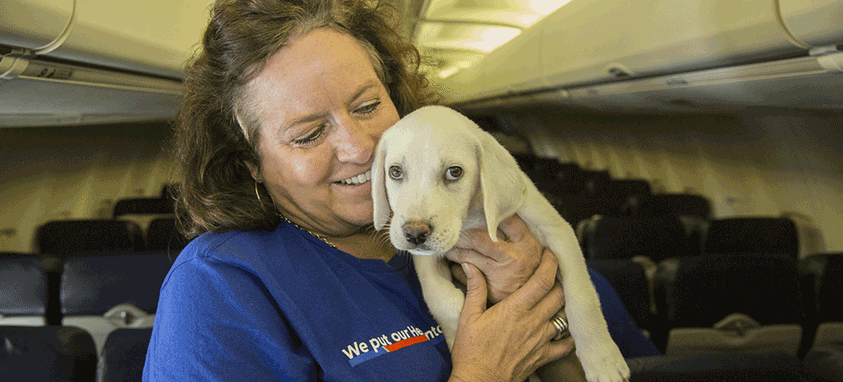 Photo credit: Southwest Airlines
In Florida, Gov. Rick Scott urged hotels that ban pets to waive the rule for pet owners fleeing Irma. For dogs and cats, at least—no one seemed ready to make exceptions for snakes, tarantulas or other exotics. A Facebook post that went viral claimed, falsely, that federal law required hotels to accept pets during weather-related evacuations. The 2006 Pets Evacuation and Transportation Standards Act did mandate that Federal Emergency Management Agency (FEMA) consider the needs of pet owners when developing disaster preparedness plans. It made no mention of hotels or motels. For the record, the website Pets Welcome has a pet-friendly hotel search function. (Type in a city for a list of hotels that welcome animals.)
Predictably, social media found its hospitality heroes and villains. Hyatt Regency Orlando won kudos for taking in nearly 1,000 pets and their human families seeking safe haven. The 1,641-room property already had a pet-friendly policy. It also waived a 50-pound weight limit, and reduced from $150 to $50 the cleaning fee to guests with pets. The rule against dogs in its restaurants was kept in place, but the hotel set up pop-up, grab-and-go markets in common areas.
A Holiday Inn Express and Suites in Texas, on the other hand, was vilified for refusing a Texas family's three dogs. "It's ridiculous and outrageous," the dogs' owner, Gillian Parker, told People magazine. "This is an 800-year flood. Three exits down the highway, the National Guard is pulling people out of their houses. And our dogs can't come in to safety?"