Rendering of the new LaGuardia Airport
This week, New York Gov. Andrew Cuomo and Delta Airlines CEO Ed Bastian announced the start of the construction on a new Delta terminal in the new LaGuardia Airport (LGA), which will replace the current airport facilities. The brand-new airport will be unified rather than have separated terminal buildings, which currently make up LaGuardia.
Delta fit the final piece of the puzzle by signing a long-term lease with Port Authority of New York and New Jersey. The airline is investing $3.4 billion into the terminal, while Port Authority of both states is contributing $600 million. Delta's terminal will occupy the eastern part of the new terminal building, while Air Canada, American, JetBlue, Southwest and United will be tethered to the west end. The western part has been under construction since June 2016.
"We are living off the inheritance, not of our parents, [but] of our grandparents," Cuomo said. "Everything you see, all the infrastructure you see, everything we built, all these great accomplishments are literally from our grandparents' generation, and we've been standing still. But while we've been standing still, our competition around the globe has been working, building and developing."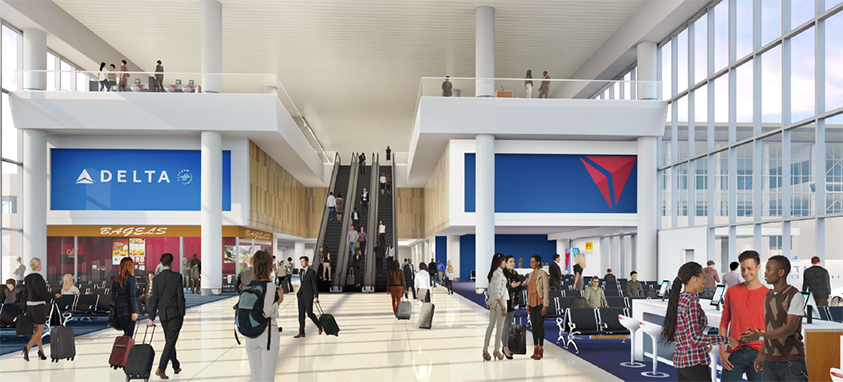 Rendering of Delta's eastern half of the new LaGuardia Airport
LaGuardia's new facilities will also include an AirTrain transit system, which has been criticized by New Yorkers in its planning stages. Critics have said that getting to the proposed AirTrain would take more time and effort than current transit options, and they are particularly concerned with its $450 million price tag.
"We are going to put in an AirTrain because there's no airport that works in a metropolitan area that doesn't have a one-seat ride to the airport, and it's about time New York did," the governor said. "It is going to be a beautiful front door to New York."
The new operations will start to phase in by 2020, and Delta will begin in its new facilities in 2021. Cuomo's office says the new LaGuardia will create 16,000 direct jobs and 20,000 indirect jobs, all while being built by organized labor.
"This is a workforce we can be proud of," Cuomo said. "The development itself is a beautiful, progressive, groundbreaking policy."
The western half of the airport is being built by LaGuardia Gateway Partners, which also has big news: JLC Infrastructure, a joint project between Magic Johnson Enterprises and Loop Capital Markets LLC, will become a Minority and Women Business Enterprises (MWBE) investor with LGP. This will be the first time an MWBE firm will be investing equity in a public-private construction project in the country.
"MWBE applied to the ownership of the project, the equity of the project, because that's where wealth comes from," Cuomo said. "It has established a new national standard and a new national precedent."