Australian executives are getting more comfortable with the idea of returning to the meeting room according to surveys by Tourism Australia. A pair of studies done in August and October with 459 meeting decision makers found that the proportion of Australian businesses currently planning events in the country in the next six to 12 months has increased from 48 percent to 59 percent. Even more promising is the response that the percentage currently planning events in Australia in the next 12 to 24 months has increased from 66 percent to 73 percent.
"Businesses continue to show intent to start running larger events soon, especially state-level or national conferences," said Penny Lion, executive general manager events with Tourism Australia. More than half (54 percent) said they were planning state conference with 44 percent said they had at least one national conference in the works and 38 percent were producing a board or executive meeting.
The reason they are moving forward with these gatherings? Again, more than half (57 percent) said team building or connection was the top goal while 51 percent were planning incentive trips to reward employees and 44 percent needed to reinforce company culture.
"There is also a desire among businesses to get back to face to face events although they recognize the need for virtual and hybrid events. More than half (54 percent) said their plans were for a physical meeting compared to 25 percent who are planning a virtual or online event and 21 percent who described it as hybrid.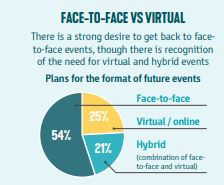 In fact, 6 out of 10 respondents said they would be exhibiting or sending staff to an exhibition in the next year with three out of four saying they will support the same number of shows or more in the next 12 months compared to the same period in 2018 and 2019. Tellingly, 71 percent (a 4 percent increase since August) said they will run the same number or more events after Covid compared to the period before the pandemic.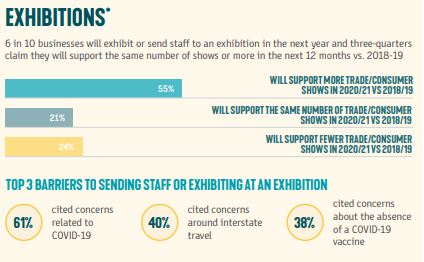 Meetings Have Started Again
Domestic events have already returned in some parts of the country. Western Australia's capital city of Perth has hosted events for up to 900 people while Brisbane Convention and Exhibition Centre hosted an event for 1,800 in October of 2020. International Convention Centre Sydney has also recently been approved to host business events for up to 1,500 by the New South Wales State Government.
Lion predicted that some international markets will return before others. A one-way Safe Travel Zone has already been established between Australia and New Zealand granting travelers from New Zealand quarantine-free entry to Australia. These arrangements are expected to become reciprocal in early 2021, which will enable international events from New Zealand to return. The Australian Government has also signaled that talks have been underway with several other countries about travel bubbles. "Depending on how the health situation continues to evolve around the world, we may see a staggered return of international events in Australia," said Lion. The balance of international customers have indicated they may return in late 2021 or early 2022.
Innovative Changes
When meetings return, Lion expects to see an increased focus on safety and hygiene—temperature checks, increased cleaning, more attention being paid to managing movement of visitors around indoor spaces and smaller capacities for venues and experiences to allow for physical distancing.
"We're seeing greater interest in accommodation offerings which can be bought out for exclusive use and Australia has lots of those, which are often set within vast—and beautiful—Australian landscapes," said Lion. "Our space is an asset in times like these."
Other innovations in the works include Smart Badges, an offshoot of Australian production company Harry the hirer, which facilitate social distancing at events and capture real-time contract tracing data as well as monitoring room capacity limits.
Recovery Focus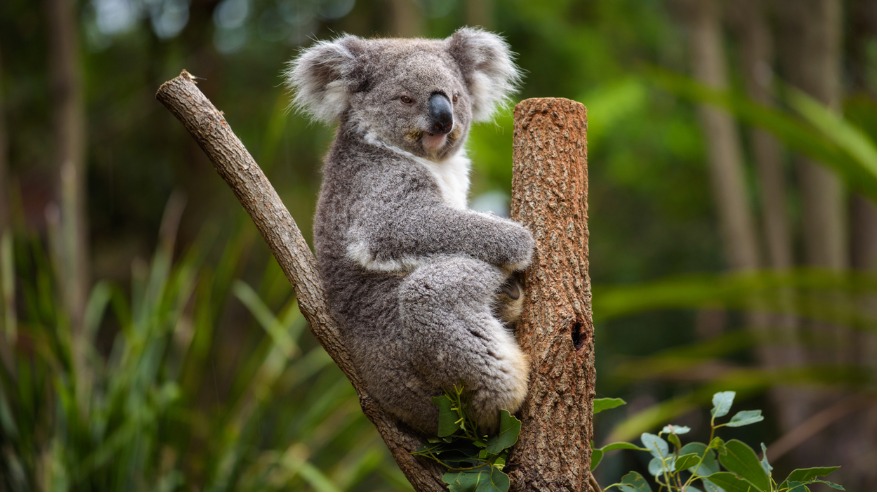 The hospitality industry from Down Under is recovering from two crises. The bushfires in 2019 and the beginning of 2020 generated negative publicity and dampened tourism even before Covid hit.
Now the country is getting creative about how to welcome visitors back. New CSR activities include endangered koala rehabilitation and re-release, enhanced sustainability practices at some boutique properties, even winemakers using smoke-affected grapes to reimagine beverages. "Conscientious travelers can make an impact," said Lion.
See also: Better Than Sustainable: Regenerative Travel
Tourism Australia is providing practical information about what's currently permitted for events. To help both domestic and international planners navigate the changing landscape for what's allowed as restrictions on gatherings ease, Tourism Australia manages a Coronavirus information for business events webpage with regularly updated guidance for each Australian state and territory. The page also provides highlights about what venues, hotels and operators are doing to enhance guest safety.
Meanwhile, Australia Next features incentive ideas for each market. And the Business Events Australia Instagram account allows meeting professionals to dream before they book. "When international meetings return, we want planners to have plenty of ideas for how their groups can enjoy the incredible and diverse business events offering we have in Australia," said Lion.