For Starwood Hotels & Resorts 2016 America's Leadership Conference in February, the Starwood meetings and event team and the host hotel, Sheraton Denver Downtown Hotel, were under pressure and under the microscope. Responsible for wowing 1,400 of their company's top hoteliers and corporate leaders, the creative team was tasked with creating a grand multiday event for some of the most influential names in the hotel industry.
An event that would typically be planned six months to a year in advance, event planners for this year's America's Leadership Conference had just three months to plan and execute a topnotch event. With the short turnaround, Starwood chose Sheraton Denver Downtown Hotel because of its depth of experience and tenure executing extremely large and creative events flawlessly. More than just creative license, Starwood presented both the Sheraton and its global meetings and events team with a blank canvass to create, plan and execute a world-class conference.
By focusing on experiential meeting components that would connect guests to the various countries represented by Starwood's America's Division, Sheraton Denver Downtown Hotel engaged and excited guests, bringing this large, extended family together with unique shared experiences. The Sheraton team also knew it couldn't do this with just the core planning team. Three of the top event design firms from Denver were selected to assist with decor, entertainment and vendor management. Destination Services Corporation, Access DMC and Eclectic Hive were brought into the planning process early on and played an integral role in the event's success.
"Hoteliers who are usually tasked with executing the meeting plans of clients in this instance were also put to the task of planning the meeting," said Tony Dunn, general manager of Sheraton Denver Downtown Hotel. "Our team experienced both sides of the event this time, which made us a better executer in the end."
The leadership team at the hotel understood that these guests would be experiencing the event and critiquing it. And it was clear that what impressed the visitors more than anything was staff members' level of confidence, attention to detail and ability to seamlessly execute.
"Considering this was a large event for industry peers—from corporate VPs of global food and beverage to executive chefs and some of the most successful general managers in the world—you might be surprised that our mantra was to have fun," said Tracy Blair, director of sales and marketing for Sheraton Denver Downtown Hotel.  "Because we spent hours and hours in planning meetings, verbally and mentally walking through every detail for weeks leading up to the events, our staff were able to execute a flawless event while also having fun."
Case Study: The Theme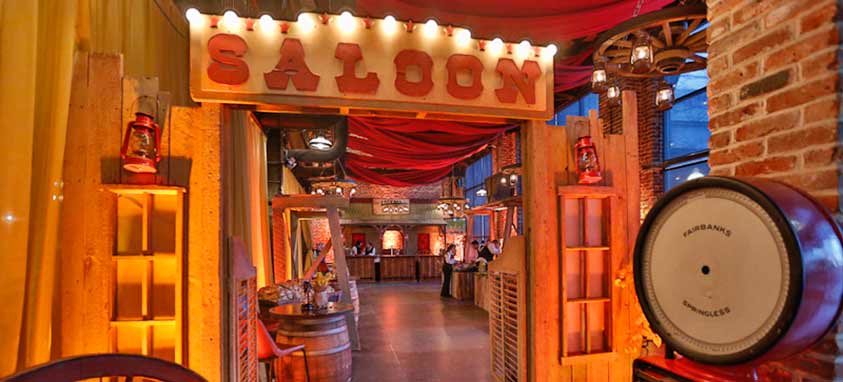 The home countries of the attendees and the storied history of Colorado provided the themes for the opening and closing events. For the opening event, rather than a standard dinner, the Sheraton decided to take guests on a culinary journey through their own homelands, creating experiential and interactive stations throughout the hotel. In most unusual fashion, the hotel showcased their back of house—the kitchen, storage rooms, walk-in coolers, freezers and other areas that some hoteliers may cringe at the thought of walking guests through.
"These are not only our peers in our company, but they also are our friends and family," said Chris Clark, director of food and beverage at the Sheraton. "How do we entertain and host guests in our homes?  We bring them into our kitchens. It's the best way to welcome them."
Highlighting cuisine from all over North, Central and South America as well as the Caribbean, the opening evening event started immediately after a general session in the hotel's Plaza Ballroom, where half of the doors lead into the prefunction space and the other half lead into the kitchen and dishwashing areas. When it was time to start the party, six spotlights shined on the six doors and the large group was divided in half.
For the half who started in the prefunction space, they were greeted by samba music, professional samba dancers, and aromas from the rodízio style churrascaria, soon to become even more popular thanks to the upcoming Summer Olympics. After a handmade guacamole station with exotic seafood topping options to celebrate Mexico and whole fried 40-pound fresh Mahi for the Caribbean, guests were guided to the experiences in the usually hidden back of the house. For an added touch of flair, in addition to full bars throughout the space, Sheraton paired each country's food with craft cocktails from the region, such as Caipirinhas for Brazil, Mezcal tequila and house-made chocolate mole bitters combined to make an Oaxacan Old Fashioned for Mexico and rum punches for the Caribbean.
Case Study: Site Visit Disguised as F&B Experience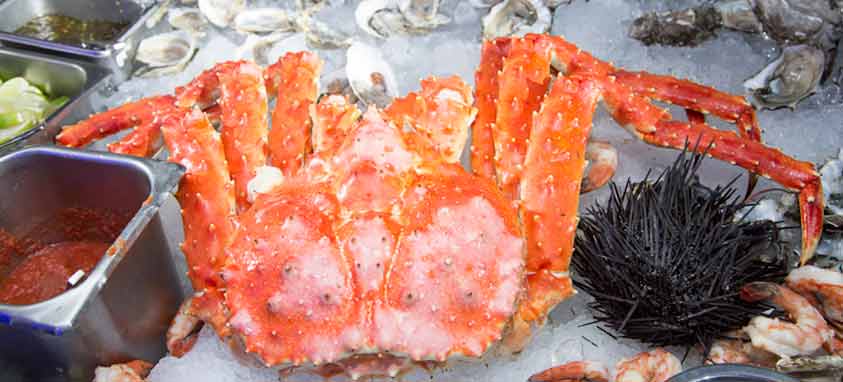 Upon entry to the kitchen area, guests were greeted by more music and welcoming rocking chairs placed on the porch of a replica large plantation home, host to a crawfish boil representing the Deep South. Next stop was an ice bar in the hotel's large walk-in freezer where guests were treated to a tasting of various Canadian ice wines. In the working kitchen, guests watched Sheraton chefs fry cheese curds in the large kitchen fryers to make Canadian poutine that was paired with a wide array of ice cold Canadian beers.
Next up was hot macaroni and cheese bites prepared while guests watched and interacted with the chefs. Those were followed by grilled bison steaks straight from the kitchen's 8-foot grill. Thinly sliced and served atop crostini with locally sourced Avalanche blue cheese spread and caramelized onions, this item threatened to slow down the line a bit as guests clamored for seconds and thirds before moving on to the next station. The interior American experience was finished with a southwestern, heritage-breed pork belly paired with ancho slaw and served to guests gathered around the numerous large stainless steel tables normally used for prepping and plating food for events as large as 2,600 people.
Moving to the coasts and into the gleaming and sanitized dish room, guests found oysters, Dungeness crabs, common periwinkles, sea urchins and other fresh seafood on a bed of 600 pounds of crushed ice while an 8-foot digital aquarium provided a backdrop to the Pikes Market inspired look and feel of the room. Guests were greeted with Philadelphia Fish House Punch ladled from 3-foot diameter stainless steel mixing bowls while they watched high-powered chefs from Boston, Mexico City and Denver throwing whole fish and shucking East and West Coast oysters for two hours straight.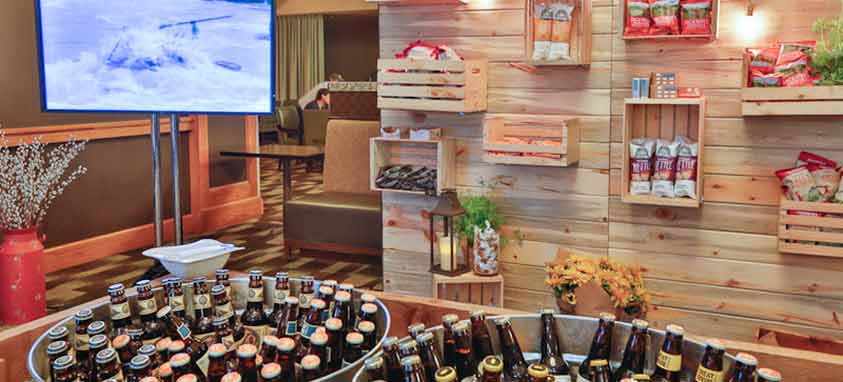 After the coastal seafood experience, guests were treated to an "outdoor" beer garden.  Using wooden pallet walls, pipe and drape, and strings of bistro lighting, the hotel converted a high-ceiling banquet storage room into a quintessential Colorado hang out.  Five Colorado breweries were featured to create the experience of a mini beer festival:  New Belgium, Dry Dock, Bristol Brewing, Avery and Great Divide were all on hand with enthusiastic and knowledgeable brewery representatives tasting guests on 20 plus uniquely Colorado craft beers.
Next up was the Stills and Sweets gathering area anchored by an 18-foot-long custom-crafted wooden bar featuring locally distilled bourbons and whiskeys from Colorado.  Three whisky experts walked guests through a tasting of 10 Colorado distilled bourbons and whiskeys.  Across from the bar, Sheraton Denver Downtown's in-house pastry team was slightly obscured by the cool fog of liquid nitrogen as they prepared made-to-order ice creams and sorbets served atop chocolate-lined mini sugar cones.
In one night, 1,400 guests were able to try dozens of unique and individual food-related experiences. An almost viral experience, attendees were telling each other what they needed to see and experience around the corner or in the next walk-in cooler.
"For us, the greatest compliment was seeing all of these hoteliers with their phones out taking pictures of the various food stations and craft cocktail bars," Clark said.
"The best part was the sense of pride that was clearly visible among our hotel staff," said Mark Major, director of meetings and events.  "This first reception set the mood for the whole week."
Case Study: Unique Gifting Concept
Instead of wowing guests with daily gifts delivered to the room, the Sheraton chose an unexpected experiential option: an amenity shop. Set up like a Colorado farmer's market, guests could choose items they wanted from the array of locally sourced snacks, beer, soda and water.
Thanks to the ongoing relationship with vendors for local products, this elevated experience was achieved with the same budget as in-room amenities. From Enstrom Toffee to Honest Chips, and Rocky Mountain Sodas to Sweetwater beef jerky, guests were given flexibility and choice instead of "one size fits all."
Case Study: Closing the Deal with Local Flavor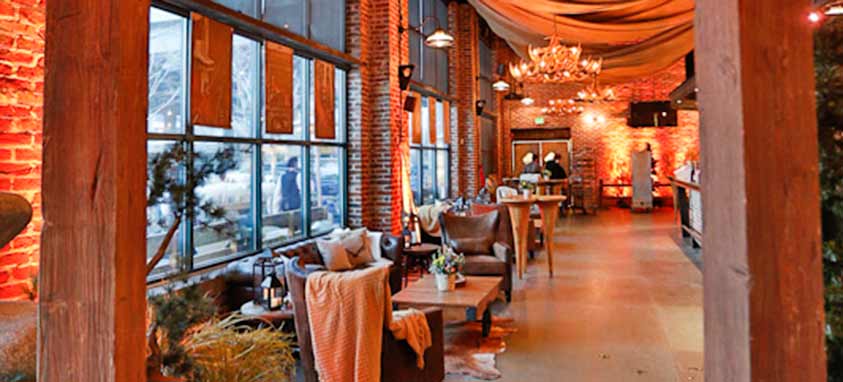 Traditionally, the closing dinner for this conference is sparsely attended, with most attendees making an appearance and then finding more interesting things to do elsewhere on their last evening.  Sheraton Denver Downtown Hotel refused to accept this expectation and instead set out to ensure that there would be no cooler, hipper place to be that night. It worked. In fact, the event organizers had to ask guests to leave at the end of the night or else miss the final motor coaches heading back to the hotel.
For the final evening, the hotel team chose an offsite location. Nearby Mile High Station, a one-time iron works factory, was selected for its rich history, character and well-equipped catering kitchen.
A journey through the history of Colorado cuisine was brought to life with the incredible assistance of partners at Access DMC. The event themes and food spanned from the Gold Rush Era, turn of the century, 1920s speakeasy, 1950s Deli, 1970s Apres-Ski and on to modern day food truck fare. Though this was the hotel's first off-premise event, it was a welcome challenge for the Sheraton planning team, headed by Clark, Major and Skomal, who each brought many years of experience with performing offsite catering and understood the unique challenges and rewards that lie ahead. Their weeks of planning made it look effortless.
Staff were outfitted in period costumes based on the era they were assigned to work. Hair and make-up treatment was the staff's last stop before heading to their posts. "Putting our team through wardrobe, hair and makeup was a first for them, but it proved successful in achieving our goals of authenticity and engaging the team," Clark said.
Motor coaches dropped guests at the edge of an old western town. The level of detail on the wooden walkways and multiple building facades rivaled that of any Hollywood movie set. Blue and white enamelware mugs filled with various libations awaited guests as they entered the saloon at the opposite end of the town. The food journey began with Colorado game meats such as elk, venison, rabbit and bison slow-roasted on iron spits over an open fire or used in the preparation of chilies and stews prepared in large cast iron pots.
For the turn of the century cuisine located in the next room, the Sheraton team told Access to use Denver's iconic Brown Palace Hotel, built in 1892, as the inspiration for the refined, Escoffier-inspired cuisine. Custom-made whites and toques worn by the chefs were correct for the period, as were the long, Victorian era dresses and tuxedos worn by the servers.
Upstairs, the Prohibition era speakeasy was decorated with dimly lit Edison bulbs, cigarette girls carrying trays of appetizers and bartenders with handlebar mustaches slinging drinks atop a vintage bar while a string trio of jazz musicians played in the background. The area could only be accessed by those who uttered the secret password to the intimidating bouncer who guarded the hidden entrance.
Across the way, cured meats and sausages made specifically for the event by Denver's Continental Sausage company were sliced on hand-cranked meat slicers, owned by Sheraton Denver Downtown Hotel, in the 1940s/50s-inspired butcher shop and served by butchers in period uniforms.
The back patio of Mile High Station was a natural fit for the 1960s/70s inspired apres-ski experience with fondue served atop chalet-style picnic tables. Comfortable wooden chairs provided a relaxing lounge experience and whiskey barrels converted to propane fire pits were used for roasting marshmallows and making s'mores.
Rounding out the culinary journey, and bringing guests to the present day, were a variety of popular local food trucks serving tasty treats on the edge of an outdoor courtyard illuminated by bistro lighting and accented with steel barrel cocktail tables. No costumes or hair and makeup treatment were needed for these folks as they looked every bit the part of Denver's hip culinary scene.
As a final testament to the fun the Sheraton Denver staff had throughout the conference, one of the chefs carving meat in the turn of the century room was bobbing along to the high-energy dance music when he was playfully encouraged by one of the attendees to cut loose and show off his dance moves. The chef accepted the invitation and his talented moves were soon drawing the attention of the crowd as cell phones quickly came out to capture the viral video-worthy dance performance.
"Next thing you know, a dance-off was in play with Calvin from our culinary team and one of the General Managers from a sister property going back and forth trying to out dance each other," Clark said. "The room erupted and guests started coming from other themed rooms to see what the hype was all about. We knew that, if we were 100 percent prepared and were able to execute our creativity, the fun would come naturally. We were able to have just as much fun as our attendees during the conference."
---
Scott Skomal is executive chef for Sheraton Denver Downtown Hotel, located on Denver's vibrant 16th Street pedestrian promenade.  With 133,000 sq. ft. of flexible meeting space, the hotel can accommodate virtually any type of event, and its proximity to Denver's new rail service provides seamless and direct access to Denver International Airport.