Attendees at the 2015 GCUC (Photo courtesy Liz Elam/GCUC)
Though the theater-style seating concept will always be one of the most common ballroom floor plans for keynote speakers and presentations, today's attendees and hosts are looking for any excuse to get out from behind the podiums and banquet tables and break away from the traditions of conventions.
On every press trip, when the conventions/meetings director is asked what new trends they're seeing and what today's planners want most, the answer is the same: flexibility. Rooms that allow for new set ups, out-of-the-box break-out sessions, and unique presentation styles are at the forefront of planners' wish lists.
In February at Meeting Professionals International Northern California, Spin Planners Chairwoman Shawna Suckow started her session on engaging audiences by asking everyone to get up out of their seats. From there, the attendees formed discussion groups and were asked to walk to one corner of the room or the other to indicate their answer to the questions posed by Suckow.
It was a rare sight; attendees were energized, laughing, moving, sharing, and talking as much as the "speaker."
More often, unconconferences, as they've come to be called, are the new norm for hosts who want to encourage a new kind of meeting where brainstorms, decisions and even agendas come from those in attendance.
This May, the Global Coworking Unconference Conference (GCUC) will take place in L.A., where Austin-based coworking expert Liz Elam will host four days of unconference. (Except, not really, because an unconference, by definition, is run by the attendees).
What began as a half-day unconference at a 2009 South by Southwest (SXSW) festival in which attendees wrote their discussion topics on a wall, became an international meeting held several times throughout the year in Canada, Southeast Asia, China, Latin America and the U.S.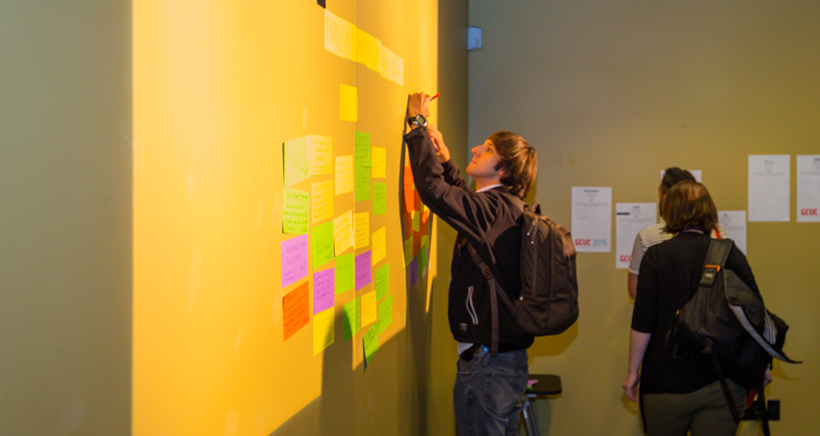 A GCUC 2015 attendee posts a topic on the wall (Photo courtesy Liz Elam/GCUC)
Today the conference is divided into curated and non-curated tracks, where topics are written, voted upon, and discussed. Curators are there to merge like-minded topics together and keep the discussion moving forward.
"The unconference is the highest-rated portion [of the event] year after year," said Elam. "Everyone has the chance to speak at an unconference. A lot of times people think their questions are dumb and there is a fear around asking questions. Unconferences invite you to ask questions and it really helps move people beyond their fear."
In a Forbes interview with unconference facilitator Joshua Kauffman, he explained why many events are moving towards this structure (or rather, unstructure).
"So much of life and work is overly structured that it doesn't give us, or our ideas, the room to run and grow freely. By contrast, the unstructured, high-energy environment of the unconference amplifies ideas."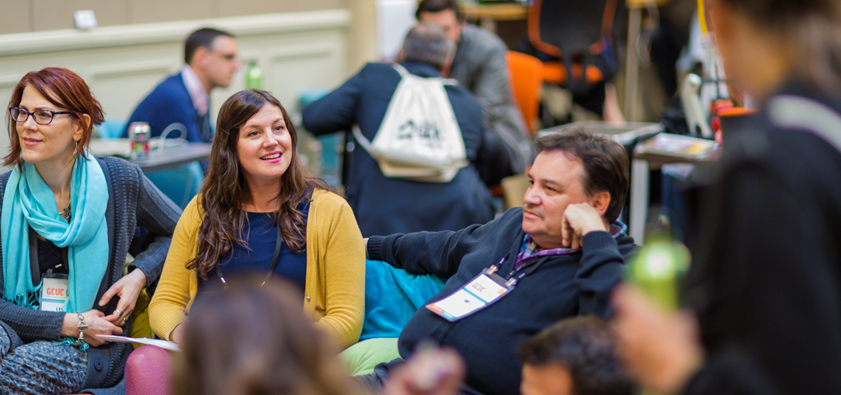 Attendees at GCUC 2015 (Photo courtesy Liz Elam/GCUC)
The idea is far from new, but what was once popular in coastal cities for smaller meeting groups is expanding, both in terms of destination and physical size. Kauffman has facilitated MASSTLC's Innovation Unconference in Boston, which draws more than 1,000 entrepreneurs, executives and students.
Of course, this concept doesn't work if you need a set agenda. Elam says at GCUC, curators don't plant topics, manipulate the conversation, or accept payment for speakers on stage, to keep everyone and every topic on an even keel.
So if you're struggling to gain valuable feedback from your conference attendees, considering giving them a voice, canceling the keynote, and inviting them to an unconference.