So, you've decided to host a meeting. You've told everyone; you've written it in ink. It's happening. But where? Well, you know what they say: location, location, location. Silicon Valley is dodging the shadows of popular contenders, such as Los Angeles and San Diego, and making a name for itself as a top player in the meetings industry. This hard-hitting up-and-comer is full of hustle and bustle, but the blue-skied, tech-centric scene is more than just good looks and fantastic lodging options: It also has a list of activities as long as its coastline.
Silicon Valley plays host to a parade of big names, including Google, Apple, Facebook and Netflix, just to name a few. If that doesn't impress you, maybe this will: The county recently received a $1.7 billion investment in urban development. (Yes, billion. With a B.) The wealthy community's economy, which is centered around high-tech engineering and computer sciences, is home to hundreds of global tech companies and startups. In addition to being populated by leaders of technology and innovation, Silicon Valley is safe and eco-friendly. Talk about innovation with integrity.
But that's not all Silicon Valley has to offer. All of you weekday warriors out there can take a break from the daily grind and choose from a cast of awesome activities. Some of the local favorites include:
The Tech Museum: Check out killer exhibits on energy, genetics and design—and even build your own robot! Nothing gets the creative juices flowing quite like the Tech Museum. Your guests will feel inspired and be excited to hit the ground running. Innovation, ignite! thetech.org
The Mountain Winery: Rock some team building activities such as grape stomping and wine tasting. There's nothing like catching a little (work-appropriate) buzz under the beautiful Silicon Valley sky. Rounding up your troops and taking them to a winery lends itself to relaxation and refreshment. Your attendees can get some much-needed R&R after a hard day's work. Give your group a chance to take it all in and reflect on a job well done. And, let's be honest, isn't everyone a little more engaging after a glass or two of their fave vino? mountainwinery.com
Winchester Mystery Mansion: Take a tour of the world-famous mystery maze. But stay close or you could get lost in the miles of twisted hallways and secret passageways! Taking your group to the Winchester Mystery Mansion means two things: serious navigational skills and serious fun. What better way to excite your guests, let loose with your team and test your GPS skills than to tour the twists and turns of this historical house?winchestermyseryhouse.com
Take a tour of Google HQ: You're bound to go gaga for Google's beautiful campus. And if you're lucky, you might even catch a glimpse of a self-driving car! Touring the infamous and uber-innovative Google campus is a phenomenal way to educate and inspire your group. Just being in the presence of such innovation and seeing the ins and outs of a revered tech company will get your group thinking about opportunities and advancements of their own. google.com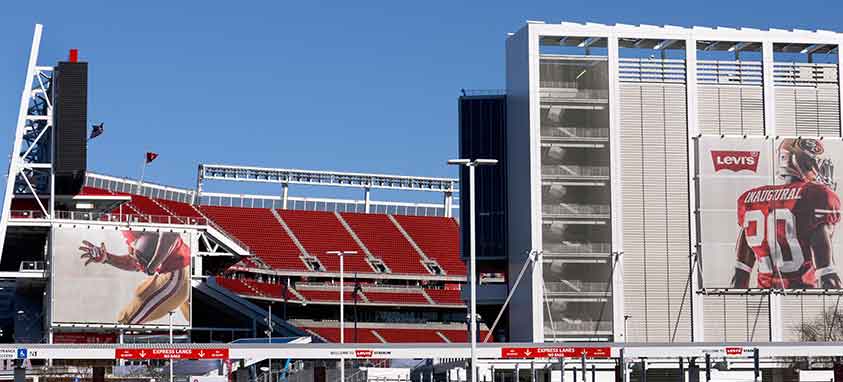 Levi's Stadium: Schedule your meeting for January and come join us at the home of the San Francisco 49ers. There will be tons of CMPs there, endless opportunities to network, and, c'mon, you'll be touring the host venue of Super Bowl 50. Not to mention we'll be one of the last groups in the stadium before the players take the field. Hello, bragging rights. For more info about the Super Bowl 50 Experience tour, go to Smart Meeting Northern California and picture yourself where the big boys play.
Want to Experience The Silicon Valley?
Learn more about our Northern California event