Moscone Center, conveniently located in the heart of downtown San Francisco, is undergoing a $500 million expansion that will create more than 500,000 sq. ft. of contiguous space for exhibitions and meetings. Expected to be complete in 2018, the North and South buildings will combine to offer a new 50,000-square-foot, column-free ballroom, 108,000 sq. ft. of vibrant prefunction space with sensational views of the city and a 20,000-square-foot terrace for receptions.
"This has been something that has been years in the planning," said Joe D'Alessandro, president and CEO of San Francisco Travel Association. "This is a huge economic driver for San Francisco. We worked closely with our partners to find out what they needed and they all needed something different."
The recurring theme during Thursday's press conference was that the expansion will help San Francisco remain competitive in the meetings industry. Moscone, which accounts for more than 20 percent of the city's tourism revenue, is currently smaller than a dozen convention centers considered to be its rivals. The expansion is expected to draw new meetings as well as allow longtime customers grow.
Moscone is already LEED Gold Certified for existing buildings and is expected to maintain the highest level of sustainability for its newly expanded space. New construction will include 100 percent recycled steel. A rain collection system is expected to harvest 15 million gallons of water annually for reuse and irrigation at neighboring parks and street cleaning. Moscone will also feature the largest rooftop photovoltaic (solar panels) array in San Francisco and zero-emissions electricity.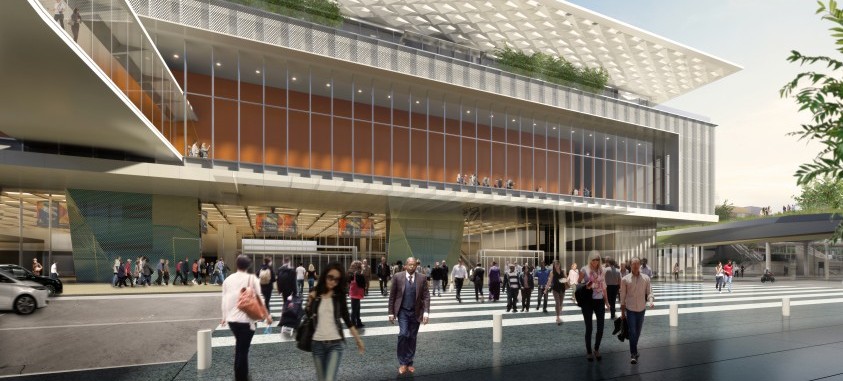 Safety is another key factor that will be addressed with the creation of wider sidewalks, larger crosswalks between buildings and a new pedestrian bridge.
Moscone South was completed in 1981. In 1991-92, Esplanade Ballroom and Moscone North were added. Moscone West opened in 2003.
"This is a very important project for our city," said Naomi Kelly, San Francisco city administrator.