Create one-of-a-kind, unforgettable group experiences
As we near the end of 2023, planners looking to finish their year with a bang may want to consider some interesting and different team-building activities to bring the year to a close. Check out these experiences available for your next group meeting.
Cabaret in Seattle
If you find yourself in Seattle, you may want to check out Teatro ZinZanni, the legendary theatrical cirque that is part circus, part cabaret experience that recently started its residency at Lotte Hotel Seattle. Teatro ZinZanni's residency will run from October until March 2024. Guests get to experience improv, dance, music and so much more, paired with a multicourse meal. Group deals are also available, along with the option to choose from private events and pre-show rental space.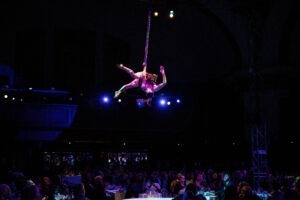 Elena Gatilova in Teatro ZinZanni Residency at Lotte Hotel Seattle
Lotte Hotel Seattle, located on 5th and Marion, offers a stylish 23,350 sq. ft. of meeting space across 15 meeting spaces, 189 guest rooms, expert meeting planners, advanced A/V services, high-speed Wi-Fi and gourmet catering. Lotte Hotel Seattle was named winner of Travel + Leisure's World Best Awards in 2023.
On the 40-yard Line in Tennessee
Ever wanted to sit on the 40-yard line of a football game? The Hermitage Hotel in Nashville, Tennessee, can make that happen. The Hermitage Hotel's exclusive luxury box on the 40-yard line gives guests a grand experience of any football or concert event.
If you'd rather send your group out to explore all that Music City has to offer, groups can pick six attractions and then get six exclusive deals to hit the ground running. This can include Adventure Science Center, Belle Meade Historic Site & Winery, Country Music Hall of Fame and Museum, or an escape room. Planners can craft a one-of-a-kind experience for their guests to leave with.
Since you're in Nashville, it's almost no surprise that The Hermitage also offers the chance for guests to get behind the mic and laydown some tracks. Guests can choose between a two-hour one-on-one songwriting lesson or two-hour in-studio lesson. No better way to feel like a rockstar in Music City.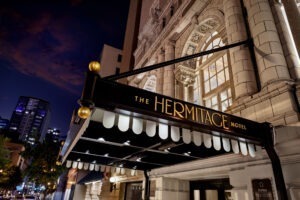 The Hermitage Hotel offers meeting planners 5,427 sq. ft. of meeting space, five meeting rooms and 122 guest rooms.
Row the Boston's Charles River
Ever rowed before? Hotel Commonwealth has partnered with Community Rowing Inc. to give guests the chance to row on Boston's Charles River. Up to 48 people in a group can row on 12-person barges in a two-hour session. Groups will receive private indoor instructions, and then move on to an on-water experience facilitated by a trained coaching team.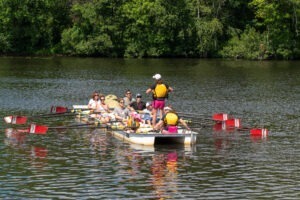 Hotel Commonwealth has 12,500 sq. ft. of event space, 10 meeting rooms and 245 guest rooms.
Stay Retro in Denver
Sometimes, the experience is the experience. For planners wanting attendees to have a memorable experience from the time they check into their hotel, The Curtis Hotel is a great place to check out. The Curtis has 13 hyper-themed guest rooms ranging from video games to Star Trek and Barbie. The hotel also features a 42-foot-high sculpture by artists Roberto Behar and Rosario Marquardt that consists of a stack of steel three-dimensional building blocks of various colors that spell out "All Together Now," inspired by The Beatles song of same name.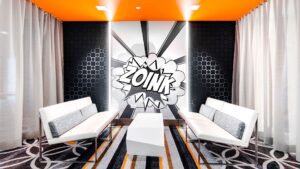 The Curtis Hotel has 28,000 sq. ft., 20 meeting rooms and 336 guest rooms.