Is the events industry more prepared for a future emergency?
As an industry, we spilled so much ink about Covid (originally novel coronavirus, then Covid-19 or "the vid") over the last three years, it is a miracle the black liquid was not listed as one of the things in short supply along with toilet paper, eggs and patience. When the World Health Organization declared the pandemic to no longer be a global health emergency this month, hardly anyone blinked. We thought this would be a good time to reflect on what the shift means and how all of that forced education will prepare us better for whatever comes next.
We asked four industry leaders for their perspectives on where we have been and where we are going.
Martha J. Sheridan
President and CEO of Meet Boston and co-chair, Meetings Mean Business Coalition
What does the official end of Covid mean for the meetings industry?
The better way to think of this, perhaps, is that the Covid era proved how essential the meetings industry is, not just the immense economic impact, but how the flow of ideas, gathering of industry professionals, and need for face-to-face interaction is absolutely vital.  For anyone that did not understand this, the pandemic made it crystal clear.  The end of the global health emergency is, of course, welcomed by the industry, but the pandemic itself created a unique and enduring advocacy platform.
Did it end the way you predicted?
At Destinations International in Baltimore in 2021 I thought the pandemic had basically ended. We still had work to do but the vaccine was available and our industry was (almost) completely vaccinated. Then the delta variant hit and that was jarring because it proved that there would be no absolute "end" to the Covid-19 era. So even with the WHO declaring an end to the global health emergency, we've ushered in an era where we now live with the virus. We've adopted new guidelines, heightened vigilance, and better public health education for all, but it's really a matter of adapting to a new normal.
Are we better or less prepared for whatever next disruption comes to the hospitality industry?
It's difficult to tell. The three industry disruptions of this century—9/11, the Great Recession, and the Covid-19 pandemic—were all different, they were precipitated by different things and the effect of each was different. If the next disruption is another public health crisis, we are certainly better prepared for that. We can activate mitigating measures and we know how to do that. If a new disruption were to occur, perhaps triggered by climate issues or cyber security problems, we'd have to face that as an entirely new challenge. Even then, the Covid-19 experience has equipped us with the collaborative and cooperative framework to face unprecedented challenges, so hopefully that would help us.
Read More: Event Safety PSA: Failing to Prepare Could Cost You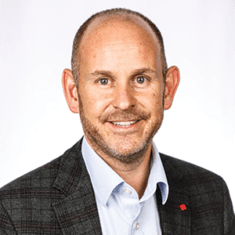 Mark Cooper
CEO of IACC
What does the official end of Covid mean for the meetings industry?
The official ending of the pandemic could be felt at IMEX Germany this year, with large numbers of buyers attending from the U.S. It just takes away any last lingering doubts over whether it is easy or responsible to travel. On the other hand, it encourages people to take those overseas holidays again and IACC member Aramark Destinations cited recently a fall in meeting attendance numbers, perhaps due to the fact that Americans are travelling to Europe for that long-awaited vacation. It's a double edge sword!
Did it end the way you predicted?
Yes and no. I expected the media to play it down as a non-event, but I did not expect the industry to do the same. After all, any easing of restrictions affecting meeting together live carries marketing value, but I have not seen so much of this. We are just getting back to business and levels continue to recover.
Are we better or less prepared for whatever next disruption comes to the hospitality industry?
I believe we are better prepared today and will be for the next 5-10 years. But as we know these things come around very rarely (we hope!) and the next generation of industry professionals who did not live through it on the front line, may not carry the same level of learning and knowledge around preparation and action, as our current generation. This is exactly why we must document our reactions and actions and build these into future education and business planning, to be ready for the next disruption.
Michael Dominguez
CEO of ALHI
What does the official end of Covid mean for the meetings industry?
As we enter an "endemic" phase of the virus, the official end is important as this is a psychological shift versus a medical shift at this point. Pysche is so important in economy, business, momentum and how we proceed.  Confidence matters and this helps build confidence.
Did it end the way you predicted?
For parts of the country and world it did end as we were "reading the data". On our conversation at PCMA 2 years ago, we expected that the Omicron wave would get us over the plateau as the rate of infection gave us the immunity needed to get to an end.
Are we better or less prepared for whatever next disruption comes to the hospitality industry?
We continue to be resilient, and I believe we are better prepared for the future. My concern (or reminder) is to not have short memories on what it meant to not be able to travel, work, live and how we knew we were in it together.  The ability to be thoughtful, kind and connected would the long-term wish!
Mark Herrera
Director of Safety and Security for International Association of Venue Managers (IAVM)
What does the official end of Covid mean for the meetings industry? The end of Covid-19, as an official declaration, would have significant implications for the meetings industry. With the end of Covid-19, there would likely be a resurgence of in-person meetings and events. Organizations and businesses would feel more confident about hosting conferences, trade shows, conventions and other gatherings that require physical presence.
We have seen increased attendee confidence and the official end of Covid-19 alleviated concerns about health risks associated with attending meetings. Attendees feel more comfortable and willing to participate in face-to-face events, leading to higher attendance rates. The meetings industry is closely tied to the hospitality sector, including hotels, restaurants and transportation services.
The end of Covid-19 could provide a much-needed boost to these industries, as more people travel for meetings and events. Virtual meetings and hybrid events became prevalent during the pandemic. However, with the return to normalcy, the demand for virtual meetings may decrease as organizations prioritize in-person interactions. Virtual meetings may still have a place, but they may not be as widespread. In-person meetings provide valuable networking opportunities that are difficult to replicate in virtual settings.
With the end of Covid-19, professionals will have more chances to connect and build relationships, leading to potential collaborations and business growth. While the end of Covid-19 would mean reduced health risks, safety measures may still be necessary, at least for a transitional period. Venues and organizers might continue implementing hygiene protocols, enhanced cleaning practices and health screening measures to ensure the safety and well-being of attendees.
Did it end the way you predicted?
During the Covid-19 pandemic, there were levels of uncertainty worldwide however, numerous experts and organizations, including public health authorities and epidemiologists, made predictions and projections based on available data and scientific models. It is important to note that the course of a pandemic can be highly dynamic and subject to various factors, which made accurate predictions challenging.
Some predictions made by experts during the pandemic did align with the eventual outcomes, while others may have required adjustments as new information emerged. Factors such as the emergence of new variants, changes in public health measures, vaccination efforts, and adherence to guidelines all played significant roles in shaping the trajectory of a pandemic.
Read More: Don't Blame Covid if Rooms Aren't Ready When Guests Check In
I personally felt that as an association, we, and I mean The International Association (IAVM) was going to get in front of the pandemic by offering up-to-date feedback, member participation, training, and open forums with sources such as the World Health Organization (WHO), the U.S. Centers for Disease Control and Prevention (CDC), Infectious Disease Society of America (IFDSA) and other reputable health organizations.
From a security perspective, the venue industry did not lose sight on the importance of assuring all facilities did not become so anemic to the point that it would pose as a potential target for threat actors wanting to exploit the opportunity for crisis and media exposure.
Are we better or less prepared for whatever next disruption comes to the hospitality industry?
The Covid-19 pandemic has undoubtedly presented significant challenges to the event and hospitality industry and has served as a learning experience for the future. The pandemic has highlighted the vulnerabilities and risks faced by the hospitality industry during a health crisis. This experience may have increased awareness among industry professionals, leading to better preparedness for similar disruptions in the future.
Lessons learned during the pandemic can help shape future protocols and strategies. The Covid-19 pandemic has necessitated the implementation of rigorous health and safety protocols across the hospitality industry. These measures, such as increased sanitization practices, social distancing and improved ventilation, may remain in place or be readily deployable for future disruptions. The industry's experience in implementing and managing these measures could enhance preparedness for similar situations.
Technological Advancements: The pandemic has accelerated the adoption of various technologies within the hospitality industry, such as contactless check-ins, digital payment systems, and improved ventilation systems. These technological advancements may contribute to increased preparedness for future disruptions by enabling more efficient operations, enhanced guest experiences and better adaptability to changing circumstances.
Collaborative Efforts and Information Sharing: The global nature of the Covid-19 pandemic has prompted increased collaboration and information sharing within the hospitality industry. This exchange of knowledge, best practices and lessons learned can contribute to improved preparedness for future disruptions. Industry associations, organizations, and government entities have played a crucial role in facilitating such collaboration.
All protocols established as a result of 9/11, we are better equipped to immediately pivot and find all resources and information to assure we focus on protecting the number one asset: People.