Group gatherings in conference meetings spaces are great. Group gatherings in meeting spaces with a haunted, scary story behind them are better—or, at least, more adventurous.
Stories of children walking halls, Prohibition-era gamblers roaming around pool areas and elevators taking guests where it wants them to go are all stories that have passed from person to person at these properties through the years. Whether you believe them is another matter entirely, but if a group member joins the morning breakfast with tales of sensing apparitions in their room, don't say we didn't tell you.
The Elms Hotel & Spa
"Friendly" isn't typically a word used when describing something haunted, but reports of paranormal activity at this 153-room property in Excelsior Springs, Missouri, agree on its spirits' amiability.
There have been several reports about spiritual activity at The Elms, such as that of a gambler in the pool area who was involved with illegal acts during the Prohibition and a maid donned in a 1920s-style uniform roaming the halls on the third floor. More can be learned during the property's paranormal tours.
Meeting profs need not deal with spiritual maids or gamblers when planning an event in the property's 11,000 sq. ft. of meeting space, nine event rooms or 16 acres of retreat grounds.
Congress Plaza Hotel
The 871-room Congress Plaza Hotel is known as most-haunted hotel in Chicago (in 2016, Leisure + Travel named it the most haunted hotel in Illinois). Many ghostly characters have been said to still walk the property, the most famous of which is Al Capone, said to have frequented the place when he was among the living. There is also Peg Leg Johnny, said to turn out lights and electronics; a woman in room 441, who kicks guests while in bed; and Dr. H.H. Holmes, America's first serial killer, who lived only a few blocks from the property; among others.
Congress Plaza offers more than 50,000 sq. ft. of specter-free meeting space, featuring four ballrooms, the largest of which is the 8,625 square-foot Great Hall. The property's proximity to Millennium Park, McCormick Place, Sears Tower and more is perfect for midday breaks or post-meeting exploration.
The Stanley Hotel
The Stanley Hotel in Estes Park, Colorado, was recently renovated but that doesn't mean it's any less haunted.
The 100-plus-year-old hotel was built in the early 1900s by F.O. Stanley, creator of the Stanley Steam Engine. When it opened in 1909, it became the place where many of the rich and famous would hang out, including Theodore Roosevelt. Author Stephen King has stayed there as well, basing his novel, "The Shining," on his experience there.
The Stanley is broken up into four different types of stays: The original Stanley, The Lodge at The Stanley, The Residences at The Stanley and Aspire Hotel & Spa (the newest of the four). There are four rooms in particular—in the main building—that have been called out for being haunted: rooms 407, 418, 401 and 217, the last of which King claimed to see a child calling out to his nanny on the second floor of the building.
Its 41,000 sq. ft. of meeting space, although it compasses the hauntingly beautiful private pond-facing Pavilion room, has not been reported to be haunted.
Hawthorne Hotel
Given the history of Salem, Massachusetts, it is seen as one of the most haunted cities in America. It's only natural that, Hawthorne Hotel, which has been featured on shows like "Ghosthunters" and "Bewitched," would be a property with ghostly stories.
Bridget Bishop, the first woman executed during the Salem Witch Trials, was said to own an apple orchard on the land on which the hotel sits. Guests have reported seeing her spirit in the 89-room hotel in room 612. Entities that frequent room 325 are said to be past guests; reports of lights and faucets being turned on and off and feeling touched while lying down have been made.
Since the property was created in 1925, the property's 9,000 sq. ft. of meeting space has been a location for events in the city.
The Brown Palace Hotel
Reportedly borne out of spite because a Denver-based hotel would not let him enter due to his cowboy attire, Henry Cordes Brown opened the 243-room Brown Palace Hotel in 1892. Originally the meeting location of the city's socialites, the hotel is now the meeting place of ghosts. There are no reports of ghosts meeting in the property's nearly 20,000 sq. ft. of dedicated space, made up of 18 meeting rooms.
Tales circulated of calls coming from an empty room 904, where a heartbroken socialite once lived from 1940 to the mid-1950s. Once the tour stopped sharing the story, the calls stopped. Other reported sightings include children known to skip along in the hallways and a baby's crying often heard in the boiler room.
Queen Anne Hotel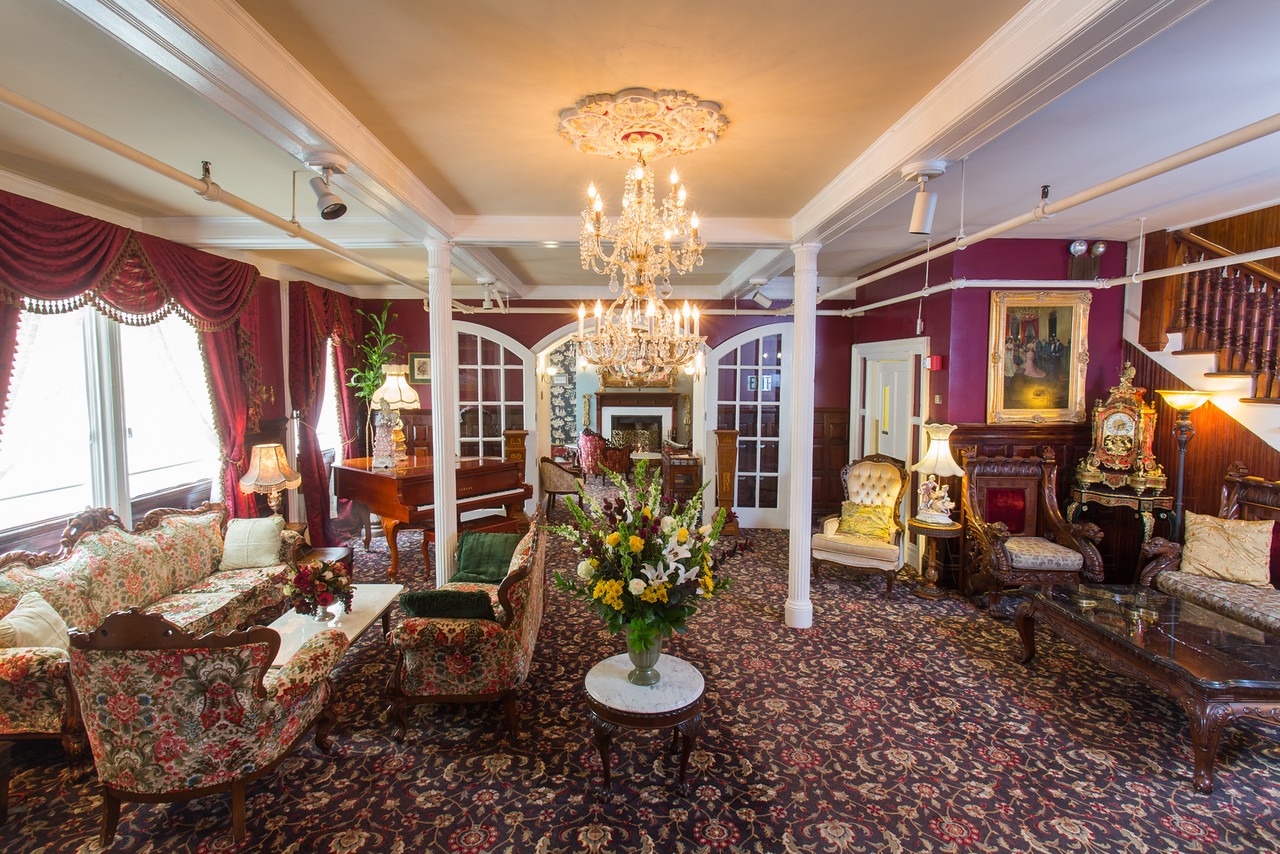 This San Francisco-based property was once a Victorian mansion that housed a girl's boarding school in the late 19th century. The house was headed by Miss Mary Lake, and her former office, room 410, is said to still possess her presence. Guests have also reported feeling cold spots in the hallways and seeing odd reflections in mirrors around the hotel.
The property retains its Victorian era look in its 48 guest rooms, as well as its five meeting rooms, which includes an outdoor courtyard.
20 South Battery
Not only one of South Carolina's most haunted properties, it's also one of its most historic. 20 South Battery was first created as a private mansion in 1843 and was converted in the 1920s into what it is today, as an 11-room boutique inn. Its 4,800 sq. ft. of meeting space is split into a grand ballroom and a verdant garden.
While no malevolent spiritual encounters have ever been reported. Guests have reported headless torsos standing at the head of their beds (potentially from the Civil War era) and men walking through closet doors.
The Emily Morgan Hotel
Formerly the Medical Arts Building, a hospital constructed in 1924, The Emily Morgan Hotel in San Antonio, Texas, now houses guests, and possibly, ghouls and a ghostly bride. The property's most haunted floors are said to be the basement and 7th and 14th floors.
The basement was the hospital's morgue and crematorium and is said to sometimes take guests there, despite them having pressed a different floor; the 7th floor was the hospital's psychiatric ward, said to be haunted by a bride, whose identity is unknown, but has been heard screaming and waking guests. The 14th floor was the hospital's surgical ward, reported to contain its antiseptic smell.
Luckily, the supernatural will not be heard or smelled (fingers crossed) in the property's four meeting rooms, which total 4,000 sq. ft.
Pfister Hotel
Milwaukee's American Family Field is where its MLB team, the Milwaukee Brewers, hosts its home games.
The field's proximity to Pfister Hotel and its 25,000 sq. ft. of meeting space makes it a prime location for stays from baseball players and a source of creepy stories from them, as well. Tales include footsteps in the guest room to tables being moved from one side of the room to the other overnight. One player, Michael Young, bargained with the ghost that they could be pals if the phantom didn't wake him. Apparently, it left him alone.