One of the long-tail effects of the pandemic could be a downsizing of average meeting attendee lists as some big events go hybrid and bring parts of their audience together in person while larger audiences access content online. At the same time, remote teams are finding that they need to meet in small- and mid-size teams in person occasionally to brainstorm, onboard new employees and build team spirit.
A recent Smart Meetings survey found that the majority of events being planned right now are for fewer than 250 people, but the strategic importance and attention to detail often rivals that of a citywide. Boutique hotels are opening their doors to these groups looking for creative spaces to enhance their interactions.
Similarly, Marriott International's social listening research indicated a "significant year-over-year uptick" in search for "work retreat" (+188%), work + team + offsite (+26%), and "work gathering" + travel (+600%) suggesting consumers are interested in gathering with colleagues for more meaningful and engaging offsites this year.  
We rounded up some fun options across the country that offer big impact for small- and mid-size groups.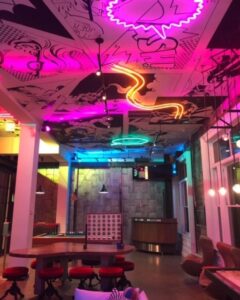 Viceroy Hotel Group, San Francisco: This collection of four urban chic properties offers unique spaces for energized brainstorming, team building, fun activations and meaningful networking.
Hotel Zetta (3,010 sq. ft. of event space and 166 guest rooms in SoMa) Hotel Zelos (5,000 sq. ft. of meeting space, 202 guest rooms and Dirty Habit indoor-outdoor restaurant/ lounge space on Market Street), Hotel Zeppelin (4,000 sq. ft. of meeting space and 196 guest rooms near Union Square) and Hotel Emblem (1,885 sq. ft. and 96 guest rooms downtown where Nob Hill meets Union Square and the Theater District) include active invitations to play with the art, programming and gaming opportunities strategically placed in lobbies and even the meeting rooms.
At Hotel Zeppelin, for instance, a lively downstairs retreat encourages friendly competition with skeeball, billiards and shuffleboard tables at the ready. Themed art and fashion show fundraisers bring the energy of the city into the public areas of the hotel.
Read More: New and Renovated: Long Live the Boutique
Kimpton Hotels, Chicago: Groups looking for a sense of place for their incentive or board retreat will find two choices in downtown Chicago with local flare. Kimpton Gray Hotel (Nearly 13,000 sq. ft. of meeting space and 293 guest rooms) leans toward the sophisticated and opulent with marbled lobbies and Vol. 39 law library-themed bar in the Financial District.
Kimpton Hotel Monaco Chicago (4,000 sq. ft. of meeting space and 191 guest rooms) plays on its industrial roots and outstanding city views on the Riverwalk. Borrow bicycles for the off-site and let the city inspire the next breakthrough.
Marriott's Autograph Collection, New York City: Two Autograph Collection gems in NYC make even an intimate group feel special. The Lexington Hotel (more than 4,000 sq. ft. of meeting space and 725 guest rooms) channels a jazzy vibe with cool art deco furnishings in Midtown East near Grand Centra Terminal.
The Algonquin Hotel Times Square (6,190 sq. ft. of meeting space and 181 guest rooms) has luxurious credentials that date back to 1902. A remote team reunion at The Round Table Restaurant where Dorothy Parker and her Roaring '20s "Vicious Circle" literati friends gathered will and urgency to that new mission statement.
Read More: Newport, Rhode Island: Small Meets on the East Coast
Curio Collection by Hilton, Florida Keys: Baker's Cay Resort Key Largo (3,705 sq. ft. of meeting space and 200 guest rooms) is the incentive destination that feels like a boutique hotel, but has resort amenities of a property twice as large.
A waterfront conference center with abundant outdoor space for up to 100 people is equipped with Hilton's EventReady and CleanStay with Lysol power. The Reach Key West (4,700 sq. ft. of indoor/outdoor meeting space wired for hybrid streaming and 130 guest guest rooms) offers logo sand sculptures and beach buyouts.