"Post-pandemic" is proving a fickle term. The Omicron variant reaching San Francisco this week serves as a reminder of how crucial it is to take proper safety and health measures when on business travel.
This year, we've written about not only some of the best tips for travelers in the aftermath of the pandemic and amid viral variant resurgences, but also on major steps the travel industry took to ensure the health and wellness of business travelers.
The pandemic and the time it took away from air travel and in-person meetings have revealed ways to safeguard—and even improve—the health of meeting professionals and the way we conduct meetings. As business travel and in-person corporate meetings reemerge, the industry is preparing more health-sensitive, accessible and efficient spaces for traveling groups.
These tips and takeaways from over the receding year help ease traveling for work.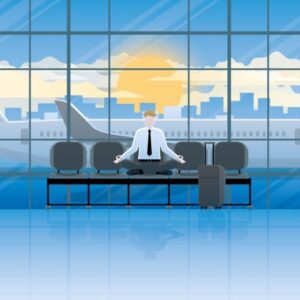 "Nonstop travel—with all that time spent away from family, being in different time zones and constantly on the move—can have a negative impact, mentally and physically," we wrote. The good news is, the sudden pause the pandemic brought to business travel gave us the time and space to realize it.
In April, we covered how to manage the impact travel can have on the overall health of meeting professionals, so as not to inhibit productivity or the ability to achieve meeting goals. We emphasized the importance of incorporating wellness-focused activities into programs, how post-meeting surveys can help gauge what needs to change and more.
"'Kayak for Business brings the leisure travel experience to the outdated interface of the corporate travel world.'"
Even before its official launch in July, online travel agency (OTA) Kayak had thousands of companies signed up for its new Kayak for Business. The free service offers expense integration, price prediction and competition, discounted corporate rates and flexible blending of business and leisure, among other features and perks.
"Providing accessible travel is both a social imperative and a business opportunity."
We can and should be doing more to support meeting professionals with disabilities, especially when our meeting spaces fail to be accessible to every present, or would-be present, attendee.
In August, we reviewed World Travel & Tourism Council's (WTTC) new "Inclusive & Accessible Guidelines." Gathering insights and approaches from private-sector travel and tourism leaders, travel and disability experts and intergovernmental organizations led WTTC to determine four key pillars for reorganizing meetings and meeting venues to accommodate attendees with disabilities.
The guidelines elaborate on collaboration tactics among businesses, destinations, venues and meeting and event planners, highlight the gaps in accessibility knowledge, experience and service in the industry, and highlight the importance of creating respectful and accessible environments and more.
"As winter weather adds even more unpredictability to business travel, consider adding travel insurance to your trip to-do list."
Mid-November flight cancellations and delays at Southwest Airlines due to weather and traffic control issues had business and leisure travelers recently returned to the skies questioning their next moves and looking for a safety net.
And now, with the uncertainty Omicron poses to international travel, in particular, travelers ought to have a plan before heading outbound. What do you do when your flight is canceled hours before or delayed hours at the gate, and what can be done to prevent negative financial repercussions?
We posted tips on choosing travel insurance, catching the fine print and making your flights ( plan two-plus hours between connections, for instance) and what your travel delay, trip interruption and missed connection insurance benefits should cover.
"Even with travel restrictions loosened, testing requirements and Covid-related rules still can make travel tricky."
International travel these days almost always requires that you get a test beforehand and before your return trip to the U.S. Some U.S. states and territories, such as Hawaii and Puerto Rico, are still mandating some visitors to show a negative test upon arrival.
And the type of Covid test you take matters, too. In anticipation of the holiday travel rush, we collected all the things to pay attention to regarding Covid testing for your trip: the differences between Covid tests,which types are the most reliable, domestic and international travel restrictions, how to provide proof at the airport and resources for locating the nearest available testing sites to you.
Covid testing can get complicated—let us decomplicate the process a bit for you. Oh, and of course, happy travels!