Americans are feeling a little better about travel, according to the most recent study by Destination Analyst. Every week since March 15, the company has surveyed more than 1,200 U.S. travelers about their thoughts and feelings regarding travel.
The latest study reports increased enthusiasm, driven by younger travelers, for near-term travel and an openness to travel at levels last seen in early June; concerns for safety have seen a slight decrease, and there was a small increase reported in travel readiness.
While staying safe from illness remains a priority for Americans of all ages, many younger travelers are placing higher emphasis on tending to psycho-emotional needs, such as escaping stress, and finding emotional well-being, happiness and relaxation. Baby boomers are placing less emphasis on those. The study found that, overall, six in 10 believe that planning a vacation sometime in the next six months would bring them happiness.
When asked if they would avoid any aspects of travel, such as crowded destinations, areas hit hardest by the virus, cruises and air travel, respondents are less wary than in a few months ago, according to the study. When asked how they would feel if their desired destination required mask-wearing, 67.4 percent responded they would be "happy" or "very happy."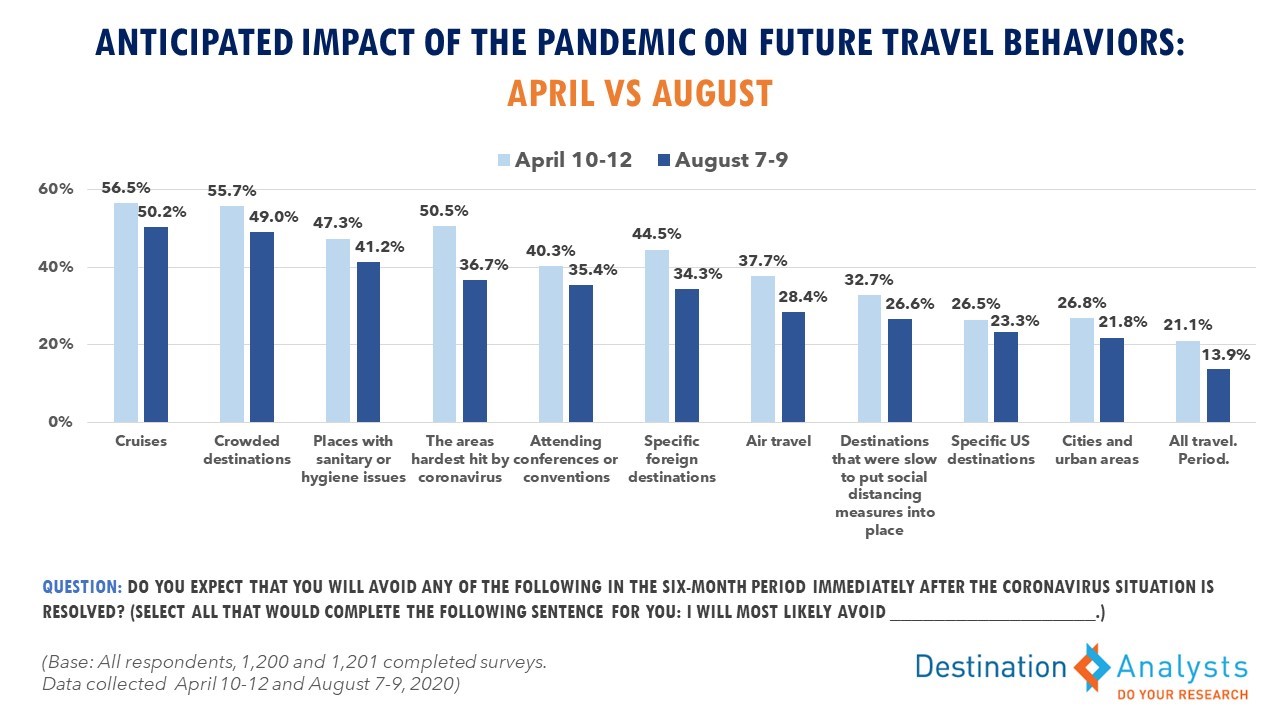 Almost three-quarters (74.1 percent) of respondents said they have "somewhat developed" plans for travel, yet one-third of those surveyed said they will need a lot more time before they're ready to travel again, and 30.1 percent don't see air travel in their future until "sometime later in 2021."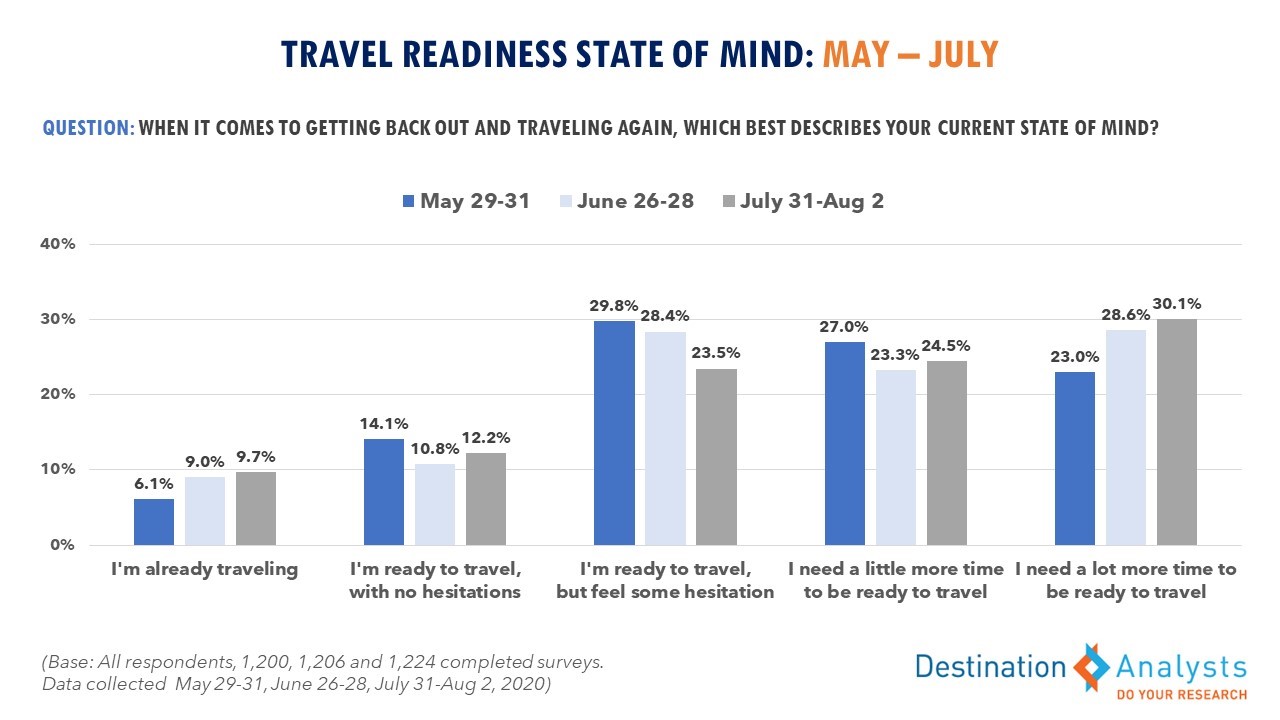 Despite being hotspots of coronavirus cases in the United States, beach destinations such as Florida (17.9 percent), Hawaii (13), California (12.8), as well as the urban lure of  New York City (12.1), are the destinations respondents would most like to travel to in the next 12 months. Other top destinations include Colorado, Arizona, Alaska and Texas.
The percentage of American travelers with plans to attend a convention, conference or other group meeting between now and 2021 remains small (14.1 percent), but more than half (60 percent) of this cohort say such travel will take place this year. More than half (57.9 percent) of convention travelers trust their fellow attendees to behave in a way that will prevent the spread of coronavirus.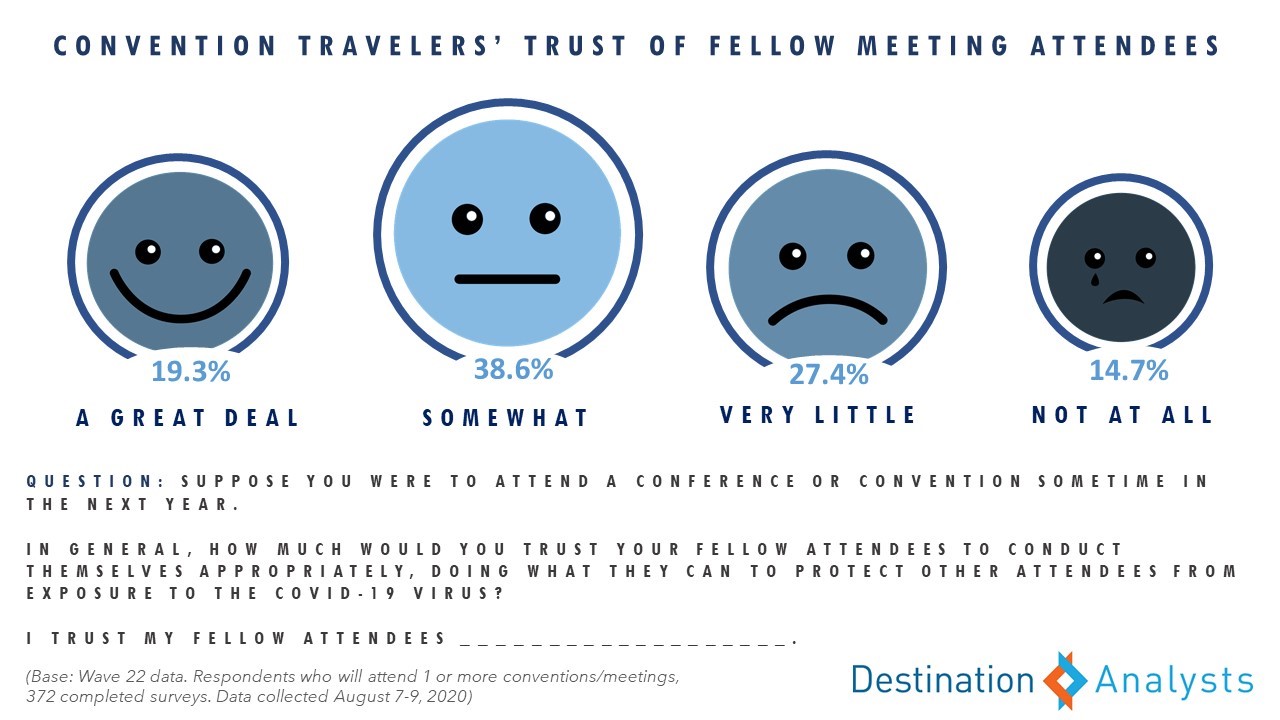 Sentiment is a little more positive in Europe, according to a poll by Global Business Travel Association (GBTA) which found that 70 percent of their European members expect domestic travel to return in the next 2-3 months, as compared to 26 percent in North America. European members are also more likely (20 percent) to expect international travel to resume in the next 2-3 months than their North American members.