More than 4,500 event professionals converged on Nashville the second week of January with a unified vision. Planners, destination management professionals and suppliers attending Professional Convention Management Association (PCMA)'s annual Convening Leaders event were resolved in their quest to "amplify engagement" and learn new ways to delight attendees. This conference—known for featuring some of the best education sessions in the business, raising money for scholarships to train the next generation of conference magicians and putting on a great party—is growing globally.
It also had lessons for groups planning on making a difference in the coming year.
Look Beyond Borders for Opportunities
PCMA's acquisition of Singapore-based Incentive, Conference & Event Society Asia Pacific (ICESAP), in July, expanded the group's reach to more than 15 countries in the growing Asian market. In addition to welcoming new consolidated members to the Music City, PCMA rebroadcast key presentations to new constituents in their prime time. "CL Live delivers our education components when it is more convenient for them," explained Deborah Sexton, PCMA president and CEO.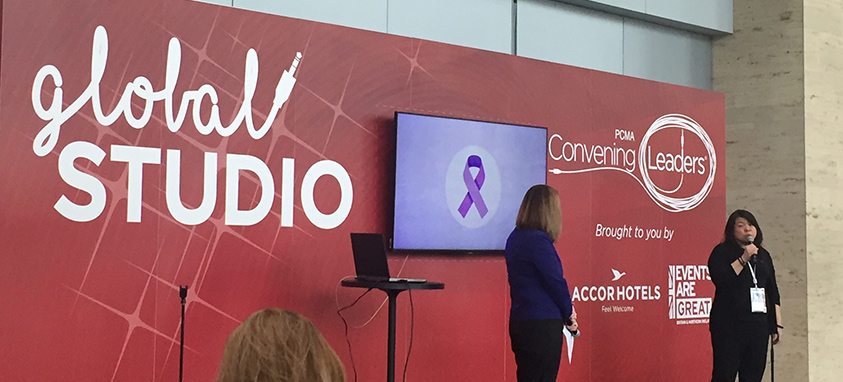 Engagement is the New Membership
Even as membership and partnership numbers continue to grow to record levels, PCMA leadership is equally focused on engagement. PCMA sees it as a measure of its relevancy. With fewer planners taking the time to join organizations, more are turning to web resources to get information they need. PCMA's knowledge exchanges in London and Barcelona were offered as examples of delivering programming where it is needed, and in the format people are demanding. "The member model is changing rapidly," Sexton said. She advised focusing on how audiences consume information, rather than how groups want to deliver it.
The Future is Now
A popular Future of Face2Face area at Music City Center offered up event technology that is reinventing the meeting for 2018. From virtual reality to a 65-foot-by-18-foot video wall to barista artists, these live demonstrations of innovation at work are no longer for big budget productions. Almost everything on display was scalable as a tool for bringing people together in meaningful ways. "The industry is not moving as quickly as it needs to," said Sexton, who recently announced she would be leaving her position after 14 years. She stressed the importance of planners developing comprehensive engagement strategies and communicating their impact outside the industry. "We have to talk about what we do beyond our industry, and we need to do it globally," she said.