Every week, we write about new and renovated properties all over the world. Many hotels offer breathtaking amenities and unique stories, but we want to call out a few that demonstrate a deep understanding of three things that matter most to people putting on events in those spaces.
Location is Everything
When we bring people from hinder and yon to achieve important business goals, we don't want to spend unnecessary time shuttling people from place to place. So, they need to stay in a convenient location.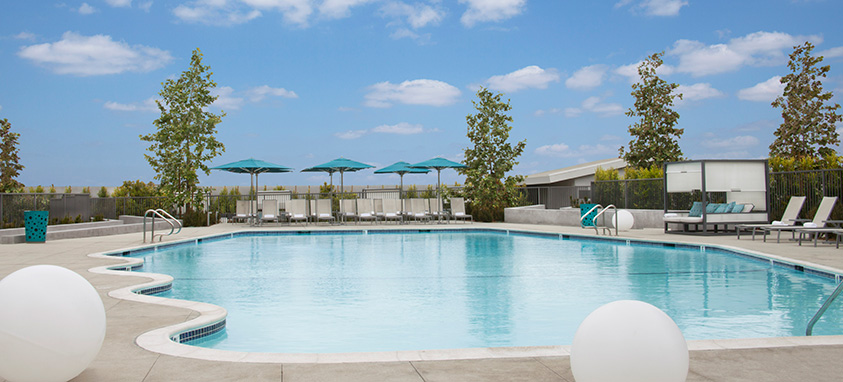 Pool at Hyatt Regency Los Angeles International Airport 
The newly renovated Hyatt Regency Los Angeles International Airport calls itself #unquestionablyunairport, but the fact that it is a block from one of the major airports in the world, with views of the runways, downtown and the ocean, adds to the appeal of a property that after a $75 million reinvention feels like a midcentury luxury escape. Did we mention direct shuttles leave every 10 minutes to whisk guests to their gate?
The new, all-suite Conrad Fort Lauderdale Beach makes the most of its location on North Beach, overlooking the Atlantic with panoramic views from the sixth-floor, 20,000-foot Sky Deck. With four on-site restaurants and easy access to Las Olas Boulevard, Broward Center for Performing Arts, and Museum of Discovery and Science, it can serve as a home base or a home away from home.
Size Matters
An event space needs to be flexible and attractive, but if it isn't big enough to hold the group, it is a nonstarter. The newly opened Parq Vancouver boasts 62,000 sq. ft. of event space, including Vancouver's largest hotel ballroom. The meeting space is all on one floor and breakout rooms have floor-to-ceiling windows to bring in lots of natural light.
Las Vegas, already home to one of the largest chunks of meeting space in the world, will soon see another 850,000 sq. ft. of innovative spaces designed to reflect how people meet today. MGM Resorts recently completed 350,000 sq. ft. of meetings space at Mandalay Bay and is in the process of adding 200,000 sq. ft. at Aria, complete with operable glass walls and a 7,000-square-foot outdoor terrace. Meanwhile, at MGM Grand, $130 million will go into adding 250,000 sq. ft., including a second-floor Stay Well Meetings area.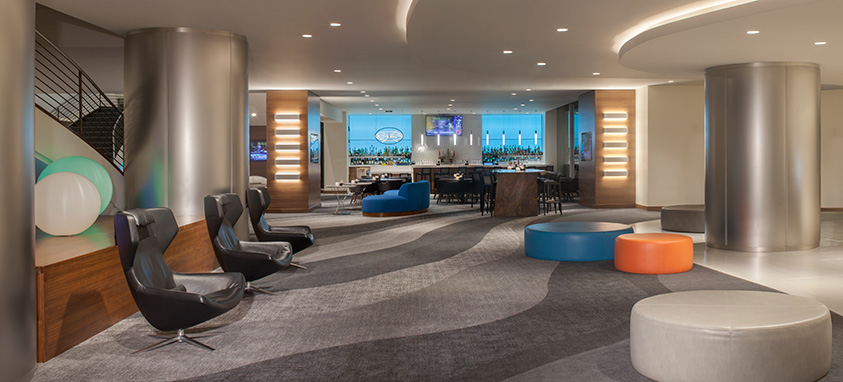 Lobby at Hyatt Regency Los Angeles International Airport 
Hyatt Regency Los Angeles International Airport encompasses 50,000 sq. ft. of meeting space, including the largest room in the area (14,000 sq. ft.), a 10,000-square-foot conference center, and a boardroom with runway views and stunning sunsets. It is topped with a penthouse event space that offers 360-degree views in the round.
Sleep is Sacred
Planners and attendees need their beauty rest to be refreshed for meetings, so having a reliable retreat is essential.
Hyatt Regency Los Angeles Airport's 580 guest rooms are fitted with quadruple-paned, soundproof windows to ensure a quiet night's sleep while planes land and take off just yards away.
Park MGM offers Stay Well Rooms with contouring support, natural memory, foam mattresses; enhanced air purification systems; aromatherapy; circadian lighting; access to Cleveland Clinic Wellness programs online; and access to Jiyo, Deepak Chopra's personal well-being mobile app.