Photo credit: Omni Homestead Resort
Say Yes to the Dress: Atlanta star Monte Durham is known for "jacking up" brides with a veil and accessories after they've found their gown. Now, he's hi-jacking meeting planning with some hair-raising advice.
Durham thinks keeping décor simple and classic is very on-trend and "the wow is in the food and entertainment." He suggests farmhouse tables and adding a pop of color with flower arrangements to an otherwise white color palette, while steering clear of outdated disco balls and chair covers.
"They try to really entertain and make that evening experience an incredible experience so it's no longer business-looking tables," the TLC reality star tells Smart Meetings of the Discovery Communications receptions he attends. "The romance has come back into meeting spaces…We're finding a lot of people are coming back and want that grandeur and elegance that older properties have."
Durham's mastered the math of matching brides-to-be with the perfect dress and now he's found the formula to keep every strand of hair in place. Prior to making a name for himself in bridal fashion, he spent years as a hairstylist and is licensed in two states.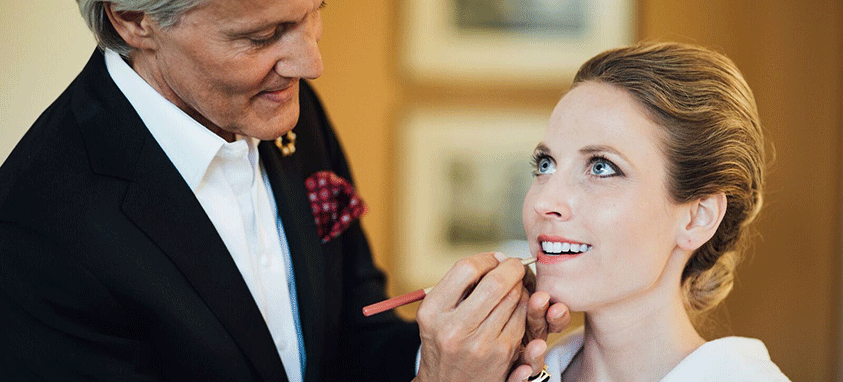 Photo credit: Omni Homestead Resort
His new MONTE hair care line consists of five products and is available at the Omni Homestead Resort in Hot Springs, Virginia (and in a 2-ounce bottle travel kit for swag bags). He'll be visiting the historic hotel monthly to consult with guests at the Beauty Bridal Boutique, which is available for anyone to book appointments and private events, not just soon-to-be-Mrs.
"You always want to look your best. You only have one opportunity to make your first impression," he says of attending meetings. "I truly believe it and own it myself."
The next time you step into a conference room, you could be introduced to a new business contact or maybe even the love of your life. If it's the later, you may be paying Monte a visit soon to go dress shopping. "When you go to meetings, I think it's a great opportunity to explore all opportunities whether it be romance or a new job," he says.
As the conference day drags on, makeup wears off and hair frizzes in the hot summer humidity and women scurry to the nearest bathroom mirror. Some meeting professionals go out of their way to arrange a designated makeup station with essential cosmetics to apply touchups at an event. Monte suggests the coatroom would be a great location.
"Even if you don't use it, it's the thought that someone thought of that for you," he tells Smart Meetings. "I think it's incredible."