Some cities around the country are known for one big attraction: Dollywood in Pigeon Forge, Tennessee, comes to mind immediately. Many cities, however, are vacation and meeting destinations, with amusement parks and attractions adding an extra fillip of excitement and anticipation for attendees.
"We've long known that attendees are attracted to destinations they personally would like to go to," says George Aguel, president and CEO for Visit Orlando. "They want to experience the destination. Savvy meeting professionals have taken over areas of Epcot, SeaWorld and Universal, for example, for private events one could never duplicate on their own."
Planners also benefit from the dual opportunities in other ways. These cities have built-in pluses that assist in the planning and budgeting process, including a variety of venues and hotel properties (at different price points), excellent airlift and entertainment options galore, not to mention the ever-elusive "wow" factor.
A further plus is that these destinations are constantly upgrading their infrastructures and services to keep pace with an industry that reinvents itself seemingly on a yearly basis. Here's a look at what's new in 10 ever-evolving cities boasting theme parks and attractions that will get every meeting group excited.
Anaheim & Buena Park, California
Anaheim has been firmly entrenched on everyone's amusement parks and attractions radar for some time. However, the city's meetings infrastructure has grown—and continues to grow—at a pace that rivals the latest Radiator Springs racer. The 200,000-square-foot expansion of Anaheim Convention Center, due to debut in summer 2017, and the convention campus (Hilton Anaheim, Anaheim Marriott and outdoor Grand Plaza) keep the city grounded in the meetings business.
Theme Parks & Attractions: Disneyland Resort in Anaheim is celebrating Disney's 60th anniversary this year with a new Paint the Night Parade and Disneyland Forever fireworks spectacular. The big news is that Disney is teaming up with Lucasfilm to create a 14-acre Star Wars-themed land, which will rank as the park's largest single-themed expansion ever. (A similar project is underway at Disney's Hollywood Studios at Walt Disney World Resort in Orlando, Florida; no opening date has been set for either park.) Before the year is over, Disneyland Resort is scheduled to debut Star Wars Launch Bay interactive experience; a new Star Tours—The Adventure Continues; and Seasons of the Force with special seasonal entertainment, themed food locations and a newly re-imagined Jedi Training Academy.
"These new lands at Disneyland and Walt Disney World will transport guests to a whole new Star Wars planet, including an epic Star Wars adventure that puts you in the middle of a climactic battle between the First Order and the Resistance," says Bob Iger, Walt Disney Company chairman and CEO.
Appealing to the young gamer set, Knotts Berry Farm in Buena Park has introduced Voyage to the Iron Reef, a new 4-D interactive ride. There's plenty of meeting space at the 320-room Knotts Berry Farm Hotel, with 20,000 sq. ft.
Opening next year in Buena Park is The Source, an urban center that will feature world-class shopping, diverse dining and a 2,000-seat performance venue. The design will reflect the digital vibe of Times Square, the visual energy of Tokyo and the innovative spirit of Seoul. Butterfly Wonderland will debut in 2016.
Cleveland
The rejuvenation of downtown Cleveland has created quite a buzz, and with the city's selection as site of the 2016 Republication National Convention, the buzz has become a roar.
"We knew the RNC was looking for a host city that could provide the overall convention, hotel and transportation services that would translate into a good visitor experience for every delegate," says Mike Burns, senior vice president of convention sales and services for Destination Cleveland. "With Cleveland experiencing more than $3 billion in infrastructure development directly related to the visitor experience, we knew our world-class arts and culture, culinary and other entertainment options would present the delegates with a unique mix of assets during their visit."
In addition to Cleveland Convention Center, which opened in 2013, the city's expanded hotel inventory will include Drury Plaza Hotel, Kimpton's Schofield Hotel and Hilton Cleveland Downtown, all set to open in 2016.
Theme Parks and Attractions: Now celebrating its 20th anniversary, Rock and Roll Hall of Fame and Museum inducts new members yearly with a spectacular lineup of presenters and performers. Planners can host an unforgettable event for groups of 20–2,000 in the pyramid-shaped building. Speaking of rockers, Hard Rock Rocksino Northfield Park debuted as the first location of this new brand from Hard Rock. Cleveland is also a sports-centric city, with buyouts available at Progressive Park (home of MLB's Indians), Quicken Loans Arena (home of NBA's Cavaliers) and FirstEnergy Stadium (home of NFL's Browns).
Fort Worth, Texas
Let's face it: A city where a herd of Texas longhorn cattle runs through town twice daily already has a theme going for it. These thrilling events set the fun, vibrant backdrop for Fort Worth, a destination that's on the move for meetings. In addition to a proposed convention center expansion, plans have been announced for a $450 million multipurpose arena and sports facility at Will Rogers Memorial Center Complex. Two new hotels will serve these venues: a 1,000-room convention center hotel slated for January 2017 and a new Westin-branded hotel for the arena.
Theme Parks & Attractions: What's old is new in Houston. This includes Fort Worth Stockyards and its glimpse into the Old West, including Texas Cowboy Hall of Fame and the infamous Billy Bob's Texas, the world's largest honky-tonk. National Cowgirl Museum and Hall of Fame is located in the cultural district (new inductees are honored annually), as is Forth Worth Stock Show and Rodeo. On the actual amusement park front, Six Flags Over Texas in nearby Arlington recently added Justice League: Battle for Metropolis!, a 4-D interactive dark ride.
Houston
Houston, the country's fourth-largest city, continues to keep the construction cranes busy, particularly for projects that add to its appeal as a meetings destination. Construction is well underway at the Marriott Marquis Houston, which is connected to the George R. Brown Convention Center and anticipated to open in September 2016. Meanwhile, the center itself is getting a facelift, adding ground-level restaurants, a new concourse and a new parking garage. Hyatt Regency Houston and Hyatt Place Houston/Galleria are anticipated to open later this year.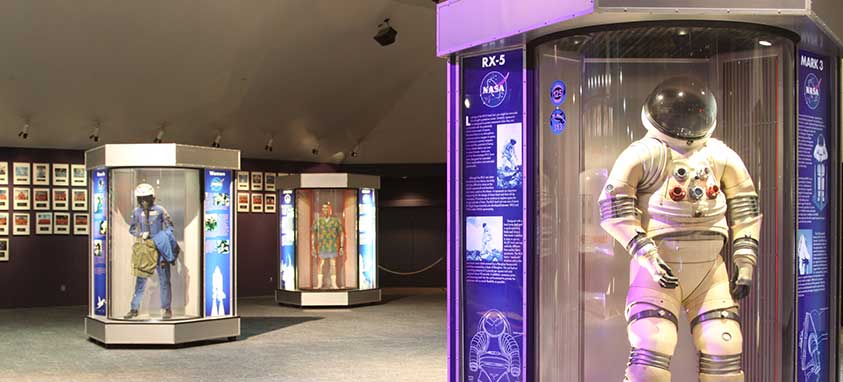 Space Center Houston
Theme Parks & Attractions: No problems at Space Center Houston, where the new hands-on exhibit "Be an Astronaut" opened in October. Coming in January is a replica of the space shuttle Independence, which will be mounted on top of the original NASA shuttle-carrier aircraft (visitors can tour both). Nearby thrill-a-minute theme parks are Wet 'n' Wild SplashTown, located in Spring; Schlitterbahn in New Braunfels; and Moody Gardens in Galveston.
Orlando, Florida
With 2.1 million sq. ft. of exhibit space, Orange County Convention Center is one of the top meeting venues in the United States. And the city keeps adding to its entertainment stock, including the Orlando Eye, a 400-foot-tall observation wheel that opened earlier this year and offers spectacular views. Wyndham Grand Orlando Resort Bonnet Creek is wrapping up an expansion in 2016 that will expand its meeting space to 7,000 sq. ft., including a 3,743-square-foot ballroom that will open up to a 1,000-square-foot balcony.
Theme Parks & Attractions: There's plenty new at Orlando's mind-boggling array of amusement parks and attractions for all to enjoy. Among these, Walt Disney World's Epcot park is set to debut a new ride based on the animated film Frozen in 2016; SeaWorld Orlando will add Mako, a hyper-coaster, next year; and Universal Orlando Resort will open Volcano Bay, a new water park in 2017. This past summer, Legoland Florida Resort introduced a new area, Lego Friends Heartlake City, which is modeled after the five Lego Friends characters.
Phoenix
Downtown Phoenix is hopping, with a 900,000-square-foot convention center and a new campus for Arizona State University that have created an energetic vibe. Its sister cities in the area are hopping as well, including refreshed and renamed properties such as The Boulders Resort & Spa in Scottsdale and Scottsdale Resort at McCormick Ranch. Brand new in Mesa is the Sheraton Mesa at Wrigleyville West.
Theme Parks & Attractions: Not a "screamer" per se, unless you're cheering for your home team, Cactus League spring training now features two new stadiums, helping Greater Phoenix become a spring break for baseball fans. Desert Botanical Garden is showcasing eight stunning, light-based installations throughout the gardens. An entirely different type of cheer can be heard at continually updated Talking Stick and Sheraton Wild Horse Pass casino resorts.
San Diego
Sunny weather is always a draw for meeting groups, and San Diego proudly averages 266 days of sunshine a year. The city's hotel news keeps up with its many attractions, including the debut this fall of Paradise Point Resort's new 16,000-square-foot Sunset Pavilion, the opening of the Courtyard San Diego Gaslamp/Convention Center (four blocks from the center) and the Hilton Garden Inn in Old Town.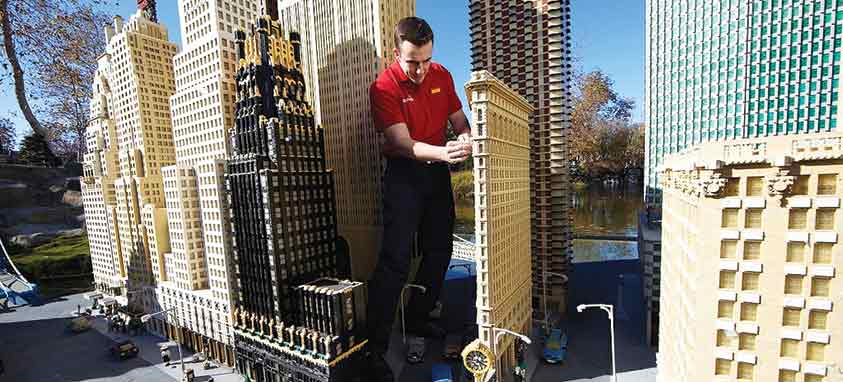 Legoland, Carlsbad, California
Theme Parks & Attractions: San Diego offers theme parks and attractions galore. SeaWorld San Diego marches on, while Aquatica, SeaWorld's Waterpark, opened Taumata, a high-speed racer slide this past summer. The renowned San Diego Zoo has welcomed new African penguins, while its sister property, San Diego Zoo Safari Park, offers eight different safaris. In Carlsbad, Legoland is adding a new ninja-themed land and ride, expected to debut in spring 2016.
Monterey, California
Ocean views and a coastal climate make Monterey County—about 120 miles south of San Francisco—a desirable destination for anyone. Add in a completely renovated event venue and planners have several reasons to take another look at this under-the-radar part of the Central California Coast. Monterey Conference Center is undergoing a $45 million redo to upgrade its 41,000 sq. ft. of event space to include more flexible options, updated technology and LEED certification.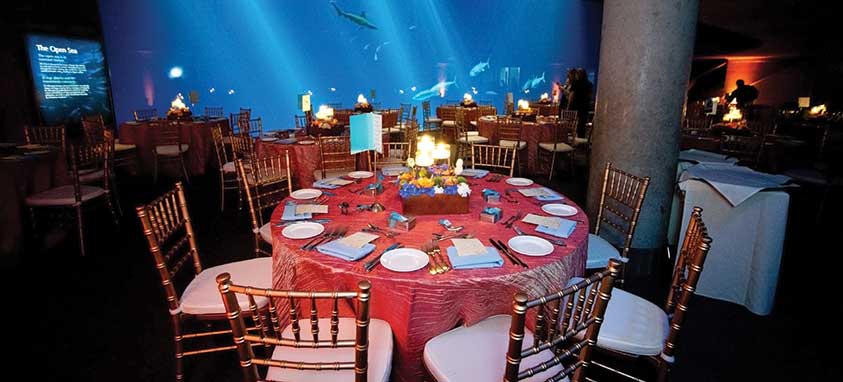 Monterey Bay Aquarium, Monterey, California
Theme Parks & Attractions: Cannery Row became famous after John Steinbeck's eponymous novel was published in 1945, and Monterey Bay Aquarium is another huge draw. In addition to being a sophisticated marine research facility, the aquarium delights visitors with exhibits featuring more than 550 marine species, including Tentacles: The Astounding Lives of Octopuses, Squid and Cuttlefishes. Guests also flock to see the sea otters frolicking above and below the water.
Wisconsin Dells, Wisconsin
"Water Park Capital of the World" is not just a tagline for Wisconsin Dells: It's the reality. This small city, which grew up around a picturesque, glacially formed gorge along the Wisconsin River, boasts more than 200 waterslides. It's also home to Wisconsin's largest indoor water park and the largest outdoor waterpark in the United States. It's popular year-round with vacationers, associations and SMERF groups. While there's no central convention center, many of the resorts have huge spaces. For example, Chula Vista Resort & Waterpark (200,000 sq. ft.) and Kalahari Resorts & Conventions (100,000 sq. ft.) are very popular meeting properties.
"Meeting planners should consider Wisconsin Dells because of the combination of unconventional meeting space and the chance to work in a family vacation," says Tifani Jones, director of sales for Wisconsin Dells Visitor & Convention Bureau. "Our meeting attendees bring their families along, and planners love this because it tends to improve meeting attendance."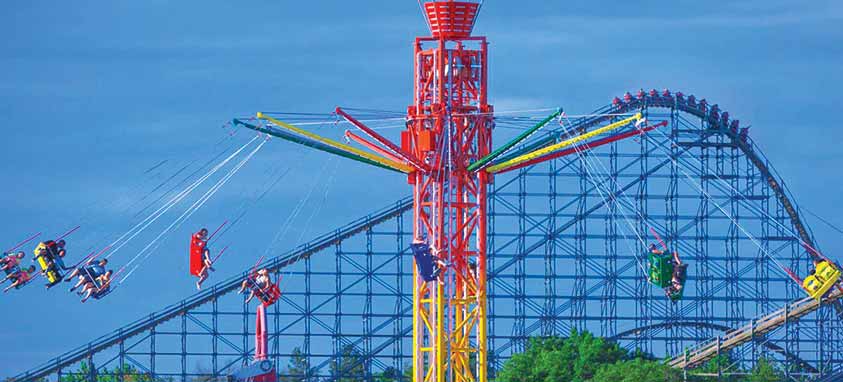 Mt. Olympus Theme Park & Water Park, Wisconsin Dells, Wisconsin
Theme Parks & Attractions: For Wisconsin Dells, this is a "where-to-begin" question. New rides and slides appear yearly, including Manticore, a tower ride at Mt. Olympus Theme Park & Water Park, and new multilevel indoor and outdoor water parks at Chula Vista. All the fun at the Dells is not water-related, however. Numerous theme parks and attractions with their feet on or above terra firma also offer visceral thrills, such as the new Heightened Adventures aerial ride, also at Chula Vista.
New! Improved! Step Inside!
Let's see: New and updated hotels and convention centers? Check. New and updated coasters and exhibits? Check. Why not consider a ticket to one of these top 10 cities for your next meeting or event? You don't have to be "this tall" to ride.
---
A Mecca for Roller Coaster Fans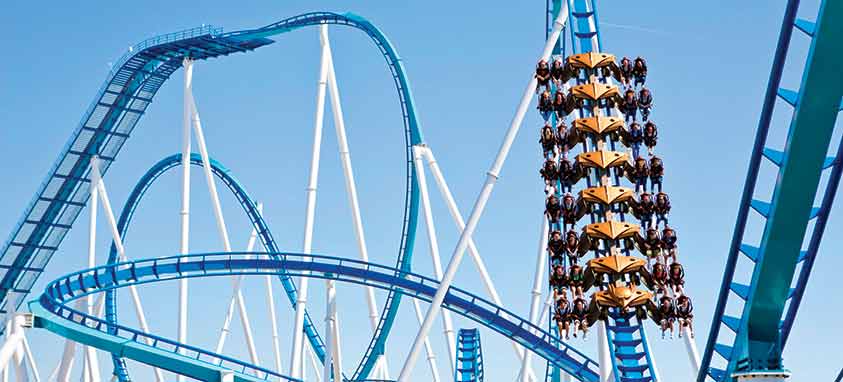 The Gate Keeper at Cedar Point, Sandusky, Ohio
Sandusky, located in northern Ohio between Toledo and Cleveland, is home to Cedar Point, a flagship amusement park with one of the largest collections of roller coasters in the world. Opened in 1870, the 365-acre park is the most visited seasonal amusement park in America, drawing 3.38 million visitors in 2013. It has been named Best Amusement Park in the World by Amusement Today for 16 consecutive years.
The park's first roller coaster, Switchback Railway, was built in 1892. Blue Streak, a wooden model built in 1964, is the park's oldest operating roller coaster. Today, the park features a world-record 72 rides, including 16 roller coasters. It is the only amusement park in the world with four roller coasters taller than 200 feet.
Cedar Point is poised to defend its title of roller coaster capital of the world with the unveiling of Valravin in spring 2016. The highly anticipated thrill ride is expected to shatter 10 world records. Valravin will be the tallest (223 ft.), fastest (75 mph) and longest (3,415 ft.) dive coaster in the world, and will feature three inversions—including one with a stomach-dropping 214-foot plunge.
---
Coney Island, an American Original
Decked out with a wide swath of white-sand beach and a boardwalk, Coney Island in Brooklyn, New York, retains its allure as a resort for fun-and-sun seekers and for being the site of America's first amusement park. A resort hotel was built there in 1829, followed by numerous others, and in 1903, Sea-Lion Park became its first amusement park.
This was followed in quick succession by Steeplechase Park and the original Luna Park. The earliest carousels (as we know them) were created here, along with Gravity Switchback Railway, the first modern roller coaster, in 1884. Three rides are protected as New York City landmarks and are listed on the National Register of Historic Places: Wonder Wheel (1918), Coney Island Cyclone roller coaster (1927) and Parachute Jump (1938).
On the more recent front, Luna Park opened in 2010, with dozens of rides and plenty of games; 2014 saw the return of the Thunderbolt roller coaster (a replica, as the original was demolished in 2000 as a safety hazard). Another milestone crops up in 2016, when Nathan's annual July Fourth International Hot Dog Eating Championship (pictured) celebrates its 100th anniversary.